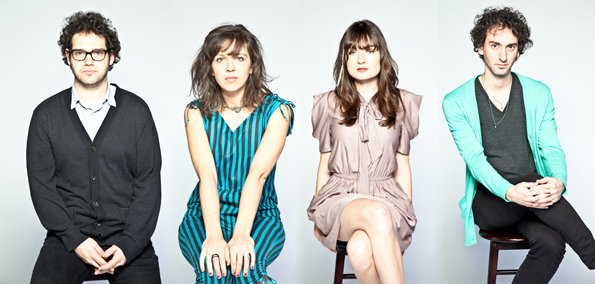 Put away the down jackets, thermal underwear and winter hats (unless for stylistic purposes), winter is in the rearview with our summertime destination quickly approaching. As bleak winters succumb to the vitality of the shifting seasons, it is only appropriate that our favorite playlists see a corresponding rejuvenation. Xylos, the quintet hailing from Brooklyn, NY, is no newcomer when it comes to crafting rollicking tunes best suited for sun-on-your-face, wind-in-your-hair type of days. The bands eponymous LP, released in April of last year, showcased a transformation from previous works, surrounding Monika Heidemann's vocals with 80's infused synthesizers, the result being infectious, dance inducing songs.
A year after their debut LP, Xylos returns to release "Summerlong," the first single off of their second LP, set to be released late this year. "Summerlong" picks up right where past standouts "X-Ray" and "Not Enough" left off, immersing us in a sea of synth-driven electro-pop guided by Monika's lush vocals. Upon multiple listens, the song seemingly purposes a quandary. The driving synths and harmonic melodies purpose a carefree disposition, a polarizing effect to the lyrics which leave a somewhat somber impression. The two paradigms are subtly interwoven, resulting in a compelling track that is sure to captivate its listeners.
Download:
Xylos - Summerlong
Residents in the New York area can catch Xylos on May 3rd at Santos Party House, billed with acts St. Lucia, HAIM, and Goldroom. Xylos will also be making an appearance at this year's Camp Bisco.