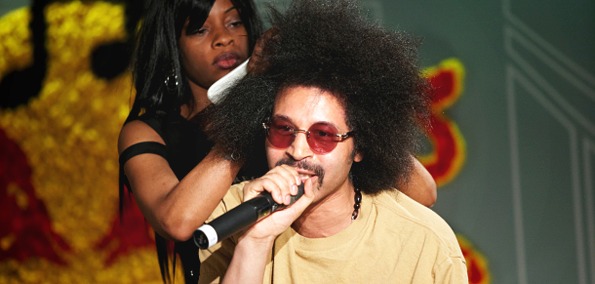 Detroit house playboy Moodymann has been showing some seismic activity as of late, but still keeping it calm and collect as usual. Standing up against what it means to be an artists today, his actions say he's anything but. A DJ, personality, political commentator, Moodymann embodies Afro-American culture, and his persistent passion to only put out the truth has been stuck in his heart for decades, even after the collapse of his beloved Motor City. Not concerned with record sales or whether anyone manages to hear his music, the man is content with living out his days comfortably doing what he loves (with the company of fine women of course). He has three to tail him wherever he goes, a feat only achieved by the smoothest house cats around.
Hugh Hefner may be a worthy comparison, but Moody paints his soul with sounds while nodding to his culture's rich history of nude grooves and feelings. His real name is Kenny Dixon, and his diction has erupted a recent sampling trend that has landed his cool blooded attitude on the Beatport charts. Who can forget the nonchalant ramblings on Oliver $'s "Doin Ya Thang", which went on to become last year's summer house hit, accompanied by Homework's "I'm Into This", which captured yet another scene of Moodymann's loose character.
Download: Moodymann - Got 2 Make It
Download: Moodymann - Pray 4 Love
His influence on others spans beyond house and into techno where his wise words are uttered in a lecture at Red Bull Music Academy (a definite must see), that was later sampled by Blawan in "What You Do With What You Have". So what draws so many people into his music? Honesty. You get nothing but Kenny Dixon on every number, and each one immerses you in the world we all live in, but through his poised eyes. Don't expect to hear the latest card tricks, because this Kenny won't even touch a computer. He sticks to his dated MPC's and SP1200 because they are a part of who he is, and his sound is a reflection of that. This week Moodymann proves that he's still got it (whatever "it" is), and he's taking it with him to the grave. Scion Audio Visual have put out his latest EP, and it won't cost you a dime. Just a little love and respect for the Mood.
Scion A/V Presents: Moodymann - Picture This