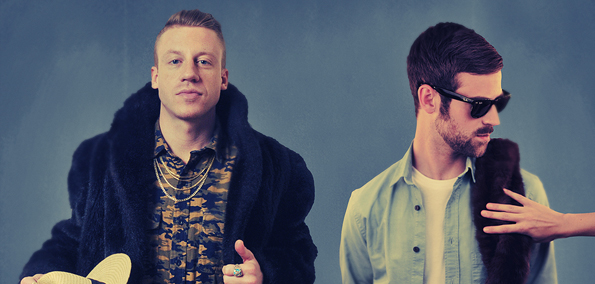 2012 XXL Freshman Class star Macklemore and producer Ryan Lewis have released their new music video for celebratory track "Victory Lap" off of the XXL Freshman mixtape (hosted by DJ Whoo Kid, Diddy & T.I.). The vid isn't your typical run of the mill rap vid featuring beautiful scantily clad women, expensive cars and jewelry and other coveted tangible items found in many rap videos. I make this distinction not to throw shade on videos like that and the artist who make them, but rather to highlight what makes Macklemore and Ryan Lewis stand out in a hip hop landscape littered with generic carbon copy characters.
The visuals for "Victory Lap" are of a more personal nature. Macklemore concisely explained the vid best commenting on his Facebook page, "This one sums up the last 10+ years." The vid, directed by Johnny Valencia, features a montage consisting of footage from early shows, music video shoots, shots of the duo rocking sold out shows and some personal footage all of which documents the hardworking Seattle duo's persistent rise from relative obscurity to being recognized as burgeoning figures in hip hop.
Check out the vid and be on the look out for Macklemore's next album (currently untitled) expected to be released sometime before the close of 2012.
Macklemore%20%20Ryan Lewis - Victory Lap
Download:
Macklemore & Ryan Lewis – Victory Lap