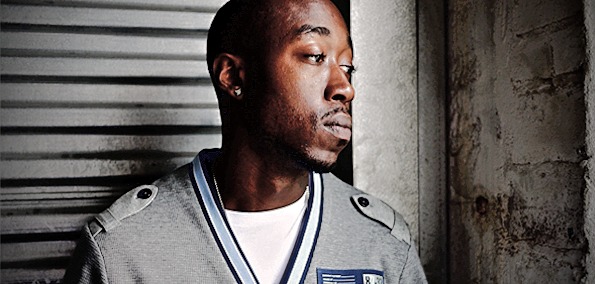 Freddie Gibbs, hails from the infamous Gary, Indiana, known as the birthplace and home of a young Michael Jackson as well as for its numerous years as being the murder capital of the United States. Freddie Gibbs (aka Gangsta Gibbs) has always remained fairly outspoken about his feelings on the evolution of gangsta rap. The 29 -year-old rapper already sees himself as a savior of the heavily-diluted genre. Citing artists such as Scarface, NWA and Bone Thugs as his main influences, Gibb's dedication to the cause look set to place him firmly behind such living legends. His last mixtape A Cold Day in Hell effortlessly created a phenomenal buzz that officially put him on the map. 
EARMILK: Do you think this generation has any real idea what gangsta rap is considering the 'gangsta's in the game right now?
Freddy Gibbs: I don't know. I think a lot of people want to see it die. Y'know, with the influx of 'certain' alternatives to what gangsta rap was – now they're not on that. The general public, 90% of the general public ain't gangstas. So I can understand why they would champion the 'other guys' because they can relate. Back in the day when gangsta rap flourished, at its high point when people admired those guys, they wanted to be like an Ice Cube and guys of that nature.  Nowadays they look towards a different direction. But that reality and that truth still needs to be told. It still needs to be brought across in that gangsta way. You can't really kill gangsta rap. You've still got some of the forefathers of it. Guys like Bun B. That sh*t will never die. Especially with guys like me in it. This is all I do. This is all that I'm gonna continue to do. No matter what type of record or no matter what type of other group I work with. I did a song with Joker. Not necessarily gangsta rap artists. They are not gangsta at all but I brought that element to it. That's what I wanna do throughout my career. That's who I am.
 EM: How much have things changed since signing to CTE?
FG: A lot of things changed. I've definitely garnered a lot more respect from different people. Different walks of life. Jeezy has a huge fan base and what he did was pretty much introduce me to that fan base. So really right now it's just my time to capitalize on that and continue to do the things that got me to Jeezy so that I can further the whole CTE brand. Since getting with Jeezy, I've been learning a lot of new things musically. I've been getting the chance to go on the road with them. Feed off his energy and feed off his work ethic. Jeezy created his own lane and I think that I'm created my own lane. What we're doing for street rap, I don't think it can be matched.
Gibbs has several upcoming projects. Not only his Gangsta Grillz project with DJ Drama entitled Baby Faced Killa, as well as his collab project with Madlib and his debut studio album which is set to drop later on in the year. It looks to be an exciting year. Having been so vocal about the artists he doesn't listen to (namely Wale and Big Sean… he was slightly less critical of Lil B). I was curious to find out who does get played. Gangsta Gibbs is obviously very selective.
EM: So who's in your iPod right now?
FG: Freddie Gibbs.
EM: Just Freddie Gibbs?
FG: I definitely got all the old legends. Scarface. 2Pac. UGK. As far as new guys, I'd say it's only me in my iPod right now. I have music I bump that not's in my iPod. I bump Kendrick Lamar. I f*ck with Dom Kennedy. Definitely Young Jeezy. TM103 is in my iPod. That real sh*t man. I just don't like the foolgazy rap. If it isn't real rap. A guy just doin' him – it's to the wayside somewhere.
 EM: We've already established your favourite rappers. Who would you say top 3 greatest producers of all time are and why?
FG: Damn. That's rough. That's a tough one. Can it be like 5?
EM: Sure. You can.
FG: Of course Dr. Dre. That goes without saying. Dj Premier. Dj Quik. I like DJ Quik. A lot of people underrate him but he has got to be one of the greatest producers of all time – Warren G. People don't give Warren G his credit. A guy like Mike B, Mike B don't get his credit either. They don't get the credit that they deserve for the records that they produce.
 EM: How's the support been from your city? Is everybody really behind you?
FG: Not everybody. You can't please everybody. There's definitely been a lot of hate and a lot of love. So you just take it all in your stride and just keep it movin' man. I got where I am with no support from nobody so, I aint trippin'. Love me or leave me alone.
EM: Will you be at any festivals?
FG: Hell yeah. I hope I get invited back to that festival I did last year in Norway. Whatever festivals y'all have in Europe – Call me! I'm there.
Freddie Gibbs is living the dream. Having only started rapping several years back, he has already been signed to Jeezy's label CTE and later on this week will be making his first UK performance right here in London. This will officially make Gibb's the first out of his home crew to travel overseas, an achievement he appears to be very proud of to say the least. And he doesn't just want to stop at London…