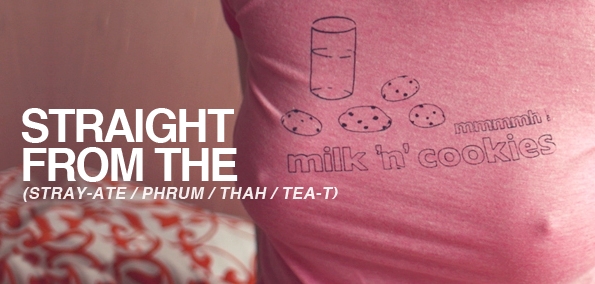 True fans of music spend countless hours searching for that next great song, album or artist, whether it be online or in a local record shop. The beautiful thing about music in today's age is that technology has created an infinite supply of great music that is available to us at the click of a mouse. How perfect is that? We can discover a brand new artist on the opposite side of the globe in seconds without a radio or a music television channel. It only makes sense that a website so dedicated to this gorgeous universe of music would want to celebrate the greatness and share it with anyone who is looking.
My name is Eric (Connecticutter), and I am your host of Straight from the Teet, where I will delve into 7 new albums per week and let you know which tracks I loved from the albums I listened to. I hope that my exploration through this never-ending sea of music will help satisfy that hunger for the brand new tracks you have been seeking.
---
MONDAY: Orbital - Wonky
TUESDAY: Willamette - Always In Postscript
WEDNESDAY: Miike Snow - Happy To You
THURSDAY: Rocket Juice & The Moon - Rocket Juice & The Moon
FRIDAY: Mirroring - Foreign Body
SATURDAY: Chromatics - Kill For Love
SUNDAY: Capillaries - Into The History Of Light
---
 Orbital - Wonky:
I, like most other people I know, first heard Orbital when the ending credits sequence started for the original Mortal Kombat film. The song, "Halcyon & On & On", was a perfect way to close out the movie with its gorgeous vocals and really atmospheric, world music approach. Even though the song isn't really an Asian song you might find in a martial arts movie, it somehow made you think that way regardless. After I heard that masterpiece track, I was pretty quick in finding more material from the electronics duo composed of brothers Phil and Paul Hartnoll. Over the years, Orbital have created some terrific electronic dance music and become some of the pioneers of today's house music sounds. It's been about 8 years since their last album and with that long absence from music has come a much more genuinely mature sound. Although the brothers have continued their pursuit into the abyss of electronic house music, things seem a bit different. Number one, their production is off the charts. Of all their albums, Wonky seems like the most finely tuned. It's not even close to being their best album, but as far as production goes, this one just outdoes anything else they've released. The sounds are masterful, with lots of pounding bass drums that will shake your room if turned up even slightly and some stingy keyboards that really sound intense and thrilling. After listening to this record a few times however, I was a bit aloof with much of the 9 track album. Some songs seemed terrific mostly because of the incredible production but other times I just grew tired of the same thing over and over. Even the anticipated Zola Jesus collaboration seemed to shy away from what I was hoping for. Her vocals are normally a standout but on the track "New France", her vocals are such a secondary thing. Even though it's probably my favorite track off the album, I wasn't terribly excited about the song. One thing that really peaked my interest of Orbital over 10 years ago was their ability to mix in ambient music and melodic world music with their dance driven sound. Somehow, that was just a perfect way of squeezing out interesting house records. In today's day and age, even though music seems to continue to grow at an astounding rate, people are calling more for house beats then ever before. Maybe that has something to do with this album's anti unique flavor and staying in comfortable waters with an album I can't imagine hearing anywhere else but a rave club. In that sense, the album's title seems perfectly justified as the music just seems so brain battering. All in all I'm very half and half on this album as the production quality really gave it a chance but in the end I just wasn't able to stay interested long enough.
Download:
Orbital - Stringy Acid
Orbital - New France (feat. Zola Jesus)
Download:
Orbital - New France (feat. Zola Jesus)
---
Willamette - Always In Postscript:
Ambient music has always been characterized as a genre of music that plays with each timbre, thus creating something atmospheric and unobtrusive. Ambient music though, has garnered many sub genres since its true development in the 1960's. Now, we can hear dark ambient, modern classical, ambient house, and industrial just to name a few. With each sub genre comes a different type of music and this fluctuating of musical styles is really giving ambient music a rebirth of sorts. Willamette is a very tight-knit group composed of brothers Davin and Kevin Chong and Joseph Yonker. As the band puts it, their influences don't pass the year of 1975 as they keep a very nostalgic feeling held into their sound. In fact, they apparently ever even listen to anything modern which is quite interesting because when you think about ambient music, the greatest time for it has to be the late 90's and beyond. In any case, Willamette sticks with a very solemn, isolated sound that was very ground breaking back in the early 70's. Their isolationist music brought them great praise on their debut LP Echo Park which was released last year. Now, less than a year later, Willamette has released a follow-up EP which plays with the same formations they used on their debut record. The album, entitled Always In Postscript, is a gorgeous piece of music that captures the ideas of solitude and longing all without lyrics. Like on their first record, the band shows its values not just in the sounds they are creating but in the silence that underlays each note. They understand the importance that space and silence can provide a great ambient record and they use this to their advantage. The record isn't depressing as some might think it is due to the sullen atmosphere it provides, it's actually just a perfect musical painting of what it's like to be alone and secluded from the ones you love and care about. This album brought a lot of nostalgia out, reminiscent of classic ambient artists such as Brian Eno. The music on here is organic and just plain beautiful.  
Willamette - Open Wounds (For J.N.)
Download:
Willamette - Open Wounds (For J.N.)
Willamette - Always In Postscript
Download:
Willamette - Always In Postscript
---
Miike Snow - Happy To You:
Instead of praising Miike Snow for a job well done on their debut, self titled album in 2009, I'm pretty much on the other side of that. I've always had the same bitter feeling towards electronic pop records as to me, its sound is always a mainstream clone of sorts. Not that artists like Hot Chip or TV On The Radio are in fact copying other artists but this electropop sound to me, always sounds utterly similar to the rest. On the trio's debut album, Miike Snow finds ways to bring out the interesting when it comes to electropop, blending in really fun, quirky dance beats and some off the beaten track vocals by Andrew Wyatt. All together, they formed a pretty unique kind of experiment that worked out rather well for them. On their new album Happy To You, the band continues the same procedure musically but this time, the weaknesses are no longer left to a mirage. After so many releases within the genre of electropop and so many mainstream artist's now beginning to follow suit, it starts to become apparent that so many songs share so many similarities with one another. If it wasn't for some odd R&B driven vocals by Wyatt, this album would just be a less good Hot Chip record. In fact, some of the tracks off Happy To You sounded like they were ripped directly off of Hot Chip's catalogue such as "Devil's Work" which to me sounded just like "I Feel Better" but with a less string driven forefront. Another issue I have with this record is it's overproduced nature. Whereas on the first album we were given insight into the record's essential elements that formed it's core, on Happy To You the music is very processed and mondaine. In the end, the electropop identity ends up being an electrobore as the factors that went into Miike Snow becoming so prevalent are thrown right out the window.  
Miike Snow - Paddling Out
Download:
Miike Snow - Paddling Out
Download:
Miike Snow - Devil's Work
---
Rocket Juice & The Moon - Rocket Juice & The Moon:
Damon Albarn has a hunger for music that doesn't seem to have any chance of being fulfilled. It seems like every single year we get some kind of new project or new song from Albarn as he continues to grow his ambition to an all new high. The Blur frontman escaped his alternative roots in 2003 and went on to form experimental projects such as Gorillaz, The Good, The Bad & The Queen, Mali Music, and not to mention a collaboration with countless other artists while also doing his own solo work. On top of all that, he continues to work on visual elements for his work with Gorillaz, making artistic videos and putting on stage adaptations of ancient stories. This guy is just a music adventurer who has no ability to slow down. What's next for Damon? How bout a new band made with Red Hot Chili Peppers bassist Flea and veteran musician Tony Allen? The band was formed in 2008 but we didn't get a glimpse into their sound until last year when some of the tracks off their anticipated, self titled debut were released as singles. The album continues this trend for Albarn to be creative and unique with his musical trifle. Rocket Juice & The Moon is an album that uses traditional Western African musical techniques and combines them with crafty variations of hip hop and R&B fusions. Most of the album comes together as a jam band record of sorts, but most of the tracks come in at less than 4 minutes. Nothing outstays its welcome but the tracks don't have much time to truly blossom before it's minute mark is reached. The collaborations on this album are made brilliantly especially on the song "Hey, Shooter" where Erykah Badu contributes lead vocals. Albarn was also able to gather up some key hip hop contributors, mainly musicians actually from Africa who really nailed their parts with a great sense of naturalism. Although this record is a true odyssey into a part of the world that not many people ever get to venture, the album seems more like something you might hear live somewhere while you're on the ocean drinking margaritas. It doesn't really feel much like an LP because of its funk jam band qualities that also blind me from fully enjoying the creative endeavor this album really sets out to accomplish in the first place. The music is good but doesn't gel with me fully. Although I can't seem to set myself on an even keel with this record, the standout tracks are tremendously capable of putting that criticism aside and bringing life to the album. 
Rocket JuiceThe Moon - Poison (feat. Damon Albarn)
Download:
Rocket Juice & The Moon - Poison (feat. Damon Albarn)
Rocket JuiceThe Moon - Hey Shooter (feat. Erykah Badu)
Download:
Rocket Juice & The Moon - Hey, Shooter (feat. Erykah Badu)
---
Mirroring - Foreign Body:
We all know Liz Harris as the cultivated artist behind Grouper, a dark ambient project that has been growing more and more critically acclaimed with every album since her debut back in 2005. Harris has been cited as a standout musician within the ambient community and her music really does make that a clear characterization. You also might know Jesy Fortino as Tiny Vipers, a solo project that combines elements of folk and dreary ambient music. Both artists have been bursting on the scene as of late as their albums have received a lot of critical acclaim. The girls thought it right to join forces on a record which has been released this year. The decision on naming the project Mirroring was perfect as both musicians kind of silhouette each other with their musical capabilities and musical intuition. Their ideas seem to mimic each other and form this perfect combination that is all heading in the same direction, towards the same goal. Some people might call this album, deemed Foreign Body, a detour from what the girls are used to but in fact, they are in their comfort zone with this record. The album is made up of very dark, ambient dreamscapes with some subtle, acoustic guitars and emotional vocals by Fortino. The ambiance here, done by Harris, is majestic as usual. The mosaic landscapes that she paints with her ambient atmospheres are always very eerie but also very fascinating. It seems like she does so little to create something so enormous as these atmospheric drones come at you in every direction. Jesy Fortino makes her presence known on this album as well, creating some stirring guitar sections that cape the atmosphere the songs are presenting. Both girls add a very dreamy quality to the tracks with their wistful vocals. Of all the albums I've heard this week, this one is surely the best so far as the complexities and melancholic qualities just present such a unique involvement. This was a pretty brilliant musical combination and it surely payed off.
Download:
Mirroring - Fell Sound
Mirroring - Drowned The Call
Download:
Mirroring - Drowning the Call
---
Chromatics - Kill For Love:
Drive was a great movie with a badass soundtrack which gave the film's its nostalgic, cool identity. One of the artist's who stood out for me on the soundtrack was the not so well known Chromatics. It's kind of interesting thing, when great bands who make interesting music somehow slip through the cracks, but it happens every single year, which is my primary reason for doing this feature. Chromatics are a band from Washington who were picked up by the label Italians Do It Better after their debut album in 2003. Their music took a dramatic turn in the mid 2000's when their lineup drastically changed as they fled their new-wave and punk sounds to focus on something more electronic and dreamy. Their new sound would end up blending lots of synth pop with a non dance worthy Italian disco style. The change was much-needed and interesting for its sound as everything seems so evocative as if they were a synth pop band making beats in the 1970's. The visualization of the driver from Drive putting on driving gloves and shades is perfect for songs of theirs such as "Tick Of The Clock", one of their breakout songs from their last album. With everything working in their favor and a wider audience due to great promoting and collaboration on the film, Chromatics had a lot to quickly lose. On Kill For Love though, their newest album, the band exceeds expectations and transcends their former record's final product. This album is filled with ambition from the first track onward as the cover Neil Young and then continue to progress their aesthetic sound. Over the course of 90 minutes, the band was able to create something with almost no holes or filler for that matter, which surprised me greatly due to its significant stretch of time. You can tell the band is maturing right off the bat as their instrumentals have become more abstract than ever before. The sound might be more accessible in a way as I can see anybody who listens to this album really enjoying the instrumental portions especially. Chromatics have a brilliant mind-set when it comes to their music, making expansive sounds and huge, epic songs with very minimal techniques. Sometimes, drums are barely there yet the subtle beat is somehow made specifically clear to you. Even though it is meticulously crafted, some people might have trouble with the album's crazy length but let me assure you, this album sneaks away with little problem in the time department. Some songs might escape you and confuse you with their existence on the record in the first place, but overall the good far outweighs the bad. I guess in the end, I might have taken a few of the long, atmospheric tracks off to narrow the time window but then again, I'm happy as is personally. This album was a huge surprise for me even though I really enjoyed their last few albums. I honestly didn't expect a synth pop record to blow me away, but this one has. When an album can exceed expectations, you know you have a gem.
Download:
Chromatics - Lady
Chromatics - Back From The Grave
Download:
Chromatics - Back From The Grave
---
Capillaries - Into The History Of Light:
Treading over post-rock seas is kind of dangerous thing nowadays. Most post-rock just kind of comes and goes as most releases follow the same, generic path including atmospheric guitar, long build ups and epic drum patterns. With so many releases within the genre which seems to multiply on a yearly basis, so much of it is just so forgettable that it's sometimes hard to really distinguish acts. Obviously some bands are far better than others and have defining moments but for the most part, post-rock has become the epitome of affiliation within the music industry. If I were to put on any three post-rock records from 2011 that you hadn't heard, most of you would probably think they were all done by the same artist. This all kind of puts a damper on a genre that I have loved for years, especially since Godspeed You! Black Emperor put their mark on it. Like any media though, genres will fade out and others will shine on but I don't want to completely discredit post-rock just yet. Earlier this month, I found an EP by a band named Capillaries. The album, entitled Into The History Of Light, shows an ironic breath of light for the dying genre. The music sticks to the basics and does come across as a little bit cliché but these guys know how to get the job done. They are explosive with their instruments, creating very loud, epic moments of pure hard rock. The overlays are probably the most interesting portion of this record, with lots of atmospheric, accented notes that are sustained almost throughout the entire track. The bass on this album is tremendously powerful, as the sludge of slapped bass just pounds at your bass speakers. It's really too bad though for Capillaries as even though they show some good musical qualities, they are unable to shake the same issue that almost all post-rock acts are burdened with these days. The generic shadow that follows all these acts is a nightmare but at the same time, it's evident that bands need to get more creative and do something to separate themselves from the rest of the pack. Capillaries doesn't acknowledge that fact and although the music is good, it just tends to blend together with the rest of the genre. By next week, I'll have forgotten the tracks and lost the ability to tell the difference between Capillaries and the rest of the fading genre. We need some separation!
Download:
Capillaries - Summit
Capillaries - Extraction Point
Download:
Capillaries - Extraction Point
---
After probably the most complex week of album listens yet, I am more than ready to start another. If anyone is interested in purchasing or simply hearing any of these albums online, I have linked them for you at the top of this page to make it simple. I hope you have enjoyed reading this weeks edition of Straight From The Teet and I look forward to bringing you a new group of records next week. Please leave comments here at the bottom and let me know what you liked or didn't like from this week's lineup. Have a great week!