True fans of music spend countless hours searching for that next great song, album or artist, whether it be online or in a local record shop. The beautiful thing about music in today's age is that technology has created an infinite supply of great music that is available to us at the click of a mouse. How perfect is that? We can discover a brand new artist on the opposite side of the globe in seconds without a radio or a music television channel. It only makes sense that a website so dedicated to this gorgeous universe of music would want to celebrate the greatness and share it with anyone who is looking.
My name is Eric (Connecticutter), and I am your host of Straight from the Teet, where I will delve into 7 new albums per week and let you know which tracks I loved from the albums I listened to. I hope that my exploration through this never-ending sea of music will help satisfy that hunger for the brand new tracks you have been seeking.
---
MONDAY: The Shins - Port Of Morrow
TUESDAY: Hudson - Crimson
WEDNESDAY: Trampled By Turtles - Stars And Satellites
THURSDAY: Doc Waffles - How To Shoot Quail
FRIDAY: The Big Sleep - Nature Experiments
SATURDAY: Beat Culture - Tokyo Dreamer
SUNDAY: Memoryhouse - The Slideshow Effect
---
 The Shins - Port Of Morrow:
So it's been 5 years since The Shins have released any new material and since then, a lot has happened. Not only in the world but also to the band itself. In 2009, keyboardist Marty Crandall and drummer Jesse Sandoval had been replaced by Ron Lewis from Grand Archives and Eric D. Johnson of Fruit Bats on bass and Joe Plummer of Modest Mouse on drums. The news came with a complete shock by fans of the band like myself as the members from the original lineup seemed to mold into this perfect combination as a band. James Mercer, lead singer and songwriter of The Shins, later came out to acknowledge the fact that he was forced to fire them in order to reach a new plateau of production ideas which couldn't be achieved with his original band mates. So Port Of Morrow has been released just 3 years later and I feel it finds the band at a more devolved state in fact. The record explores themes of love and the explorations of life which makes sense as Mercer is growing older and wiser and falling in love with someone was bound to happen at some point. His songwriting is still terrific as he continues to show off his ability poetically with incredible enthusiasm. What's up with the sound though? Everything seems more stripped down than ever before with much less electric guitars and the rhythms and tempos have been slowed down to a bare minimum. Even on tracks like "Simple Song", the first single from the new LP, James Mercer sings confidently over a track that carries this repetitive chord progression but the excitement never carries out. It becomes uninspired almost, merely unimaginative which is odd because that was exactly what drove The Shins to becoming one of the world's most influential indie bands years before. When I thought about it though, it started to make more sense to me. Port Of Morrow is more of a solo release of James Mercer than a full band release, it just happens to hold the band's name. Obviously there are lots of contributions from other musicians on this record but even the album credits show different musicians on each track. Some songs have you reminisce over the original song crafting by The Shins such as "No Way Down" but others just sound like James Mercer alone in a studio like on "Fall Of '82". His vocals are spotlighted on this album like never before and I think that further makes the idea of this being a solo record further evident. I have to say though, all in all, I'm not truly surprised I didn't like this album like I enjoyed the first three. I knew things would change, especially after half the band was randomly fired. The Shins are forever changed so depending on what you're going to be expecting from this record, hone in on that fact because you won't be hearing any "So Says I" or "New Slang" on this album and it's kind of shame. As mediocre as I think this album is as far as The Shins go, it still outdoes most of your average indie pop albums. You just have to remember that some bands are held in much higher regard then others and judgments will most likely be made more harsh. I guess I just expect more from a band like The Shins.
Download:
The Shins - No Way Down
The Shins - 40 Mark Strasse
Download:
The Shins - 40 Mark Strasse
---
Hudson - Crimson: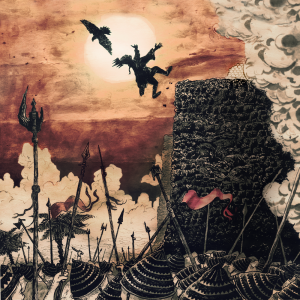 So you think listening to 7 albums in one week and writing a review for each one before the week is over is tough? How bout writing and recording an entire LP in 7 days? That's the type of creative process that Hudson uses and on their latest release, Crimson, the band has shown that it's not only possible but that the product can be quite good with the right effort put in place. Hudson is a band created by John Boswell and Will Crowley and they tend to specialize in progressive folk music, especially when it pertains to concept albums. As writers, Boswell and Crowley have a true aptitude for storytelling. Their albums focus on single concepts and remind me a lot of a less tarnished Colin Meloy (The Decemberists) but with a more progressive feel. Although the band considers themselves folk artists at heart, they tend to show a great understanding of orchestral arrangements and large musical concepts that tend to put them on the progressive scene more than anything. Crimson tells the story of a castaway who leads a people's rebellion against a tyrannical king. The poetic lyrics within each song acknowledges this as Hudson sings of unfit leadership and a cruel world that a society is forced to live within. The ambiance on this record is a great backdrop to the music as you can often hear the distant sounds of tumbling waves on a beach or clock towers ringing up on the hillside. It gives you a sense of a location for this uplifting tale and it does it ever so elegantly. The music itself is done very well too. Most of it is led by electric guitar with some additional fills. Although some of this album is genuinely sweet with acoustic picking and tender piano riffs, the band knows when to come in violently with their drums and guitars for the second half of this record. Overall, this is a very ambitious piece of work for 2012's music. I wonder what they could do with 2 years of album preparation rather than just 1 week. After all, the only real downside is the production but I think that just comes with the little time the album had to being totally produced.  
Download:
Hudson - The Falconer
Hudson - Foreboding Times
Download:
Hudson - Foreboding Times
---
Trampled By Turtles - Stars And Satellites:
I started getting into alternative country music a few years ago and although it normally gets a bad rap from indie fans, it really shouldn't. People usually intertwine alt-country with average country music and it couldn't be more wrong. Alt-country is more or less just southern style folk music, sometimes using country styled guitar pickings but in no way would I contribute it as having any common themes as that country crap you hear on the CMT network. What I like most about the genre as a whole is its ability to put you into a mindset of being in the deep south, warm in the sun without a care in the world. The songs are normally so hospitable that it takes you right out of your roots and lifts you off into the exact plot of the song you're listening to. I know a lot of music is capable of this but somehow alternative country really embodies it. Over the past few years, I am seeing it boost a lot more exposure than ever before especially with artists such as The Civil Wars or Sam Amidon who have brought a very sincere, folk enthused feeling to the genre. Bluegrass is also usually a feature within the music and although that might not be my thing entirely, there's something very fun and interesting about it at certain times. Trampled By Turtles is primarily a progressive bluegrass band from Duluth, Minnesota. Their music is very traditional in a sense of bluegrass music, with lots of picked guitar verses and banjos that represent the lead on most tracks. The songwriting is also traditional, focusing on nature and having a good old-time in the deep south. Although the band isn't from the average place for bluegrass styled music, they sure do have a true talent when it comes to playing within the genre. Musically, this is a very well versed album with plenty of good ideas blended in with some good songwriting and emotions. All in all, it's a decent summertime record that should most likely be enjoyed while you hang out on your porch in the hot sun. I understand however, that this album is truly not for everybody. In fact, at times, even I get a bit indifferent about it mostly because I don't have that same connection with bluegrass that people from the deep south or mid-west might have. Sometimes too much is too much but overall, this is a pretty decent release with too many good moments to let slide by. 
Trampled By Turtles - Midnight On The Interstate
Download:
Trampled By Turtles - Midnight on the Interstate
Trampled By Turtles - Alone
Download:
Trampled By Turtles - Alone
---
Doc Waffles - How To Shoot Quail:
I love how at some point in the last 4 or 5 years, mainstream hip hop to a backseat to underground hip hop. People are no longer talking about T.I. or 50 Cent. Instead, all the heat is on Odd Future Wolf Gang Kill Them All and A$ap Rocky, who came on the scene last year. Once you start listening to some of this indie hip hop, you can't help but continue to dig and once you do, you'll never turn back. At a time when music is as accessible as ever to obtain, it's no wonder that underground artists are blowing up. Not only that, it's just plain old better music in general. Like I have said before, rap is not really a mainstay for me but I do like to dig around and get lucky with something I like on occasion. I've recently been trying to find artists who blend jazz and hip hop together, kind of like trip hop music but with the lyrical aspect as well. I've been coming across a few decent artists but Doc Waffles is a stand out so far. His music is very lo-fi with an incredible amount of passion and energy. He blends plenty of jazz composition with some great hip hop techniques and the beats flow out vividly. His rap is pretty unique as well as he seems to just speak his mind on every track. You won't find many choruses on here, instead you'll just be getting straightforward mind thoughts from Doc, who has plenty to say. Lots of the lyrics come across as jokes and sarcasm which is nice as it will make you chuckle at times and it makes for a very fun listen. What really stands out about Doc Waffles on top of his beats is his flow. He has this natural ability to grab your attention and shake you around with his fun lyrics. A lot of it seems like freestyle but he rises to the occasion with great rhyme after great rhyme. By the way, I love the tiny sample of Debarge's "Who's Holding Donna Now" at the end of "Edgar Allan Poe, somehow it just seemed right. This guy has some true talent and is definitely worth a check if you're into hip hop.
Doc Waffles - Eleanor Roosevelt
Download:
Doc Waffles - Eleanor Roosevelt
Doc Waffles - Edgar Allen Poe
Download:
Doc Waffles - Edgar Allen Poe
---
The Big Sleep - Nature Experiments:
The Big Sleep formed in 2003 in Brooklyn, NY. The band, made up of Sonya Balchandani, Danny Barria, and Gabe Rhodes, have made a tremendous amount of noise with their latest LP entitled Nature Experiments. The band has explored a wide array of musical genres such as shoegaze, post rock, and post punk and the band has made it work pretty effectively. On their new album, all of these genres combine to form a very noisy, almost monstrous sound that demonstrates their ability to basically rock out. It kind of becomes a psychedelic nightmare at times, as violent song crafting blends in with some fierce vocals by Barria and Balchandani. The songwriting isn't all that good as often times lyrics get repetitive and it doesn't seem like they have much significant things to talk about but the band is pretty new to songwriting. In the past, they stuck mostly with instrumental catalogues, straying away from any type of lyrical concept. The ambition here to add some lyrics may have been asking a bit too much of the band but their are some standout tracks such as the first track off the album "#1" and "Ghosts In Bodies", which has this sexy guitar lick played over some rather  Nintendo-esque midi synthesizer in the background. Although that background sound wasn't too good, the guitars really make up for it and once the song crashes down on you towards the end, the power from this bad instrumentally is made clear. "Red Carpet" was probably my favorite track as it used their post-punk prowess to go along with a nice, shoegaze feel and the song just comes together very nicely. It also had the best vocals of the entire record from Balchandani, who sings this trick almost effortlessly but it's perfect. It's almost ironical that the band's name is The Big Sleep as there's almost no way in hell you could ever get shut eye listening to these guys whale out on their instruments. In the end, I wasn't too crazy about the record as I think production really lacked on a great portion of it and I just couldn't get into the songwriting what so ever. The music also had its downfalls as the band tried blending in keyboards and synthesizers but they don't seem to have a true talent with either. Although it's just background noise, it still refrains you from completely enjoying the rock n' roll aspect of what their music is supposed to show off.
The Big Sleep - Red Carpet
Download:
The Big Sleep - Red Carpet
The Big Sleep - Ghosts In Bodies
Download:
The Big Sleep - Ghosts In Bodies
---
Beat Culture - Tokyo Dreamer:
Music continues to go through a tremendous evolutionary period ever since the early 2000's when software for beat making was made easily accessible for anyone who owned a computer. Even since then, software has lowered in price dramatically and we're starting to see young, aspiring DJ's from all around the world who just want their music to be heard. Beat Culture is one of those artists. Sunik Kim is an Asian-American who grew up loving electronic rave music. He's now only 17 years old but has already released his 2nd LP, Tokyo Dreamer. Like most young musicians, Kim is currently unsigned and releasing his music to the masses on bandcamp for "name your price". As a 17 year old, Kim is a very ambitious musician who is trying to put his own stamp on the world of ravetronica. His inspirations are pretty obvious as he takes lots of influence from bands like SBTRKT and Star Slinger but he also throws in some trip hop and dub step within his music. Tokyo Dreamer plays out like a fantasy world with lots of samples and angelic synthesizers that are quite nice. The tracks shift a bit from rave music to trip hop and from electronic pop to dub step and although this might seem intriguing, it's a bit of a mess at times. As a young musician though, it's pretty understandable that Kim would have an issue like that as his influences are all over the place and he just has issues keeping his ideas on the same path. With that too, comes the problem of over stuffing your songs. On some tracks, I just felt like there was way too much going on for me to be enthused rather then annoyed. When you insert more then a few strong loops into the same song, it tends to get a bit distracting. One thing that Kim does very well though is incorporate sound effects into his music. It takes a very keen ear to understand when and where to insert certain sounds in order to match your beat and Kim shows this off very well. I think overall, this is an album done by a young kid with plenty of potential but also with an overloaded amount of ideas, too much for one album to satisfy. If Kim can slow it down a bit and just take a moment to cut out the fat, I think he has a decent chance of becoming something special. Sometimes less is best. 
Beat Culture - Coastal Sentiment
Download:
Beat Culture - Coastal Sentiment
Beat Culture - Before You Go
Download:
Beat Culture - Before You Go
---
Memoryhouse - The Slideshow Effect:
Memoryhouse is a dream pop duo that formed in Toronto by vocalist Denise Nouvion and composer Evan Abeele. Together, the two released an EP in 2010 that was released to pretty good acclaim. The EP, entitled The Years, gained lots of comparison to 90's dream pop acts such as Slowdive and if you're a dream pop fan, that is quite a compliment. Slowdive is one of the key contributors to the genre and most of the dream pop you hear today owes it's thanks to the sound that Slowdive perfected years ago. With all that being said, people including myself were really anticipating something huge from Memoryhouse when they announced their debut LP, The Slideshow Effect. The album plays around with the styles they focused on with their EP but for some reason, The Slideshow Effect seems to suffer from a lack of ideas. Songs are dulled down and the music that surrounds Nouvion's vocals is almost too subtle to even acknowledge. This absence of defining moments within the music really brings the album to a sad bore even with uplifiting moments such as "All Our Wonder" or "Walk With Me", both of which sound quite gorgeous due to some terrific production. Dream pop has always been identifiable as being a genre that always includes really soft, angelic type vocals. Usually the vocalist is female but we have seen some great male vocalists at the help of some significant dream pop bands. Denise Nouvion isn't a terrific vocalist in the least bit and doesn't really stick to the traditions of dream pop vocals. Her voice is deep and rather strong, maybe too strong to be at the helm of a dream pop band in my opinion. Her voice at times seems to overpower the musical composition and it gets a bit irritating. They almost sound too basic too, as if Abeele got some random girl from the lobby of the studio to read some lyrics while he played guitar, really just dry and unexciting. The few shining moments on this record aren't really enough to keep it afloat for me and I fall quickly out of love with it before side B. It seems to be a sad case of a band being a tad over hyped.
Memoryhouse - Walk With Me
Download:
Memoryhouse - Walk With Me
Memoryhouse - All Our Wonder
Download:
Memoryhouse - All Our Wonder
---
A pretty indie heavy week of album listens is behind me and I am ready for another week as I look forward to getting back to all of you readers next Monday. If anyone is interested in purchasing or simply hearing any of these albums online, I have linked them for you at the top of this page to make it simple. I hope you have enjoyed reading this weeks edition of Straight From The Teet and I look forward to bringing you a new group of records next week. Please leave comments here at the bottom and let me know what you liked or didn't like from this week's lineup. Have a great week!