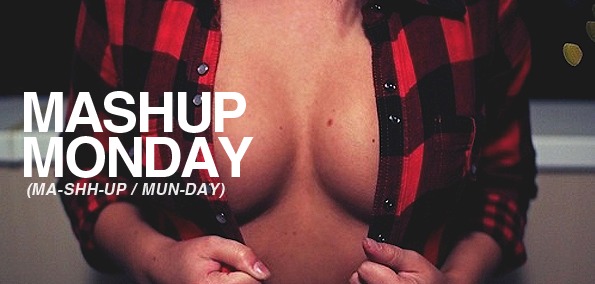 Mashup Monday - We're back again with some of the freshest mashes to start your week off right. These are the mashes that are worth hearing, so stop your searching and instead settle down at your computer... turn up your speakers... and get ready for that sweet nectar that only EARMILK can give ya. Let's GO.
I'm always a fan when someone sends me their music for the first time and I'm absolutely digging what they send. It makes my job easier and it shows initiative. With that being said, three guys that emailed me and sent me their music for the first time made it on the list - Bent Wire, Dash Speaks, and Saturn/The Saturn Project. I'd been traveling for pretty much the latter part of the week, and getting back on my computer and hearing each of their respective tracks had me turning up the volume. Bent Wire, for a first mash ever, does a great job of integrating Calvin Harris with Mord Fustang and Yes.
One track that I had the privilege of hearing throughout the entire creation process was DiBella's "Ficarus". Yeah, it's Adele in a mash once again but I loved the manner in which DiBella uses her vocals. She brings in a strong vocal presence on top of Madeon's "Icarus" which has a classical ethereal sound to it. J.Cole was a nice change of pace especially considering he's not an artist used much on fast-paced, high energy tracks. For a more chill track, definitely take a listen to Chi Duly's edit of Biggie on top of Washed Out. I had never heard the instrumental but the entire track sounded natural and like they were meant to be together.
Finally, it had been awhile since I had heard anything from DJ Fergie Ferg but he puts together a great relaxing mash sampling Mansions on the Moon, INOJ, Coldplay, J.Cole, and more. This track serves as a great contrast to how DiBella used J.Cole in his track but they both stand out individually. If you're looking to wind down your night then make sure you cue up this track to take your mind off your troubles.
Owner of a Lonely Flashback (Bent Wire Mashup)
Download:
Bent Wire - Owner of a Lonely Flashback (Calvin Harris x Yes x Mord Fustang)
Ficarus (Madeon x Adele x J.Cole x The Wanted)
Download:
DiBella - Ficarus (Madeon x Adele x J.Cole x The Wanted)
Calling - Dash Speaks Neighborhood Remix_
Download:
Sebastian Ingrosso & Alesso - Calling (Dash Speaks Neighborhood Remix)
Sorry For Party Rocking (Saturns Rage Face Mashup)
Download:
The Saturn Project - Sorry For Party Rocking (LMFAO x R3hab x Wolfgang Gartner)
Love You Enough (INOJ x J. Cole x Mansions on the Moon x Coldplay x Phantogram x Kal Ho Naa Ho)
Download:
DJ Fergie Ferg - Love You Enough (INOJ x J. Cole x Mansions on the Moon x Coldplay x Phantogram x Kal Ho Naa Ho)
Hypnotize Portlandia (Washed Out - Chi Duly Edit)
Download:
Chi Duly - Hypnotize Portlandia (Notorious B.I.G x Washed Out)
The Hood Internet - Whats My Noise (Snoop Dogg x Dillon Francis x Kill The Noise)
Download:
The Hood Internet - What's My Noise (Snoop Dogg vs Dillon Francis & Kill The Noise)
Scott Melker - Rack City Vs The Motto Vs Bazooka (Scott Melker Remix)
Download:
Tyga Vs Drake & Lil Wayne - Rack City Vs The Motto Vs Bazooka (Scott Melker Remix)
[soundcloud url="http://api.soundcloud.com/tracks/40181637" iframe="true" /]
Download:
Darth & Vader - Barbraloss
Koyote - Devils Sundown (Wolfgang Gartner x Skrillex x Chris Lake)
Download:
Koyote - Devil's Sundown (Wolfgang Gartner x Skrillex x Chris Lake)