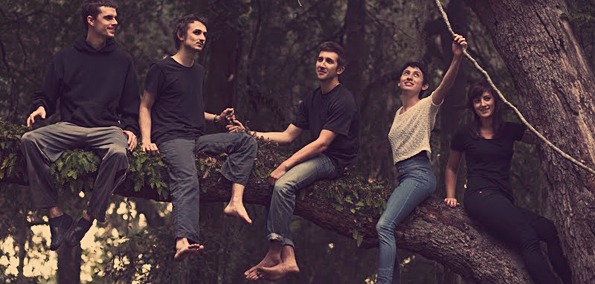 Before the hectic week of SXSW, Zach Tetreault (drummer) sat with us on a curb during Orange You Glad Fest. You can read our conversation underneath as Zach discussed the band, Gainesville, veggie bus, and his overall appreciation towards the music blogosphere. A mini fraction of Hundred Waters' album is available on their soundcloud but you can stream the entire collection on their bandpage. Of course, please feel free to physically own the album (links below).
[soundcloud url="http://api.soundcloud.com/playlists/1263365" params="auto_play=false&show_artwork=true&color=000000" width="100%" height="450" iframe="true" /]
EARMILK: How was playing in New York ?
Zach Tetreault: Shea Stadium was a good turn out but it wasn't packed or anything. Still good vibes though. The next night at Pianos, it just blew us away by how great it was. I don't think you could have fit anymore bodies in the room. For New York, it's hard, you know. Last year, when we toured up there, you get the feeling that people go to a lot of good shows all the time and they are expecting something spectacular when they go out. We just got a really great response from everyone. 
EM: It makes me feel cool seeing you guys in Orlando. What are your thoughts on the DIY scene in Florida?
ZT: We're all about it. I mean, that is one thing that Gainesville really embraces through a tight knit group of artists. There is this one specific DIY space called The Church of Holy Colors, where we've all kind of united. It's a community of artists and musicians which extends a lot into our current label, Elestial Sound. We all collaborate and we all have a huge sense of camaraderie with everything. We also do a lot of shows there. What we like to doing is, even if we have shows somewhere else, we like to bring the spirit over. We'll have The Church of Holy Colors actually do art instillations are our concerts. At SXSW, the Elestial Sound Showcase, we're bringing Gainesville there and The Church of Holy Colors. It's going to be beautiful. 
EM: In a video from Tiny Waves, it seemed like you are all living under one roof. Can you tell us more about that?
ZT: We've been in this house for 4 years now in Gainesville. We started our college careers there. Tray, Paul and I have been making music together since early high school. I met Nicole at the UF music school, where she was a concert pianist. We invited her to live in the house with us and this was all when we played in a band called Levek. Through touring together, we all ended up deciding to move in as a group in there. It was originally just Tray, Paul and myself.  Then Nicole moved in and Sam is actually the current one that isn't living there. It has worked out like a dream. We've been able to write everything under the same roof but not necessarily in the same room. Even through doing it the Postal Service-isque way, we had the advantage to go to someone's door and ask "hey! what do you think about this?". Being under the same roof also allowed us to not worry about scheduling practices for this stuff because our live interpretation is just as important to us and we were able to buckle down for two months, five days a week to practice. It's so important and can't be emphasized enough. Especially with this music because it's so touchy that everything has to be there.
EM: How long did it take for the album to come together?
ZT: All in all, it took about 6 months. The music was all written within about three months. We got hooked up with a guy who does mastering at this placed in London and that took a couple of weeks. Then, the art, which we all did ourselves. We didn't outsource anything creatively so getting the right templates for the CDs and LPs took longer than we thought. All of it took about six months until we had a product in our hands. We still don't have a vinyl out, that's still in the manufacturing world. 
EM: What are the plans for that?
ZT: It should be finished mid to late April but now, we've been getting interest from larger record labels that are now in the picture. It's looking like, in complete disclosure, a duo release with another label. Our label now is Elestial Sound, which is our friend Gabe. It is independently run with only about 6 releases. They're all about providing bands like us with a start, like paying for our veggie oil school bus. Obviously, even at this stage, we're not making enough money at our shows to pay for gas to go around America. It's a really cool label that he has. In the future, it is going to grow a lot.
EM: This veggie bus, how does sleeping work?
ZT: It has 8 beds that are mattresses. It comfortably sleeps 10 people and fortunately, there are only five of us. With our sound guy and road guy, it's super comfy. Also, room for guests and roadies. 
EM: Now, you guys have a lot of instruments. Did you strip it down for tour or is it all in that bus?
ZT: In the album, we used a lot but everything is there, whether it is in physical or digital format. Actually, physically present, we did our best and we basically recreated everything. A lot of it is through MIDI and through our samplers and stuff but everything is being played in real time. We're not just triggering anything as you can see at the show. 
EM: Are you excited for your first festival, SXSW?
ZT: Yeah, it will be our first festival. First SXSW, first major festival. We're super excited, especially with the placements we've gotten. The Portals showcase should be great and we're doing something with the I Guess I'm Floating guys.
EM: Connor is a sweet man.
ZT: We can't even express our gratitude to Connor for writing that first review. I mean, we're great friends with the Portals guys and they were going to do a review for us but Connor mentioned he was going to do a review so I sent him an email saying, "hey, the Portals guys are going to do a review for us" and he was like "fuck that, I'm going to get to it first!". He's the best. 
"We're just so happy that this music is getting into people's eardrums. We've all been making music for so long, solo and together. Nicole has her amazing project and I go to every one of her shows, even it there's only two people there. I just believe so much at how amazing what everyone can bring to the table and what Gainesville has to offer. We're so excited to have Gainesville on the map. At the end of the day, we're bringing Gainesville with us, every where that we go."