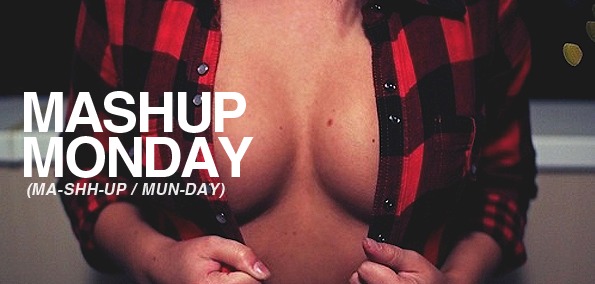 Mashup Monday - We're back again with some of the freshest mashes to start your week off right. These are the mashes that are worth hearing, so stop your searching and instead settle down at your computer... turn up your speakers... and get ready for that sweet nectar that only EARMILK can give ya. Let's GO.
It's been a great Monday for me. Long but great. Flew back from Chile back to the States, so I'm a little tired but that's not going to stop me from getting out some interesting mashups. Starting us off is a track by Loo & Placido called "WATCH OUT ROXANNE" that makes great use of The Police's "Roxanne". I was kinda hesitant on hearing Loo's take on this classic but giving it a more modern touch with some dubstep left me impressed. Sting's vocals are nearly timeless and he definitely fits the beat of "Watch Out Roxanne". Basic Physics' track mashes an underused artist - Chiddy Bang - with more widely used samples - Deadmau5, Ellie Goulding, and Hardwell - to create a pretty sweet "Encore" after his Lift Off album.
I had a strange to hear some Citizen Cope, and decided to find a couple of mashes that had either Citizen's amazing chill beats or Citizen's smooth vocals. Mash #1 is "Anthem of Bullets" by KE3F and while it may be a couple of months old, I'm absolutely loving the chill vibes that comes from the combination of Emancipator's "Anthem" and Citizen Cope's "Bullet and A Target". Mash #2 by Harry Diamond takes Citizen's "Let The Drummer Kick That" and throws some Tupac bars on top to give both Citizen and Tupac a different feel from each's respective original track.
Other mashes of note that I enjoyed was Cryptex's "The Glitch Anthem", DJ Desu's " Must Be The Headshot", and Koyote's "Blow 'N Stuff". Especially after  long night of flying (9+ hours), these upbeat and high-energy mashes were definitely great to get me moving. So while you take a listen and download, it's about time I catch up on the sleep that I put aside during the flight. Enjoy another segment of Mashup Monday.
Loo%20%20Placido - Watch Out Roxanne
Download:
LOO & PLACIDO - WATCH OUT ROXANNE
Basic Physics - The Encore (Chiddy Bang x Hardwell x Deadmau5 x Ellie Goulding)
Download:
Basic Physics - The Encore (Chiddy Bang x Hardwell x Deadmau5 x Ellie Goulding)
KE3F - Anthem of Bullets (Emancipator x Citizen Cope)
Download:
KE3F - Anthem of Bullets
Cryptex - The Glitch Anthem
Download:
Cryptex - The Glitch Anthem
DJ Desu - Must Be The Headshot (Feed Me x Delta Heavy)
Download:
DJ Desu - Must Be The Headshot (Feed Me x Delta Heavy)
Childz Play - Guess Whos Hungover
Download:
Childz Play - Guess Who's Hungover
Koyote - Blow n Stuff (Deadmau5 x Electrixx)
Download:
Koyote - Blow 'N Stuff
DJ Sweekuh - We Are So Close
Download:
Sweekuh - We Are So Close
Harry Diamond - Fuck All YAll (Let The Drummer Kick)
Download:
Harry Diamond - Fuck All Y'All (Let The Drummer Kick)
David Austin - Icarus Last Dance (Madeon x Labrinth)
Download:
David Austin - Icarus' Last Dance (Madeon x Labrinth)
White Noise Mashups - Broke Phi Broke
Download:
White Noise Mashups - Broke Phi Broke
Sample Gee - My Adidas (Run DMC x DMX)
Download:
Sample Gee - My Adidas (Run DMC x DMX)
Ridgewood Social Club (RSC) - Juicy Party
Download:
RSC (Ridgewood Social Club) - Juicy Party
Howling Mad - Mobb Deep vs Zhane
Download:
Howling Mad - Mobb Deep vs Zhane
Drip Drop - One of Those Days
Download:
Drip Drop - One of Those Days
DJ Foxfire - Rappers (Dub)light
Download:
DJ Foxfire - Rapper's (Dub)light