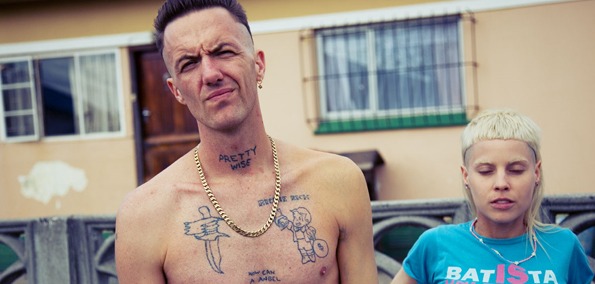 So, one of the major changes that comes along with the new look of EARMILK.COM is that we want to start giving you readers more gifts and gear. There's no better way to kick start this new initiative then giving you all a chance to win a brand new copy of the TEN$ION album from Die Antwoord. You can be one of the first people in your neighboorhood rockin' out to a legit copy of the amazingly disturbing sounds that come from this envelope-pushing group. The album was released on February 7th and Die Antwoord is already half way through their tour which is about to take them to Australia. And they are obviously still riding high on the success of their "I Fink U Freeky" video.
Now, this contest is for ONE winner who will receive the new album on VINYL and on CD. So even if you already "own" the album here's a chance to own a physical copy like you really should. To win you need to "like" EARMILK on Facebook and then just send an email to CONTESTS [AT] EARMILK.COM with the subject "I Fink U Freeky". Include your name, phone number and a reason you should win. 
TEN$ION was recorded and produced in South Africa by DJ Hi-Tek with additional production by Ninja. TEN$ION is presented by ZEF Records, in association with Good Smile, and distributed globally by Downtown Records and COOP Music, Die Antwoord se rympies sal jou fokken kop skop. 
DIE ANTWOORD - 2012 TOUR DATES
02.24.12 - Los Angeles, CA - Club Nokia
02.25.12 - Las Vegas, NV - House of Blues
03.03.12 - Bisbane, Australia - Doomben Racecourse (Future Music Festival)
03.04.12 - Perth, Australia - Arena Joondalup (Future Music Festival)
03.10.12 - Sydney, Australia - Royal Randwick Racecourse (Future Music Festival)
03.11.12 - Melbourne, Australia - Flemington Racecourse (Future Music Festival)
03.12.12 - Adelaide, Australia - Ellis Park (Future Music Festival)