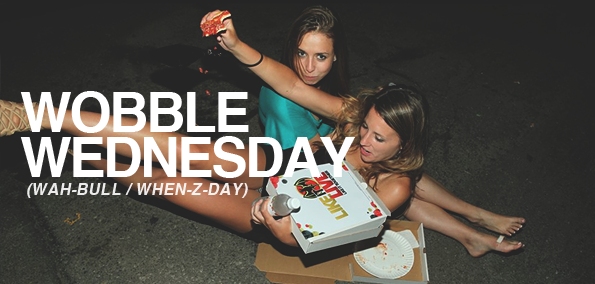 Wobble Wednesday is here again! Welcome back! If you're not already familiar with Wobble Wednesday, that's okay - we want to make your first time amazing. Most of what you'll be listening to here is often referred to as dubstep, but can encompass all genres of heavy bass music. To quote bass music artist ill.Gates, "When you look at what some of the bigger dubstep guys are doing now, they'll play some dubstep, they'll play some drumstep, they'll plays some breaks, some drum and bass, and maybe some dance hall."
That's what Wobble Wednesday is all about. Sometimes it will sound like chainsaws raining down, other times it's going to bring back the reggae and dub roots from which dubstep rose. It could also be the hectic and upbeat sounds of drumstep. When you press play, we're going to inundate your eardrums with the wobble, punch and drop of thunderous bass. We recommend you play this music at a high volume. Playing bass music at low volume might as well be one of the seven deadly sins. Enjoy the music. We'll see you next Wednesday!
Last week I was requested to write more about these tunes, so I'll give you my 2 cents. First and foremost I'd like to welcome back the Skream Jam of the Week (I don't want to give out Skream's Discography on the site). Oliver does an awesome remix of Rusko's "Somebody to Love" that has moombahton percussion with tons of alarms, growls and lazers. This will be a festival anthem for months to come. You can catch him in in LA as he performs with Benga and Artwork as Magnetic Man at Beyond Wonderland. Vodex showcases his dark sounds in his new EP titled Generation Monsters. I must say this is what got me into dubstep at the start. The dark feeling of walking down some seedy alleyway at 3 at night.  Mostly all free downloads this week, what a week! Stay sparse my friends.
Somebody_To_Love_Skream_Remix
Download:
Rusko - Somebody To Love (Skream Remix)
01-vodex-generation_monsters_original_mix
Download:
Vodex - Generation Monsters Original Mix
04-deesee-riddim_(p-note_remix)-alki
Download:
DEE:SEE - Riddim (P-Note Remix)
01-downlink-party_alarm_original_mix
Download:
Downlink - Party Alarm Original Mix
Hizzleguy%20%20Dismantle - Tryna Test
Download:
Hizzleguy and Dismantle - Tryna Test.
04-fs-silent_weapon_for_a_quiet_war_(original_mix)
Download:
FS - Silent Weapon For A Quiet War (Original Mix)
01-Captain_Panic_feat_Elliot_Mars_-_Space_Death_(Original_Mix)-d23
Download:
Cptain Panic! & Elliot Mars - Space Death (Original Mix)
04_Nightwalker_-_Rodeo_(Original_Mix)-d23
Download:
Nightwalker - Rodeo (Original Mix)
Here's a mix from my man over at Gucci Goth.
Last but not least if you're in Tempe Arizona, today were giving out 5 tickets to the Adventure Club and Helicopter Showdown  show tomorrow at 9. What do you have to do to with these tickets? Simply like us on Facebook, follow us on twitter and email us at [email protected] You'd be surprise on how many people enter, and don't give me the "I don't have a twitter." It's 2012 get a twitter.