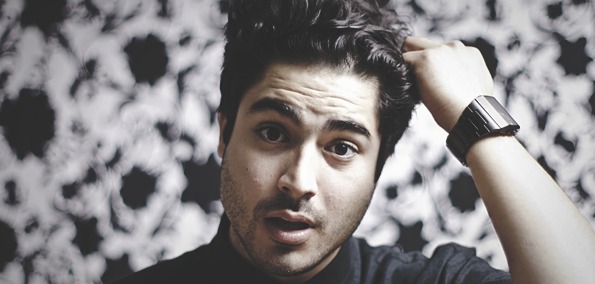 The weekend has landed and all that matters now is clubs, drugs, pubs and parties. You've got 48 hours off the 9-5, it's time to unbutton your hustle and breathe vigor back into life. Whether it be through losing your soul on the dance floor or grooving to it, we have your soundtrack covered. The EARMILK Weekend Selector, an exclusive guest mix series where we invite the latest budding talent from behind the booth to usher you through all the boozie and jam. From your morning bedside to tonight's evening social, your weekend selector is here to fill a void of good taste and allow fresh connections to flow vicariously.
(WKND11) EARMILK Presents: Weekend Selector - Meech
To the many that surround him Meech is more than just a seasoned DJ, he's a collector of true taste. Setting a local standard for careful selection he is one of Toronto's few prospects drafting the nightlife niches he was raised in. Often spotted on bills supporting the caravans of traveling headliners washing in and out of town, Meech lays down a cunning foundation for the big names to build on. His experience on the front line of house culture has made him give in to release works of his own with, 1s and 2s in hand. I Want is his latest release on Copenhagen label Demento Mori and the EP outlines an uphill progression towards more appearances at the head of the stage and later on in into the midnight hour. The weekend opens up with jaunty bongos laid atop a casual deep house groove via Jens Bond only to carry on to a moving soul performance by fellow beatniks Prince Club and a tribute to the recently passed Loleatta Holloway. Stacking lines of cultured percussion the entire mix is polished with a lush coat of foreign drum hits and imported one shots. The tape reaches a high note when Meech cues up the original mix of "I Want", and rightly so. The track pulls out a clean set of piano keys to satiate a thirst for classic house luxury. Elegance is what this gentlemen stands for and as the minutes continue to run down, Meech serves up more enticing dishes like David Keno's full course bassline in "Wait for More", an unforgiving spicey remix by Kenny Dope, and the grubby leftovers of the legendary Green Velvet's collaboration with Kid Sister. Overall it cuts out to be a filling mixtape, with just the right zest to bring out a craving for conversating and of course the mood to get down and boog. As you take in all the flavours be sure to check out our review of Meech's I Want EP and our interview where we chat about city life and classic hits from the past with the man behind the mix himself. Pencils down, class is in session.
EARMILK: Looking at this set list I see an even blend between small and big names, which tracks do you see yourself rinsing out the most when you're spinning live?
Meech: They're all great tracks and they all serve their purpose for this mixtape. I tried to go with the vibe of the whole series and with what felt "right" to me as well. So to be honest can't say I would play one more than the other, they're all dope in their own way!
EM: You seem very rooted in classic house, can you name me some albums or EPs in the genres deep and rich history that have carried on to influence you the most?
M: Haha, I love house! There's so many great jams from back in the day, but these are my top-non-snob favourite house tracks:
Fingers Inc. - Can You Feel It? [Trax Records]
Aly-Us - Follow Me [Strictly Rhythm]
Armand Van Helden - U Don't Know Me [Armed Records]
Stardust - Music Sounds Better With You [Roule]
Phats & Small - Turn Around [Multiply Records]
EM: Seeing that you started off as a DJ with a good number of years under your belt before putting out releases, do you think the way you approach making a mixtape or track is any different than other acts that are more production oriented?
M: 100% when it comes to producing I always try to think of what I or other DJs would want if they were playing the track themselves, making a solid groove to introduce the next track with (simplicity sometimes works best). As for mixtapes, I find them more stressful than anything! Only because I pride myself on individuality and song selection. I feel a mixtape, DJ-set, performance should be a musical experience and that can be difficult to accomplish within an hour or less.
EM: I'd like you to comment on the state of Toronto's dance music scene, I always feel like the talent is pretty forward but the crowds are lagging behind would you agree?
M: To me Toronto is the Mecca for dance music in North America, so saying the crowd is "lagging" might be too strong of a term when so much "unique" talent is being produced from out of that same crowd. However, the party scene which is driven solely by promoters (some good, some extremely bad) have taken away a stage, an audience for those unique artists and that's why you see a lot of producers/DJs heading out to Europe more often to perform. At the same time, if there's anyone to blame for the lagging crowds it's the DJs themselves! A lot of guys don't know the art of opening or closing, they just want to go out and "kill", so rather than introducing new things to the crowd, they play it safe and drop something like "Levels".
At the end of the day the crowd is only as educated as its teachers. 
EM: Not to sound like a creeper, but where do you chill on a typical Saturday night in Toronto? Being brought up in the city's nightlife for so long, can you name some of your favourite venues for our worldwide readers to hit up if they're ever in town?
M: It really depends on who's playing and where, but I always find myself at either Wrongbar on Queen West or The Hoxton, really love the vibes in there.
EM: I know you're a connoisseur for fine cuisine, tell me a dish that makes your mouth water just thinking about it.
M: The Hight Priest :)
EM: Just want to say thanks for the buttery smooth guest mix and big up on your latest release I Want on Demento Mori, it's your best work yet. 
M: Thank you and much love!
TRACKLIST
01. Jens Bond - Gumble In The Jungle (Original Mix): Highgrade Records
02. Loleatta Holloway - Dreamin (Pol_On Edit): CDR 
03. Prince Club - Jaguars (Original Mix): Snatch! Records
04. N.i.g.g.i. - 1992 (Original Mix): Sportsclub Music 
05. Meech - I Want (Original Mix): Demento Mori
06. Logo - Merit (Mercury remix): Kitsune
07. Jon Rundell - Knick Knack (Original Mix): Intec Digital
08. Mosca - Orange Jack (Original Mix): 3024
09. DJ Sneak - Funky Rhythm (Club Mix): Magnetic Recordings
10. Green Velvet - Everybody Wants (Instrumental): Relief Records
11. The MuthaFunkaz - Gotta Hold On Me (That Skatt Thing) (Kenny Dope remix): Code Red Recording
12. David Keno - Wait For More (Original Mix): Snatch! Records
13. Tim Green - Iotan (Leon remix): International Freakshow