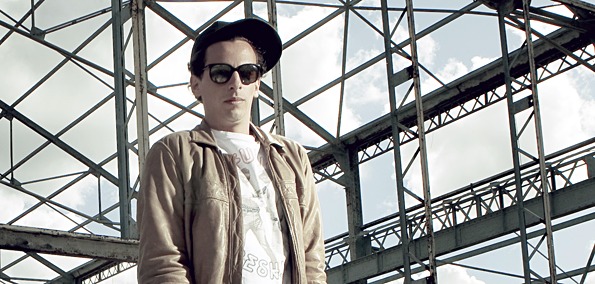 2011 became a defining year for innovative dance music label Boysnoize Records as it birthed a digital offspring still alive and strong toasting it's 12th release, and who else would be chosen to christen the new year with it's next set of successes than the guy who rocked it the first time. France's techno audiobot Djedjtronic springing off his last EP Bugle/Tetris is set to mark the one year anniversary of Boysnoize Records sister label BNR Trax. What seemed like a newborn just months ago, the label tyke has gained a lot of ground quickly by pushing some of the years best from established names like Bobmo, Para One, Benny Rodrigues while uncovering fresh hidden talent like Audionite and SCNTST to launch the BNR tycoon grooving into the future. Keep an ear out for the BNR Trax 1-11 rerelease which recaps the must needed grabs to bring you up to speed on what forward thinking music sounded like in 2011.
(BNRTRAX012) Djedjotronic - Walk With Me / White Noise / Flange (out February 6th)
http://www.youtube.com/watch?v=SlXM-Ul8aK0&
But those were different times back then, Djedjotronic's forthcoming EP (out February 6th) is a testament to fond rave influences peering their way back from the 90s into the progression of modern techno today. Track 01 opens with "Walk With Me", undoubtedly the peak time hit as the deep acid bassline pierces into your reserved urge to dance while the breakdown explores a sentimental space with a very simplistic but chilling set of chords. "White Noise" flaunts the BNR Trax motto, experimentation - creating dark and desolate atmospheres while casting them down in clouds of cumulonimbus white noise. The abandoned warehouse setting doesn't become more evident than the track "Flange" which flows in a river of late night synthetics streaming around an intoxicating lead and commanding 808 claps. Not to mention the resurrection of ambiguous chords played on drawn out pads that has seemed to die with the decade's synthpop corniness, but Djedjotronic takes risks - and the way he pulls this entire work together proves his delectable taste is routine.
(BNRTRAX012) BNR Trax - Djedjotronic Walk With Me / White Noise / Flange EP
[soundcloud url="http://api.soundcloud.com/tracks/32407864" params="show_comments=false&auto_play=false&color=000000" width="500" height="81" iframe="false" /]