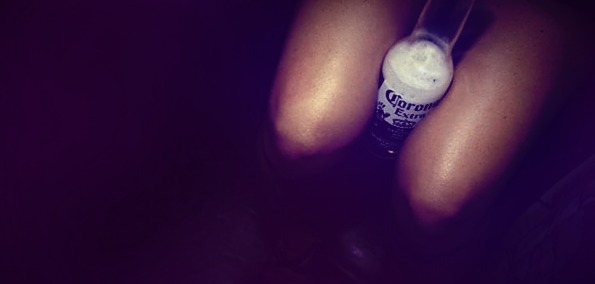 The discussion in regards to the judging criteria for this chart was a bigger process than putting together the chart itself. How do you weigh commercial success against production value? We tended to shy away from this year's trends and focus on quality behind the mixing desk. This list isn't to be viewed so much as our take on which songs were the most impactful in 2011 but more so as a countdown of the tracks that will continue to influence the soundscape and look forward to shape the sounds of 2012 and beyond. We look forward to your insight in the comments section.
#40. Larse - So Long (Original Mix) [Noir]

One of many hits on the biggest house head compilation released this year. "So Long" deserves to be catalogued with the classics of the 90s. A feet palette with a moody moan to keep your feelings dragging into the after hours. The work done by Larse and others on Noir's Second Chances & New Romances Vol. 3 was a strong indication that house is in good state for the future.
 #39. Martyn - Masks (Original Mix) [Brainfeeder]
http://www.youtube.com/watch?v=WHJucjfa9hE
There's no doubt that 2011 was marked by out-of-the-box defiance from artists like Martyn. He's stepped forward as a unique character in the bass scene, blending block headed techno with immersive garage. A great platform to play off the over saturation of ADD basslines, his LP Ghost People is sure to grace many top ten lists this month and the single "Masks" is a showing of that.
Download: Martyn - Masks (Original Mix)
#38. Agoria, Carl Craig, La Scalars - Speechless (Carl Craig Remix) [InFine]

A sequencing masterpiece. This Carl Craig track is 12 minutes of anti climactic cum-hither. Mature perversion and when it snakes it's way into your comfort zone, you're hooked. Smiling at chemical counterparts, this remix beams chakras from start to finish. The energy is implicit, dig deep and discover it with your patience and if there's any message it's that Carl Craig is one of the few in Detroit that will be taking his chops with him to the grave.
#37. Instra:mental - Pyramid (Original Mix) [3024]

Mixed and charted by the who's who at the time. It would be daft not to mention the UK duo Instra:mental somewhere near the end of this crate. Their raving debute LP and the various singles that followed made them one of the most sought after acts in the midst of a renaissance for techno music. "Pyramid" is an obnoxious synth grind that's more rude in attitude than the overtly banger electro haunting the mainstream charts.
#36. Tony Lionni - Take Me Higher (Original Mix) [Apt International]
http://www.youtube.com/watch?v=YIC17nufLxY
Masterpiece would sound repetitive, this Tony Lionni single is four on the floor jewelry. A classic house gem with sparkling hats and filtered keys glowing underneath. A build that crescendos into the breakdown where shimmering keys become the staple to anyone's set list. A track that will be etched into the memories of jealous house lovers for years to come.
#35. Joy O - Sicko Cell (Original Mix) [SWAMP81]
http://www.youtube.com/watch?v=v_PA0YtUMmc
This coke head diary can be regarded as the most bootlegged track of the year. A crack in the fault line with UK garage spouting out from the underground. Joy O takes narcotic conscience and brings it to the forefront of  bubbly candy ravers and pumped up pill heads. Something we'll be hearing more of soon.
#34. Boys Noize & Erol Alkan ft. Jarvis Cocker - Avalanche (Terminal Velocity) - Ewan Pearson's 'Hall of the Mountain King' Remix [Phantasy]
[soundcloud url="http://api.soundcloud.com/tracks/22841643" params="show_comments=false&auto_play=false&color=000000" width="100%" height="81" ]
 
No year in music is complete without Boys Noize & Erol Alkan meeting up behind the mixing desk to shell out another collaborative hit. "Avalanche" takes a poetic route through a long stretch of Roland percussion and sawtooth dementia. The remix EP sported various reworks by Canblaster and British veteran Ewan Pearson, but it's the 'Hall of the Mountain King' mix that sticks to grace of the original while slipping a little bit of acid into your drink.
Download: Boys Noize & Erol Alkan feat. Jarvis Cocker - Avalanche (Terminal Velocity) - Ewan Pearson's 'Hall Of The Mountain King' Remix
#33. Dexter - Space Booty (Original Mix) [Clown Crown Limited Series]
http://www.youtube.com/watch?v=1jbl2wP7OmU
The tail end of an echo uttered by minded electro. Dexter gathers the remnants to craft a tune that reverberates in the basements of the underground. The wobble in "Space Booty" is bound to be one of the year's catchiest basslines that will refuse to leave your head even when the clock strikes 12. But don't be blinded by the funk, this track has clout to stand in any aging dancefloor environment.
#32. Zhao, Matt Walsh - Whatever (Original Mix) [This is Music - More Music]

An afterhours crawler and a track that made both comrades flourish in their own right. Not a surprise considering the labels knack of pushing budding talent. "Whatever" is a preview of what you'll be hearing from the solo careers of these two gentlemen in the coming new year. Expect darkness and no remorse for robbing your sanity.
#31. Blawan - What To Do With What You Have (Original Mix) [R&S Records]

2011 was a year for techno as evidenced by this man right here. Acid-tinged producer Blawan is the latest evangelist to breathe innovation onto the scene and his R&S release "What To Do With What You Have" has been championed by many. A track driven by strings of 303s tangled like a plate of spaghetti which instead sound like the vomit that comes there after. Sampling the spiels of Moodymann became a bit of a trend this year but the way Blawan oscillates the tuning of his voice supersedes guilt with quality.
__
Stay tuned as we count down ten more tracks each day leading up to our top 10.
EARMILK Crates 100 Must Have Dance Tracks from 2011 [50-41]
EARMILK Crates 100 Must Have Dance Tracks from 2011 [60-51]
EARMILK Crates 100 Must Have Dance Tracks from 2011 [70-61]
EARMILK Crates 100 Must Have Dance Tracks from 2011 [80-71]
EARMILK Crates 100 Must Have Dance Tracks from 2011 [90-81]
EARMILK Crates 100 Must Have Dance Tracks from 2011 [100-91]