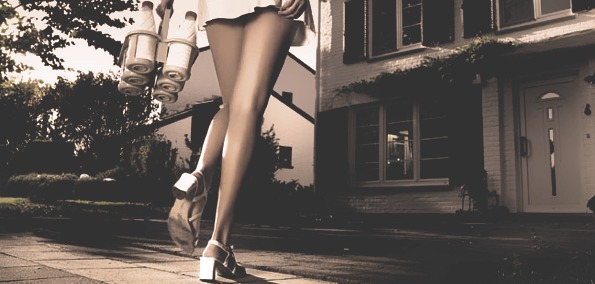 The discussion in regards to the judging criteria for this chart was a bigger process than putting together the chart itself.  How do you weigh commercial success against production value?  We tended to shy away from this year's trends and focus on quality behind the mixing desk. This list isn't to be viewed so much as our take on which songs were the most impactful in 2011 but more so as a countdown of the tracks that will continue to influence the soundscape and look forward to shape the sounds of 2012 and beyond.  We look forward to your insight in the comments section.
#90. Chromeo - Hot Mess (Djedjotronic Remix) [Turbo Recordings]
[soundcloud url="http://api.soundcloud.com/tracks/9100820" params="show_comments=false&auto_play=false&color=000000" width="100%" height="81" ]
 
It's hard to believe this tune came out this year considering at the time of its release Djedjotronic was a just rising star from the Boysnoize camp. Now he's a techno heavy weight and this Chromeo remix can be seen as the ushering in of his reign. A timeless tune that focuses more on beat than lyrics and a solid glue between up beat house and dark techno.
#89.  Andre Crom & Martin Dawson - Need You Back (Original Mix) [OFF Recordings]
http://www.youtube.com/watch?v=FeFK4dflSho
A track bent two decades into the past. This Andre Crom collaboration with Martin Dawson sounds like it sits in the crates of oldschool classics from the 90s. A peak time steam roller with an infamous undertone that speaks of longing and lust.
#88. Clouds - Numbers [Turbo Recordings]
Although their catalog may not be the lengthiest, Perth duo Clouds have already solidified a heavy influence on the techno electro clash more akin to Turbo's sister label Mako. The strength of this track lies in the coherence of its literate automation, pitch bending a dance floor manifesto that makes you want to curl up in a corner and die. Watch the beat flip on its side at 2:12, and pave the sound of Turbo for years to come.
#87. Matias Aguayo - Dance Machine [Kompakt]
http://www.youtube.com/watch?v=yLnEUaFdumE
A track that lives up to its name. Dance Machine is what tech house would have sounded like if it was born in the early 80s. European keys that foot to Italo disco with a bassline grooving in the midrange. Make room for the jump when the arpeggiator kicks in at 3:20.
#86. F+S (Franz & Shape) - Acid One (Snuff Crew Vocal Remix) [BangGang]
An embodiment of the acid house genre, this track crushed any doubts you had about the 303 making a comeback. Paired with piano stabs programmed as if they were percussion, lines of 909s are set loose to revive a feeling locked inside the compounds of abandoned warehouses.
#85. Mike Dehnert - Bar2 [Echocord Colour]
No label was a better embodiment of mid tempo industrial techno in 2011 than Echocord. The B-Side off of Dehnert's Breso EP doesn't waste anytime building layers.  A simple diminished lead and upswing open hats drive the track through it's peak.
#84. High Powered Boys - Udon [Sound Pellegrino]
http://www.youtube.com/watch?v=uzAI523POK0
This song is all about dimensions.  Beginning with the way a slap bass is layered on top of the kick for extra dimension to the endless lanes of texture.  I'm not sure how you decide a song built on baltimore club needs a sax solo straight out of 1984 but it works.
#83. Girl Unit - Wut (Claude Von Stroke Fully Dressed Mix) [Night Slugs]
On the first of two remixes that Dirtybird boss CVS submitted on Girl Unit's 2010 anthem Von Stroke brings the tempo into tech house territory.  Girl Unit's 808 kicks and snares remain intact while Von Stroke's mile long portamento glides bring in a ghostly feel.
#82. Sepalcure - Every Day Of My Life (Jimmy Edgar Remix) [Hotflush]
Percussion lab duo Sepalcure's follow up remix ep to their 2010 Hotflush release featured this not quite dubstep not quite deep house offering by Detroit's Jimmy Edgar. Edgar demonstrated how diverse his range is becoming in 2011 with tracks running the whole BPM gambit.
#81. Marble Players - Marble Anthem [Marble]
The track that kicked off for Marble.  The dream team collab of Para One, Surkin and Bobmo's percussion sampling took an adventurous turn to say the least with bouncing marbles time chopped until they sound like a haunted house door creaking, hammers pounding and a vibraslap doing the back end work.  Surkin shows why he's the undisputed king of anthemic breakdowns.
Stay tuned as we count down ten more tracks each day leading up to our top 10.
Earmilk Crates 100 Must Have Dance Tracks From 2011 [100-91]