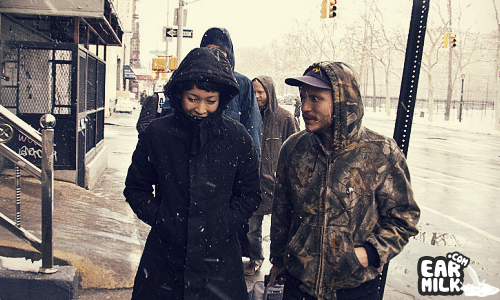 One way to promote your upcoming debut album is to have another group -- ideally a highly likeable, incredibly talented indie group -- remix one of your songs. Cue The Internet (Syd The Kid and Matt Martians), who took to posting a remix of their song, "Cocaine", by my favorite Swedes, Little Dragon.
The original is tempered, with a more relaxed, even beat. Little Dragon makes it all their own, speeding up the tempo dramatically while enhancing the vocals until they become a focal point.
Odd Future will digitally release The Internet's album entitled Purple Naked Ladies on December 20 (digital tracklist below) with a physical release on January 17.
1. Violet Nude Women
2. They Say/Shangrila (ft. Tay Walker)
3. She Dgaf
4. C*nt
5. Cocaine/Tevie (ft. Left Brain)
6. Ode to a Dream (ft Kilo Kish & Coco O.)
7. Gurl (ft. Pyramid Vritra).
8. Love Song -1
9. Lincoln (ft. Mike G & Left Brain)
10. Web of Me
11. She Knows
12. Fastlane
13. Visions (ft. Coco O.)
14. The Garden