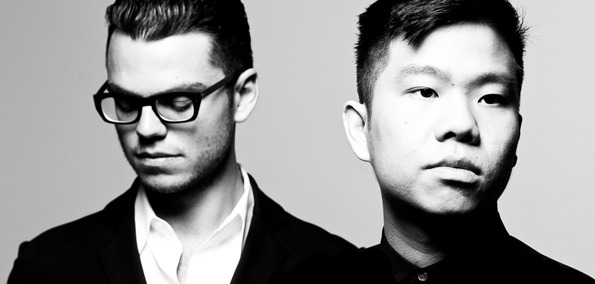 I've often found myself relegated to the role of wall-hugging chin scratcher at shows lately.  Left jaded about how stale and uninspired the stage diving electro house scene has become. I've often found solace in dreamy, well-produced techno, which at times can leave you in a coma of reverb yearning for more.
Not that dance music is completely void of producers that I'd willingly trudge through sweaty bodies to the middle of a mosh pit for, it's just rare for said producers to hail from North America where glowsticks and brostep reign supreme.  Perhaps our last great white hope on the newer side of the pond is Tiga and Turbo Recordings.  The label that brought us festival rave's arguably two best acts of 2011 in ZZT and Gesaffelstein is set to drop what could very well be one of the most influencial EPs of the year.
Building off forays into acid house by Boys Noize and Brodinski, Toronto's Gingy and Bordello offer a purer take on the genre harking back to the days of Trax Records whereas the afforementioned 1010 or Tramp 3 were more of a contemporary look.  For bedroom producers searching for an identity that's loud yet dynamic let this EP urge you to pick up your 303 and 909.
The single that has been garnering the most attention without a doubt is KiNK's On Acid remix of "Body Acid".  With chart love and support from the likes of Erol Alkan, Tiga, Brodinski, Simian and Etienne De Crecy this is the one the Erol Boards have been waiting for and it doesn't disappoint.  A more frantic version than the original, the remix has a constant rising feel making use of at least four different octaves to help build drama in the bassline which all culminates in a drop at the 3:30 mark that you really have to hear in a sea of people to appreciate.
Body Acid (KiNK's On Acid Remix)
The original mix of Body Acid is your traditional Roland jam.  The resonance modulation on the bassline gives the song a live performance feel that gives you a sense that Gingy & Bordello spend a lot more time tweaking knobs than utilizing the rigid precision you get from pencilling in lanes.
Body Acid (Original Mix)

My personal favorite song on the EP and the least talked about is Amino.  Maybe it's the music nerd in me but every once in a while there's  a drum hit that just makes you stop and say whoa.  Gesaffelstein built his sound around his trademark snare and on Amino it's Gingy & Bordello's ride that hits you right in the sweet spot.  Add in clap syncopation that always catches you when you least expect it and a huge snare fill during the build that could fit right in to an Oukast or Trina track and you have a recipe for a hit.
Amino

You can currently purchase KiNK's On Acid Remix with an alternate deep version on limited edition vinyl at shop-turbo.com and the full digital EP will be available November 14th on Twin Turbo.  If you're in London be sure to catch the boys at Fabric Nov 18th alongside Jacques Lu Cont, Brodinski, Gesaffelstein and resident Stopmakingme.