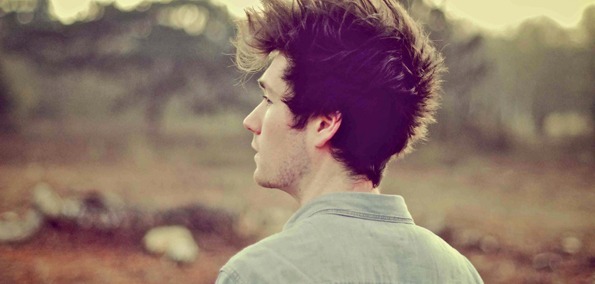 Emerging from the streets of South London comes the rising majestic sound that is Bastille. Releasing their Icarus/Flaws EP earlier this year, the group has been slowly on the rise with their energetic shows and solid fan following.
We recently featured Bastille's cover of City High's "What Would You Do," and we're proud to present to you all with an interview with the group. Corresponding through email, I recently spoke with the frontman Dan Smith, the 25-year-old leading voice behind Bastille. We spoke of the band's origins, his songwriting process and touched upon the future of the band as they prepare to make their mark across the pond.
Read the interview below.
Earmilk: Growing up, have you always been exposed to music?
Dan Smith: My mum was a folk singer when she was younger.  So, I was exposed to music through her. My parents also listened to a lot of classic songwriters, which I guess had an influence on me. And I always listened to what my older sister listened to, which for a long time was hip-hop and R&B.
EM: How did you get started?
DS: After leaving university, I wrote, recorded and played gigs on my own with a loop pedal for a while. It took me a couple of years to start writing songs that I thought were good enough and I slowly got more experimental with the instruments and sounds that I used in my recordings.
EM: Where did the name "Bastille" come from?
DS: I was born on Bastille Day, which is like the French Independence Day. I'm not French, and I've never really celebrated Bastille Day, but the fact that it was my birthday always seemed to really excite my French teachers at school. Then when I was hunting for a band name, one of my friends suggested it as a name and it seemed to fit.
EM: Who else is in Bastille?
DS: I've recorded all the songs pretty much by myself and then worked on them with a friend of mine who is a producer. I guess when it comes to the live show, a little bit like Bon Iver, Bastille feels a lot more like a band. The band consists of myself, Woody on drums and percussion, Will on Bass and Kyle on keys.
EM: How did you guys form the band?
DS: I guess Bastille started with some recording that I'd made and put online. When it came to playing the songs live, I got together with Woody, Will and Kyle - who were friends and people that I'd played with before, and we started rehearsing and working out these new songs.
EM: When you first started producing music under the "Bastille" moniker, how did you market yourself to the already immense London music scene?
DS: I didn't really think about it to be honest. I had been working on some songs and I put a couple of them up online with just a logo to see what would happen. Luckily some people came across them and seemed to like them. I had no idea what I was doing, but I had been a solo artist for a couple of years and wanted the Bastille thing to appear as far away from any kind of singer-songwriter thing  as possible, so I just kept the whole visual side as simple as possible.
EM: When you're writing your songs, what are some themes you draw upon? Are your songs mostly memories from the past, or are they spur-of-the-moment creations?
DS: I guess it differs from song to song. My songs are mostly a composite of memories, or things that are affecting me or people I know. But with some songs I like to draw upon other stories or things from pop culture to give them shape. I guess I don't like writing explicitly personal songs so sometimes I try and deflect from myself by incorporating characters and narratives.
EM: What was the production process like when you guys recorded "Flaws" and "Icarus"?
DS: I recorded both of those songs in my bedroom on some pretty basic software, and then worked on them with a producer friend of mine to make them sound more proper. We added more live instruments and messed around with different sounds. It was good trying different things out and experimenting a bit, especially as I've always wanted to try and be as broad as possible with the sound of this band.
EM: What was the reaction following the release of the single?
DS: Some people seemed to like it, which was reassuring. It was fun to go out and play at gigs and festivals over the summer armed with a couple of songs that people seemed to know and sing along to.
EM: Who mostly influences you guys?
DS: There's no one band that influences us directly, but I probably take from a big variety of things I listen to. I love good songwriters and people with distinctive, interesting vocals. People like Antony and the Johnsons and Bon Iver. I also love a lot of electronic music and indie music. Then again, things I listened to when I was a kid, the harmonies of bands like The Beach Boys and The Beatles, probably massively influenced me.
EM: The Laura Palmer EP is considered the follow-up to Icarus/Flaws. Would you call the release of this EP the band's debut album?
DS: Yeah, Laura Palmer is the follow-up. I wouldn't call it the debut Bastille album, but it definitely is a glimpse at what the album will be like. Or at least a glimpse at the other things we've been working on and playing over the last year.
EM: What was the production process like for Laura Palmer?
DS: Quite similar to that of Flaws/Icarus really. All the songs began as bedroom recordings - me messing about with harmonies and beats at home. A couple of the songs on the EP are quite intimate and electronic, but the others and slightly more bombastic. For the bigger songs it was great to record live strings, bass and big drums and have more of a band feel. Especially when we play out it is much more of a live-band thing.
EM: I noticed that you guys are going to be going on tour to promote the album, will this be the first tour around UK for you guys?
DS: Yeah this is our first proper tour around the UK so it'll be good to go and play in towns we haven't been to before as a band. It'll be interesting to try and gauge reactions to the newer songs as well.
EM: Do you guys plan on touring elsewhere in Europe and the United States?
DS: We're hoping to tour in Europe and the US next year, but we'll see what happens I guess.
EM: Are you in the works of releasing a full-fledge studio album?
DS: Yeah, I've been working on what'll be our album on and off over the last year. At some point soon hopefully we'll be able to step back a bit from the songs and then finish them off as part of a cohesive record. That's something I'm very excited about being able to do. We'll be making videos for some of the songs on the EP and hopefully just touring and playing as much as we possibly can.
EM: If you had to choose to collaborate with one artist in the future, who would you pick?
DS: At the moment, probably someone like SBTRKT. I think his production is amazing, or maybe someone with a unique voice like Antony Hegarty?