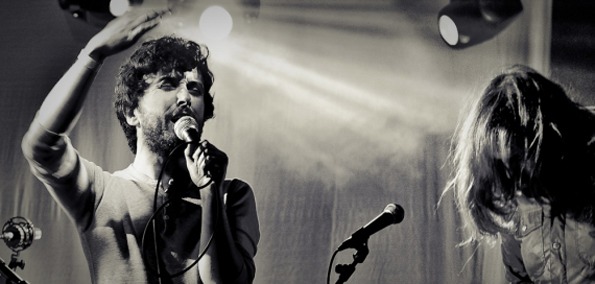 Richie Egan stands prudently behind this Irish indie band, Jape. A couple months ago, we featured "The Oldest Mind" as a single from his album, Ocean of Frequency (Fourth album and labeled with Music/Is/For/Losers).
Since the album was recently released, Richie has been traveling the world and implanting his folky trances into our souls. Unfortunately, I missed my opportunity to see Jape perform at CMJ but he generously answered a few questions via emailing. Listen to his newest single from Ocean of Frequency, a less electronic track, "Scorpio" and enjoy the brief read.
"Scorpio"
[soundcloud url="http://api.soundcloud.com/tracks/26902239" params="show_comments=false&auto_play=false&color=000000" width="100%" height="81" ]
Earmilk: What did you think of this year's CMJ? 
Richie Egan: It was okay, a lot of bands and not much time for changeovers etc. so quite hectic but fun!
E: Would you do it again? Any highlights?
R: I wouldn't really mind doing it again or not to be honest. It would be very nice to come back to NYC though.. 

Highlights were meeting a lot of cool people
E: You've been making music for a while now, which was your favorite album?
R: Of mine it would either be ocean of frequency or an album called friendship I made with another band I am in called Redneck Manifesto.
Samples of Redneck Manifesto 
[soundcloud url="http://api.soundcloud.com/playlists/510924" params="show_comments=false&auto_play=false&show_playcount=false&show_artwork=false&color=000000" width="100%" height="285" ] 
E: Now that "Ocean of Frequency" is out, what is your next project?
R: We are really busy with touring until the end of the year - I have a lot of ideas for next album and I want to get stuck into that asap!
E: "The Oldest Mind" is about ... ?
R: I kind of wrote that one in a trance so not really sure what it is about - basically a celebration of being alive I suppose, and appreciating happiness when it fleetingly arrives.
E: The chillwave approach in that track, what were your inspirations at the time?
R: I try to get inspiration from every place all of the time, it's hard to pinpoint just some things.
E: What is Jape, in the dictionary of Richie Egan?
R: It is a pretty bad band name that we are stuck with for a while at least.
E: Can you tell us a joke?
R: What do you call a scottish man stuck in a toilet in australia? 

A 'kangaroo' !
Music Video of "The Oldest Mind"
Catch Jape yourself, take a look at his December Tour Dates.
LIVE DATES - DECEMBER (Jape with Bell XI)Dec 5:  London - Bush Hall,
Dec  6: Manchester - Deaf Institute,
Dec  7:  Edinburgh -Electric Circus
Dec  8: Glasgow -King Tuts.