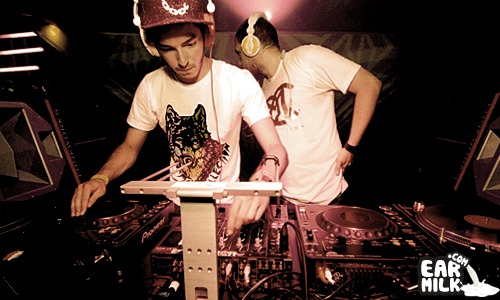 Nothing but love for French fidget duo Mustard Pimp, their spun out remix catalogue and pushy originals have made them long over due for a debute LP. Well consider that cherry popped on October 25th when the boys will release No Title Or Purpose on Dim Mak Records. 11 head stomping tracks and one of the eleven will be premiered right here on EARMILK exclusively for our readers. It's an instrumental to their electro hip hop clash The Garden and even without someone babbling about how much the Rolex costs on his wrist this track will make you feel like sitting in the back of a Rolls Royce with your chauffeur blasting the front.
Mustard Pimp - The Garden (Instrumental)
[soundcloud url="http://api.soundcloud.com/tracks/24501529" params="show_comments=false&auto_play=false&color=000000" width="100%" height="81" ]
We the mooks at EARMILK will be dropping this bossed out banger in full 320 glory next week Thursday (October 6th) and you can pick it up without a falling penny out of your pocket. But hey, don't look at me, you can thank the men rolling up their sleeves behind the mixing desk.

Stay tuned as we bring you the juice on their new album as well as an interview with the guys themselves. The two just stocked their 3rd single Catch Me on the digital shelves so get on that Beatport. Show your support by following the links below and come back next week to grab it first before your friends get to it.