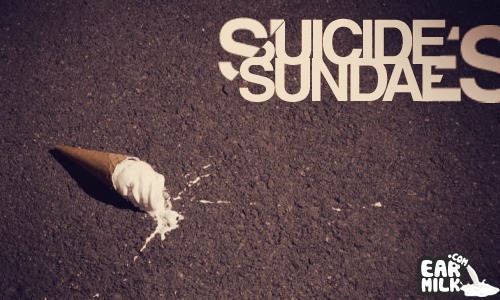 Suicide Sundaes - stop your grinnin' and drop your linen. Every Sunday electblake and jsully of Earmilk will bring you the weeks dirty servings, and some old favorites through a throwdown-throwback to simpler times. A time when bangers were big, remixes were bigger, the bassline bled, and we didn't care about anything as long as came in kicking and left screaming. To hell with sketchy sunday, we want to shove another dragon down the hole.
Like most things in music, I've been wanted to allow SS to grow. Last week I snuck in some mashups, and this week abunch of synthy poppy sort of stuff. That being said, I am still playing it safe with picks like Night Drugs, Designer Drugs, and Dirty Disco Youth - but Ever heard of LectroLips?
Two Tracks came across my desk this week that I felt compelled to include, it just happened they were both LectroLips. I also dropped some more We Have Band, which are definitely fresh gunners aiming for your next remix. Watch out for them, we're doing our due diligence.
enjoy.
01 Supersize The Synthesizer
Download:
LectroLips - Supersize The Synthesizer
myspace.com/lectrolips
04 You Came Out (Cage and Aviary Remix)
Download:
We Have Band - You Came Out (Cage & Aviary Remix)
myspace.com/wehaveband | myspace.com/cageaviary
16 Kiss This (Electric Garden Remix)
Download:
LectroLips - Kiss This (Electric Garden Remix)
myspace.com/lectrolips | soundcloud.com/electric-garden
Your Life (Future Lights Remix)
Download:
Overthrill - Your Life (Future Lights Remix)
myspace.com/overthrill | myspace.com/futurelights
02 Time After Timer (feat. Yulia)
Download:
We Have Band - Time After Timer (feat. Yulia)
myspace.com/wehaveband
03 Cousinz (Toy Selectah Mex-More Remix)
Download:
Vampire Weekend - Cousinz (Toy Selectah Mex-More Remix)
myspace.com/vampireweekend |
01 Freaking Me Out (Designer Drugs remix)
Download:
True Pseudo - Freaking Me Out (Designer Drugs remix)
myspace.com/truepseudo | myspace.com/designerdrugsclubmusic
The Drop I Hold (Kill The Noise Remix)
Download:
Black Lips - The Drop I Hold (Kill The Noise Remix)
myspace.com/theblacklips | myspace.com/killnoisekill
04 Super Chichi (DIRTY DISCO YOUTH REMIX)
Download:
Night Drugs - Super Chichi (DIRTY DISCO YOUTH REMIX)
myspace.com/nightdrugs | myspace.com/dirtydiscoyouth
We Just Came to Get the Party Started (Lazrtag Remix)
Download:
The Disco Villains - We Just Came to Get the Party Started (Lazrtag Remix)
myspace.com/thediscovillains | myspace.com/lazrtag
Download:
Sound of Stereo - Button
myspace.com/soundofstereomusic
Download:
Night Drugs - Once Again (KN1GHT RMX)
myspace.com/nightdrugs |
fairtilizer.com/users/kn1ght
Download:
Ride my robot - Future Lights
Sun To Me (Emalkay Remix)
Download:
Faithless - Sun To Me (Emalkay Remix)
myspace.com/faithlessmusic | myspace.com/emalkay
P.Y.X (Allen Walker Remix)
Download:
G.L.O.V.E.S - P.Y.X (Allen Walker Remix)
myspace.com/allyouneedisgloves | myspace.com/thisisallenkun