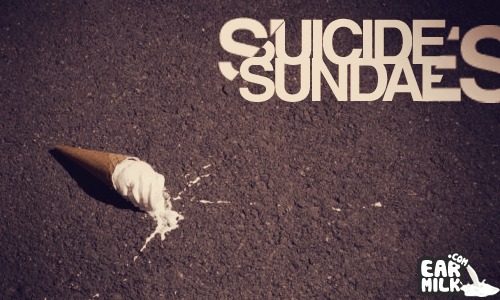 Suicide Sundaes - stop your grinnin' and drop your linen. Every Sunday electblake and jsully of Earmilk will bring you the weeks dirty servings, and some old favorites through a throwdown-throwback to simpler times. A time when bangers were big, remixes were bigger, the bassline bled, and we didn't care about anything as long as came in kicking and left screaming. To hell with sketchy sunday, we want to shove another dragon down the hole.
This week we're bringing you some bangers from throw down specialists like MSTRKRFT and LA Riots, as well as some great Deadmau5. We also are tossing in a track from Valerna with their Knightstalker remix. That track has the wildest synth line this side of this Mississippi. Straight up ill.
The Scoops this week include some hard and fast rotations from Proxy and The Bloody Beetroots, with some fresh nicotine patches via Jack Beats, Designer Drugs, Grum, and others to get your fix.

ELECTBLAKE SCOOPS
Who Are You (The Bloody Beetroots Remix)
Download:
The Proxy - Who Are You (The Bloody Beetroots Remix)
myspace.com/useproxy | myspace.com/thebloodybeetroots
Download:
Duchess Says - Black Flag
myspace.com/duchesssays
I Feel Cream (Proxy Radio Edit)
Download:
Peaches - I Feel Cream (Proxy Radio Edit)
myspace.com/peaches | myspace.com/useproxy
Circle Jerk (The Bloody Beetroots Mix)
Download:
Zoo Brazil & Adam Sky - Circle Jerk (The Bloody Beetroots Mix)
myspace.com/zoobrazil | myspace.com/iamadamsky | myspace.com/thebloodybeetroots
Stay The Same (Alex Metric Remix)
Download:
autoKratz - Stay The Same (Alex Metric Remix)
myspace.com/autokratz | myspace.com/alexmetric
Boom Da (Les Petits Pilous Remix)
Download:
MixHell - Boom Da (Les Petits Pilous Remix)
myspace.com/mixhell | myspace.com/lespetitspilous
Little Secrets (Jack Beats Remix)
Download:
Passion Pit - Little Secrets (Jack Beats Remix)
myspace.com/passionpitjams | myspace.com/jackbeats
Raven (Les Petits Pilous Remix)
Download:
Proxy - Raven (Les Petits Pilous Remix)
myspace.com/useproxy | myspace.com/lespetitspilous
To Kingdom Come (Grum Remix)
Download:
Passion Pit - To Kingdom Come (Grum Remix)
myspace.com/passionpitjams | myspace.com/grummmusic
I Feel Cream (Cory Enemy Remix)
Download:
Peaches - I Feel Cream (Cory Enemy Remix)
myspace.com/peaches | myspace.com/corytheremixer
Download:
Designer Drugs - Riot - Original Mix
myspace.com/designerdrugsclubmusic
JSULLY'S SPRINKLES
Download:
Deadmau5 & Kaskade - I Remember (Vocal Mix)
myspace.com/deadmau5 | myspace.com/kaskademusic
Feel It When You Know (LA RIOTS REMIX)
Download:
VHS Or Beta - Feel It When You Know (LA RIOTS REMIX)
myspace.com/vhsorbeta | myspace.com/lariotsofficial
Narcotics (Valerna Remix)
Download:
Knightstalker - Narcotics (Valerna Remix)
myspace.com/stalkinseason | myspace.com/valerna
C E T K (Ghost Hunter Remix)
Download:
Comanechi - C E T K (Ghost Hunter Remix)
myspace.com/comanechi | myspace.com/ghosthunt518
Download:
CeCe Peniston vs. FACT (Mstrkrft Remix) - Finally, Los Angeles! (CJ Milli Mix)
myspace.com/cjmilli
Heatwave (Russ Chimes' Funkwave Remix)
Download:
Fabian - Heatwave (Russ Chimes' Funkwave Remix)
myspace.com/iamfabian | myspace.com/russchimes
Get U Home (Alan Wilkis Remix)
Download:
Shwayze - Get U Home (Alan Wilkis Remix)
myspace.com/schwayze | myspace.com/alanwilkis