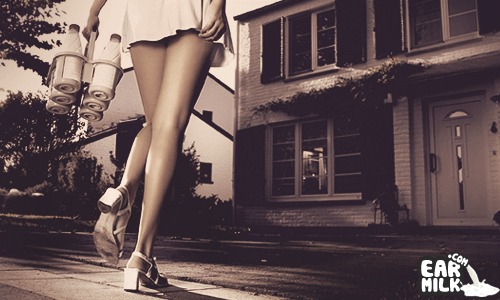 We don't mean to drink our own juice but - we think Earmilk is pretty sweet. We're basically making this post to give you an idea of where earmilk is at and where we are headed. Also, this is an outreach to our readers, to YOU, to have everyone give us feedback and to start getting our growing community more involved with earmilk, as well as with one another. So please take the time to read!
Earmilk broke on the scene mid 2009, but its contributors have been participating in music blog culture as eager readers for many years now. We rose very quickly finding our niches and our fanbases positioned in each. We are a group of odd fellows who find purpose in sharing good music and supporting the artists/people that make that music happen. Right now we explore our favourite genres and talk about what we find relevant in todays music. This is the earmilk of present.
The earmilk of the future is much more than that. We are currently in early stages of many different projects all focused around music, fashion and the urban community as a whole - Basically, a whack of services that bring you information about music you love and might love ;)
Future Earmilk Features:
weekly audio/video podcasting
street interviews
merchandise (t-shirts, stickers, etc)
more indepth interviews/reviews
and of course.. tons-o-contests (giving us a chance to give back to everyone who's supported us so strongly)
With all of that being said...our main goal is getting you, the thirsty listener involved as much as possible. We want and crave your suggestions, concerns and input. Not just us interacting more with our readers, but our readers interacting with each other.. we wanna be the equivalent of that first cup of coffee for you in the morning, something to get excited about.
So - Please take the time to comment on this post and give us your feedback.. what do YOU wanna see more of? More contests? More interviews? More reviews? If we set up a forum that would say introduce exclusive releases, albums, a networking place for producers and musicians, a place to interact and swap ideas, stories, and thoughts? Like we said, the main goal is getting you audio guzzlers out there more involved, so please take the time to comment, introduce yourself, and give us a piece of your mind!
HOW YOU CAN FOLLOW EARMILK
HOW YOU CAN HELP EARMILK
Submit tracks by either yourself or tracks you think our readers would enjoy
Tell your friends about Earmilk (the power of word of mouth)
Submit new ideas and new avenues that you would like to see earmilk dip into
Place Earmilk stickers EVERYWHERE in your city (stickers coming soon)
Our Future is so Bright...
The Future (Mark Moore Remix)
Download:
Prince - The Future (Mark Moore Remix)
Download:
Bob Marley & The Wailers - Sun Is Shining (Yes King Remix)
15-Jay-Z Ft. Mr Hudson-Young Forever
Download

:
Jay-Z Ft. Mr Hudson
- Young Forever
08-souls_of_mischief-93_til_infinity-rec
Download:
Souls of Mischief - '93 Til Infinity
03 - Tomorrow Comes Today
Download:
Gorillaz - Tomorrow Comes Today