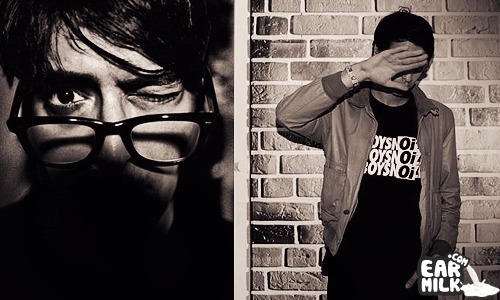 The wait is over.
We've all been anticipating the latest release from the 2 power plants of electro and its finally here. I've personally been waiting to hear what Boys Noize has come up with the most as he orchestrated the best toe touching ceiling smacking show I saw in 2006, and well... not much has compared since. And well, I shouldn't downplay Erol Alkan as he was doing this before half of the games in the act.
I saw Boys Noize play solo at "The Social" - a Toronto club that is perfect small and was packed with electro fanatics. I still remember when he dropped Justice (at that point only Waters of Nazareth and D.A.N.C.E were really hitting floors) - the place went absolutely balistic. It was the first time I had heard Justice in a live set, and I'm sure I wasn't the old one. (read more for mp3s you lazy sob)
Boys Noize and Erol Alkan have been a major players in bringing people to our cause (bangers and mash) with less "techno" sounding music and more of a sheer head banging rock out with your socks out tracks or something with more artistic integrity and interest then "wamp wamp pish"
Releasing "Starter EP" earlier this year with the hot hit "Jeffer" proved that Boys Noize can rock something different, and this split with Erol Alkan proves the golden boy of oi oi oi won't be beating a dead horse anytime soon.
So, listen, love, and support by going to shows and buying serato'able mp3s!
Download:
Erol Alkan / Boys Noize - Waves
Download:
Erol Alkan / Boys Noize - Death Suite
Download:
Boys Noize - Jeffer
and 2 crowd please-may-I-have-summ'ors from the days of yore and glore(y) (aka 2006)
Le%20Disko%20(Boys%20Noize%20Fire%20Mix)
Download:
Shiny Toy Guns - Le Disko (Boys Noize Fire Mix)
Waters%20of%20Nazareth%20(Erol%20Alkan%27s%20Durrr%20Durrr%20Durrrrrr%20Re-Edit)
Download:
Justice - Waters of Nazareth (Erol Alkan's Durrr Durrr Durrrrrr Re-Edit)
interesting backstory behind the name "Durr Durr Durrrrr": Basically a little bird told me that at a show, someone came up to the dj booth (drunk guy), and started demanding a song he really wanted to hear. He didn't know the name of the track, or the band, he just said, "You know! it goes DUUUURRR DURRR DURRRRRRR", and thus legend was created.
edit: I'm an idiot, and wrote this way too quick. thanks dbz
Support Musicians!