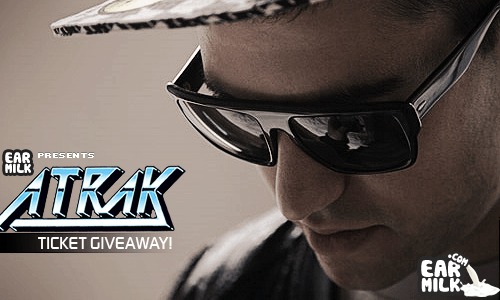 Contest Results!
Its official! @Garvito has won tickets for this fridays A-Trak throwdown @ Webster Hall (NYC). Thanks for all of you that participated and we look forward to offering more in the future!
Nylon Magazine and The Culture of Me have partnered up with Earmilk.com to give you tickets for the much anticipated A-Trak show this Friday at Webster Hall in NYC.
Thats right free tickets! All you need is a twitter account!
some mood music for you potential winners out there

02%20Roll%20With%20Winners

Download: Herve and A-Trak Fear. Cadence Weapon

- Roll with the Winners


Contest Deadline
The contest runs from Monday, July 27th at 3pm (EST) till Tuesday July 28th at 3pm (EST).
(OVER NOW!)
How to Enter
Follow @earmilkdotcom on twitter
Re-tweet this status update


or just update your status with:

@earmilkdotcom Contest: Retweet this link for A-Trak tickets and you could win them! http://tinyurl.com/nthqpd

note: be sure to include @earmilkdotcom or we'll never find your tweet!


Get your friends to tweet to increase your odds!
Check back Tuesday at 3pm to see the winner and be sure to check your twitter for messages from @earmilkdotcom