Marc Rebillet is coming to the Bay Area on Halloween for a special drive-in concert experience and this is your chance to see him live for free!
Marc Rebillet Live – Bay Area Ticket Giveaway
Join us for a special socially distanced live concert experience with the notorious electronic producer and comedic performer Marc Rebillet. This is one show you can't miss. The tongue-in-cheek skilled producer will be stopping by the Bay Area for two nights of laughter, tears, and fogged up windows. 10/31 and 11/1 at The Bayshore Drive-In pop-up in Burlingame, CA. Enter above for your chance to score a limited admission ticket ((4x) people in (1x) car ). He'll be doing what he does best and this special show is something you'll never see again. 
*Winners will be chosen and alerted by 12pm PT on 10/29.
For tickets and more info, please visit: https://nightout.com/events/marc-rebillet-halloweeen-oct-31-bayshore-drive-in-burlingame-bay-san-francisco-bay-area/tickets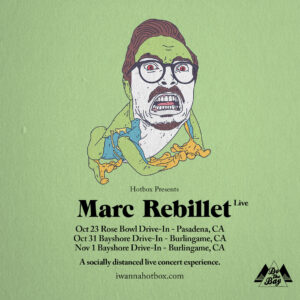 Rules and Guidelines
If you are sick, have a fever or have been exposed to COVID-19, please stay home. We encourage attending the event with others only within your quarantine circle.
All drive-in staff will be wearing PPE and masks are mandatory for all guests at the Bayshore Drive-In.
ABSOLUTELY NO SMOKING.
All vehicles are subject to security search at any time.
Only vehicles are allowed entry.
All attendees must have current, government issued ID with date of birth and photo (i.e. driver's license, passport, military ID, etc)
Each event is Rain or Shine.
Your entire party must arrive in one vehicle.
Arrival by Lyft/Uber is not permitted and there will be no overflow parking available.
No trash should be left behind. Leave your space as you found it.
Please pay attention to all exit announcements as well as the instruction from parking attendants at the end of the show. This will allow everyone to get out efficiently and in a timely manner.
Absolutely no alcohol. Don't drink & drive!
Masks are required when leaving your vehicle to use the restroom. We ask that restrooms be used for emergencies only during the show, maintaining social distancing.
Prohibited Items
The following items are not permitted on venue grounds:
NO Bags larger than 5.5" x 4.5"
NO Outside Food or Beverage
NO Alcoholic Beverages
NO Drugs or Drug Paraphernalia
NO Tobacco Products consumed on premises (cigarettes, vapes, etc) – NO OPEN FLAMES OF ANY KIND!
NO Weapons of Any Kind
NO Pepper Spray or Mace
NO Recording Equipment
NO Hula Hoops or Flow-Toys
NO Air Horns or Noisemakers
NO Laser Pointers
NO Drones
NO Fireworks or Explosives
NO Pets or Other Animals
Ticketing & Check-In
Vehicle guest count must match the appropriate number of tickets purchased. If you have more guests than the appropriate ticket number purchased, you will be required to purchase an additional ticket or all vehicle guests will be denied entry.
Upon arriving at the ticketing check-in, please present your ticket with visible QR code and driver's license through the driver's window.
No ticket refunds, changes or transfers.
In the case you must roll down your window to speak to the ticketing attendant, please have ALL guests inside the vehicle wear face coverings.
Parking
Check-in and arrival can take up to 75 minutes. Early arrival is suggested.
Once you have checked in, a parking attendant will direct you to your space.
Please remember to maintain social distancing once you have parked. You may sit in your trunk or truck bed, but only in front or behind within the perimeter of your car.
Face Covering and Social Distancing
All guests are required to have a face covering.
All guests without masks will be refused entry.
Any guest not wearing a mask outside of their vehicle may be ejected without a refund.
You may only leave the vehicle to use the restrooms.
Maintain 6 foot distance from others at all times.
Bathroom Policy
Bathrooms are cleaned and disinfected regularly.
Please wash and disinfect your hands and avoid touching any surfaces before returning to your vehicle.
Please observe social distancing when waiting in line for the bathroom.
Please wash your hands frequently and avoid touching surfaces after doing so.
Proper hand washing should include soap, water and at least 20 seconds.
Event Safety
Event Staff and Security are roaming throughout the venue and can provide you assistance in the case of an emergency.
The safety of our guests, artists and staff is of paramount importance to Hotbox. Please report any concerns to staff immediately.
We Welcome ALL.
We are here to provide a fun, creative, inclusive, and safe space.
All Colors
All Cultures
All Beliefs
All Religions
All Types
All Sizes
All People
Assumption of the Risk and Waiver of Liability Relating to Coronavirus/COVID-19
The novel coronavirus, COVID-19, has been declared a worldwide pandemic by the World Health Organization. COVID-19 is extremely contagious and is believed to spread mainly from person-to-person contact. By entering these premises and/or the event, you (a) acknowledge the contagious nature of COVID-19 and voluntarily assume the risk that you may be exposed to or infected by COVID-19 and that such exposure or infection may result in personal injury, illness, permanent disability, and death, (b) voluntarily agree to assume all of the foregoing risks and accept sole responsibility for any injury, illness, damage, loss, claim, liability, or expenses, of any kind ("Claims"), that you may experience or incur, and (c) hereby release, covenant not to sue, discharge, and hold harmless the venue, event promoter(s), vendor(s), and each of their respective parents, members, partners, affiliates, divisions, subsidiaries, and landlords and their respective officers, directors, and employees from Claims of any kind arising out of or relating thereto.
@ The Bayshore Drive-In pop-up in Burlingame, CA.