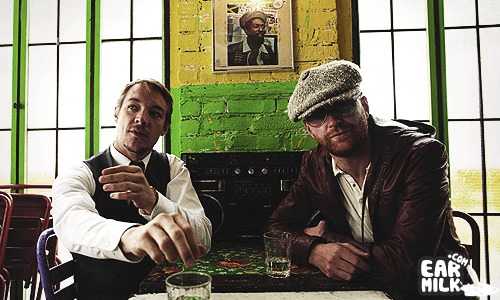 Major Lazer from the Mad Decent crew is the dynamic duo of Diplo and Switch. For those that may not know, Diplo is a DJ known for fusing genres like dub step, dance-hall and Baile funk in an electronically frenetic way, guaranteed to make you dance. He is one of the few guys responsible for bringing more North American attention to dance music out of the favelas of Brazil.
Switch, the DJ from the UK is a prominent figure in the Kingdom's House scene. A master at using glitched out, distorted samples over breakbeats, dub and electro, there is no doubt he can get the club jumping.
Both men have worked with likes of Justice, Santigold, Spank Rock, Basement Jaxx and M.I.A. among other names. The conception of Major Lazer brings the eccentric styles of both DJ's together with dancehall reggae at the core of a sound that you wont be able to sit around to. Don't believe me? Check out the videos below, then check the tour dates and then go ask grandpa if you can borrow his orthopedics on the date thats closest to you because your feet will be moving -- a lot.

Major Lazer-Zumbie (feat. Andy Milonakis)
Andy Milonakis is hilaaarious in this video. I Don't know how he got caught up with the crew at Mad Decent but he actually has a track on there label entitled Let Me Twitter Dat. Check that out when you have a chance.

Major Lazer-Hold the Line (feat. Mr Lexx and Santigold)

Major Lazer Tour Announcement (North American Dates Below)
June 13 New York, NY @ SOB's
June 18 Boston, MA @ House of Blues
Jun 19 Philadelphia, PA @ FYE In-Store (6:00p.m.)
June 19 Philadelphia, PA @ Electric Factory
June 20 Baltimore, MD @ Sound Garden In-Store (6:00p.m.)
June 20 Washington, DC @ Rock and Roll Hotel
June 24 Vancouver, BC @ Commodore Ballroom
June 25 Seattle, WA @ Neumos
June 26 San Francisco, CA @ Amoeba In-Store (6:00p.m.)
June 26 San Francisco, CA @ The Grand Ballroom at Regency
June 27 Los Angeles, CA @ LA Memorial Coliseum & Expo
July 9 Houston, TX @ Escobar
July 10 Austin, TX @ Austin Music Hall
July 11 Dallas, TX @ House of Blues
Believe me Now? To learn more about Major Lazer and other Mad Decent artists check them @ the links below. Oh, and remember to cop Gunz Don't Kill People Lazers Do next Tuesday. Keep Listening.