When a festival sells out, that's usually all the evidence you need that whatever is going to transpire is going to be worth the price of admission. When it came to III Points this year, this was certainly no different. Nestled in Miami's bustling art district known as Wynwood, this year saw the fifth iteration of the Miami-based music, art, and technology festival climb to new heights. Featuring an incredible array of both headliners and rewarding acts further down the poster lineup, from Arca to Yves Tumor, there was something for everybody to enjoy. It's one of the few festivals whose reach is international but doesn't lose sight of the regional talent on display in Miami, either. So who took the opportunity to shine and did the most with it? Quite a few acts did so, actually, so read on and discover the best music that III Points had to offer.
Mr Twin Sister
Despite a late start due to technical problems (we're sure it's not the quickest task in the world to make sure all six members of the band could be heard loud and clear), Mr Twin Sister definitely delivered the funkiest, grooviest set of III Points. Pulling from deep cuts like "Bad Street" all the way back to 2011's In Heaven, in addition to pumping out some new, unreleased tunes, the sextet headed by Andrea Estella were on fire from beginning to end. Punctuating the funk were several ambient, subdued pieces that were a showcase of Mr Twin Sister's skills at creating lush, inviting atmospheres dripping in sensuality.
Bonobo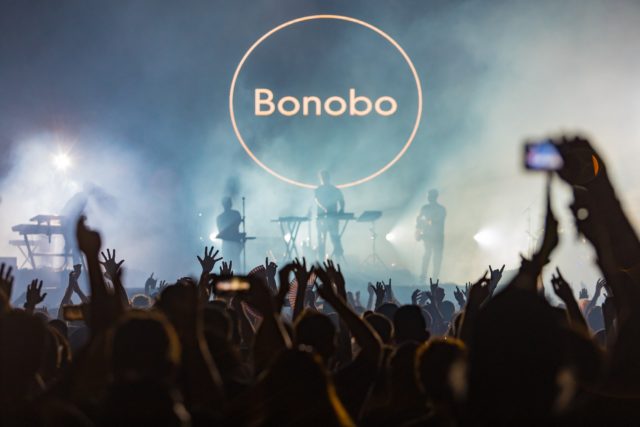 Simon Green, AKA Bonobo, gave the crowd a euphoric blend of downtempo electronica during his night two performance. Playing a majority of tracks from his latest album, Migration, Bonobo also brought out a guest vocalist, Szjerdene, who sang in place of the likes of Nick Murphy (FKA Chet Faker) on Migration cut "No Reason" among other vocal-centric cuts. Bonobo also played crowd favorite "Cirrus", which was an airy respite from the muggy post-rain weather.
Thundercat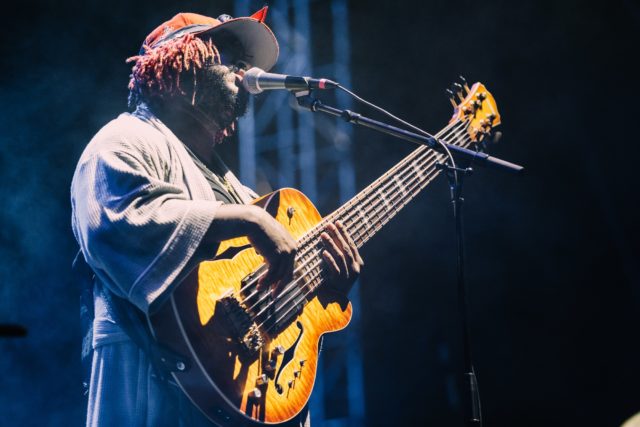 Bassheads and video game nerds rejoiced when Thundercat took the stage to perform his signature brand of humorous yet brutally honest lyrics and soulful pop and R&B tunes. Touring around this year's album Drunk, which features guest appearances from both Wiz Khalifa and Michael McDonald, two artists who would normally never be mentioned in the same sentence together, Thundercat indeed brought the thunder. Riffing (both lyrically and between songs) on topics like Japan and his obsession with Dragonball Z, Thundercat got the crowd to chant along "Goku fucking ruined me", which isn't something most musicians can say they've done.
BADBADNOTGOOD
The Toronto, Ontario jazz fusion quartet put on perhaps the most heartwarming performance of the festival, radiating positive energy between vibrant selections across their discography. Playing tunes like "Chompy's Paradise" and "CS60" from IV, their latest offering which features vocal guests Sam Herring of Future Islands and saxophone from Colin Stetson, drummer Alex Sowinski would often utilize the breakdowns in such songs to directly address the crowd. He had everyone hold their hands up high and sway them back and forth for some parts, and during "CS60" which closed out the dynamic set, Sowinski asked the crowd to get as low to the ground as they possibly could before counting down when the audience could pop back up like popcorn to wild out to the bonkers final section of the track. Getting an entire audience to play along, especially as the rain began to fall during their set, was an impressive feat, and one that doesn't work unless you have the exuberance and talent that a band like BADBADNOTGOOD does.
The xx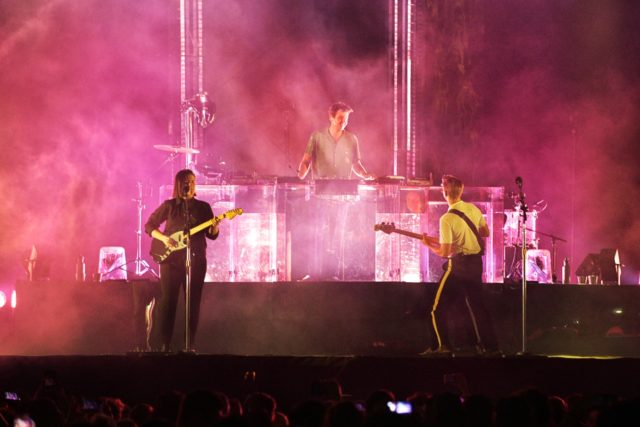 The one headlining performance that is still spinning in our heads was that of The xx, whose dazzling visuals almost eclipsed their intimately hushed and emotional vibes across their 90 minutes, which still felt too short a time to properly take in everything. The trio of Romy Madley-Croft, Oliver Sim, and Jamie Smith (AKA Jamie xx) was the warmest offering of the weekend, constantly reminding the crowd of their worth and how fortunate the band was to be performing to such wonderful fans. What could have been seen as cliché and an easy way to win over the crowd if the band had not been completely earnest in their proclamations, it made the set all the more enjoyable. Just when the smoky, minimal guitar pop on hits like "Crystallized" and "VCR" was over, the set was amplified by the inclusion of Jamie xx's contributions to the show. Playing "Loud Places" from Jamie xx's In Colour album, the energy was palpable as the disco ball was lit up by the emergence of slow-moving lasers behind the stage. It immediately transformed the stage into a dusky disco dance party, and couldn't have been any better of a way to close out another great year at III Points.