For as long as I can remember, Holy Ship! as been the standard bearer for upper-echelon partying. With rare performances, surprise back-to-back sets, and intimate shows all aboard a luxurious cruise ship as the standard offering, each year HS seemed to only get bigger and better. If you need evidence, just take a look at some of our reviews of past years. Trust us: it was always a blast on bote.
But as they say, the only constant is change.  And now, HS will touch down on land for the debut of Holy Ship! Wrecked, bringing the same high-level stacked lineup of electronic music's biggest stars to a resort and oceanfront paradise in the Dominican Republic, January 22-26.  For four days and nights, Holy Ship! Wrecked promises to takeover the all-inclusive and luxurious Hard Rock Hotel & Casino Punta Cana. The new event concept from HARD Events, Cloud 9 Adventures and The Bowery Presents will offer multiple stage environments, beachfront and poolside parties, and dusk till dawn dancing under Caribbean skies. 
But first, let's get the obvious stuff out the the way. This past year the Dominican Republic witnessed a number of unfortunate deaths, particularly amongst traveling American tourists, that resulted in panic and increased reticence in visiting the country. More shocking was the frequency of the deaths, as they happened all within a short time span. However, the US State Department and the FBI have investigated the deaths and ruled out poisoned alcohol as the cause of two of American tourists' deaths in the Dominican Republic in May, bolstering the country's findings that a spate of tourist deaths this year were not the result of foul play. Per the article from NY Times, "… the Dominican authorities had earlier found no evidence of foul play or violence and said the cause of the deaths was respiratory failure brought on by fluid in the lungs, known as pulmonary edema.  F.B.I. investigators did not give their own assessment of the cause of the deaths, but assisted the Dominican Republic National Police by conducting toxicology tests for three cases."  
While this may not assuage the fears of all upcoming travelers, it is somewhat gratifying to know that there has been some degree of investigation, and a determination was made from official sources that no foul play is suspected. Of course, even if this does assuage your fears, as a raver we should always be conscientious of our surroundings and what we ingest while partying. At the end of the day, there is no replacement for being smart and safe in your personal actions.  
Whew. Now let's get back to the fun stuff! First, the music. 
Yeah… no problems here. Have you SEEN this year's lineup? Without a doubt , the 2020 lineup features the most cross-genre electronic music palate that has always defined the Holy Ship! musical experience. From Diplo (welcome back!), to A-Trak, Madeon, Jai Wolf, and DIRTYBIRD kingpin himself, Claude VonStroke, this year's lineup promises to provide yet another amazing journey into the emotive and straight-banging music. Bass music too will be on full display too, with NGHTMRE and Slander joined by experimental tones from acts like Tokimonsta and Mr Carmack.  Honestly, the lineup is just too stacked so peep it below. I'm sure you'll find something dope to step to.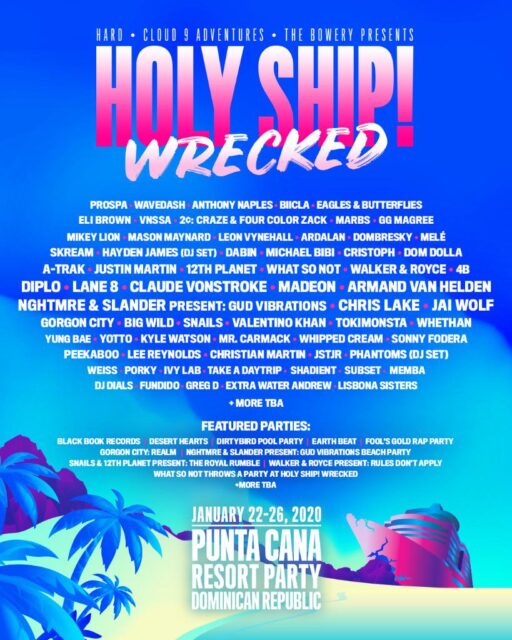 I'm not going to lie: I was definitely disappointed that Holy Ship! wouldn't be on a boat this year. But let's be real: the days at land/dock were usually some of the best days of the whole experience (when the weather was acting right!).  And in many ways, the Hard Rock resort in Punta Cana promises to offer an equally thrilling experience in the DR as we had on the boat, with even more activities and events than before. Shipfam can expect the usual favorites:
sunrise set (on the beach!),
the OG Party and gifts for returning fans,
intimate artist hosted activity sessions,
outlandish theme nights and showcases from top labels, 
Positive Legacy day of service to give back to the local community.
And some of the new and improved features include:
daily pool parties,
complementary/unlimited drinks including alcohol (no drink tickets + no bar bill!),
complimentary meals in 9 different restaurants (including pizza, sushi, Mediterranean, Brazilian steakhouse, and 24 hour room service, among others),
New offsite excursions such as snorkeling, sunset catamaran sailings, ziplining, ATV rides through the jungle, fishing trips, and more,
FREE high speed internet throughout the entire property.
Honestly, just take a look at some of the pics below, and you'll see how majesty this event may be.
And here's what really sold me: like on ship, everyone will be there for Holy Ship! Wrecked with no outside guests at the resort. All of the shows will take place just steps away from our own private guest suites that come with 24 hour room service, your own personal hot tub, and a private balcony. Each guest suite is an average of 3 times the size of those cozy cabins that were, if we're being honest, a little too cozy for comfort. Holy Ship! promises this to be a true resort experience on a tropical island, and after 13 awesome iterations on a boat, I'm inclined to believe them. 
So, with much anticipation, we prepare to descend upon our new luxurious home of Punta Cana, DR for yet another edition of Holy Ship!. And as always, EARMILK will have all your exclusive coverage leading up and during the event. We plan to host a number of exclusive mixes and playlist from shipper DJs to get you fired up. So stay tuned here for all your updates on Holy Ship!: Wrecked edition.