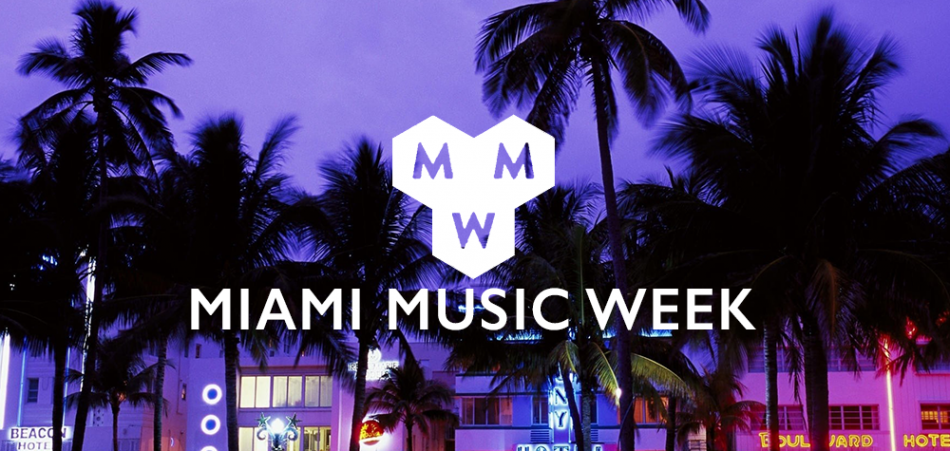 I consider myself to be a veteran attendee of Miami Music Week. It's been five years of me attending the week-long extravaganza - first as a fan, and for the last few years, as an industry insider (while still a fan). I've learned a few things: where the best late night is for after partying, where the best late night is for a post-work pit stop, that Miami finally having Uber is a Godsend, that the places to be for celebrity sightings are the W Hotel and the 1Hotel, and don't even try to get from South Beach to Downtown at 4 PM on Friday. 
This year, I was in Miami for five long, hectic but thrilling days. I stopped at just about every party I could, and even made it to Ultra Music Festival on its last day before heading to the airport to head back to New York. I've seen the beginning of the EDM boom, hitting critical mass, and now, seemingly trying to hold on to longtime fans while flourishing in a constantly changing music business. Beyond streaming, homogenization of style, trends that change overnight, and an over saturated market of talent, the house music industry seems to overcome all challenges it faces when talent, industry and fans gather all in one place for the week.
While in the Sunshine State, there were a few glaring observables about how the world of house music is constantly changing that stood out to me: here are a few.
People will be obsessed with Deadmau5 for eternity.
In 2013, Deadmau5 helped to close Ultra Music Festival. It had been a relatively quiet year for the producer, one where he dealt with depression and the break up with his fiance, Kat Von D. In turn, his music exploration was sparse - we didn't see him experimenting with new releases in snippets on SoundCloud as we do now - and, his now infamous professional internet trolling was at a minimum. Expectedly, his performance at Ultra was subdued, predictable and saw fans who had heard they "should" love industry leader Deadmau5, leave the main stage early in droves as they were exposed to the real dark, tech and electro that we love the Toronto producer for. 
This year's Ultra saw a new opportunity for Deadmau5: with his internet trolling and SoundCloud experimentation at an all time high, his music's exposure to fans and potential fans had maximum exposure to the Deadmau5 sound. So when he filled in for The Prodigy at the live stage, people flocked, his b2b set with Eric Prydz at South Beach's 1Hotel was a must-see, and his appearance at the A State of Trance stage at Ultra on Sunday was the ultimate destination.
Walking into Ultra mid-afternoon, it seemed eerily empty - where was everyone? I quickly realized, they were all in one place: the Megastructure. Now, A State of Trance on Sunday at Ultra Music Festival feels like home to the fan in me, but, for the life of me, I had never, ever, seen that many people pack that tent. From any angle of the festival, the walkways filled with indiscernible crowds turned into masses heading in one direction. And as a veteran of Ultra and festivals worldwide, I can confidently say that I've never seen a bigger clusterfuck of people trying to fit into one tent - all to see Deadmau5.
The best part of this scene is that as usual, we couldn't be sure of what to expect from Deadmau5 in this setting: he's playing in the trance tent, but what does that mean he'll play? Of course, he stumped everyone, launching his set in front of the #trancefam with a full-length raging heavy metal song. And in a moment of predictable surprise, everyone embraced it head on.
Though Deadmau5 might piss people off now and again, he's learned to incorporate his own hype into a good report with the crowd, and shocking them with enjoyable things they've never heard before. Learning from that, fans will continue to flock to see Deadmau5 knowing that he will surprise them in real life, no matter how negative his online persona continues to be.
Ultra Music Festival still reigns supreme.
The debate on what festival is "the best" remains an open one. Tomorrowland may have won the IDMA for "Best Music Event," Ultra Music Festival still takes the cake for drawing one of the the largest crowds and the most diverse and expansive list of performers. The real winner for Ultra, though, is its production. At so-called secondary stages like the Megastructure and Ultra Worldwide, little tweaks each year allow fans to feel at home with a familiar setup, but become even more immersed in production. Newer stages like the 7Up Stage don't get forgotten, and by God, the Main Stage. As someone who lives for light production, I can fully say, going a year without having at least a few minutes with that thing is not a full year lived for me. Each year, it's hard for me to conceive that something more mesmerizing could be conceived of, but each year is outdone by the next.
Being a DJ that caters to an American crowd on stage is a tough job.
Is there a training camp for grooming DJ's to handle fame? A bootcamp to make sure they're in shape enough to handle performances? Being a DJ is a major workout when catering to an American crowd. Artists like Arty who at the beginnings of their careers were concentrating stoically on DJing on stage, now jump and fist pump for 60+ minutes straight throughout their performances to make sure the crowd is engaged (watching Arty go b2b with Audien at the Anjunabeats RC Cola Plant show was like seeing a new, mature, completely different personality on stage than my first interaction with him in 2011). And the craziest part is, the crowd looks for this type of interaction - a reminder that the person who made the music and is playing it is having the same interaction with it as you are as the fan. Though artists are sick of their hits, they are expected to physically react like it's their first time getting down to their favorite track.
Artists like The Chainsmokers, Dash Berlin and even Sam Feldt have tight relationships with their fans, and do not miss a show without jumping up on the decks at least 5 times, doing 600 air push ups and will never leave a show without needing to put on a new shirt. This isn't the newest news, with artists like Grum acknowledging the American adjustment, but this year, during WMC, whether performing at a lackluster industry-only party, or whether performing in front of 165,000+ people at Ultra, every performance had impressive energy.
Women represent behind the scenes.
Assertions have been made over and over again that EDM has a "women problem," or as THUMP claims, a "straight white guy problem." Since the days of NERVO and Nicole Moudaber being some of the only women representing, artists like Alison Wonderland, Anna Lunoe and Maya Jane Coles have entered the scene, but still nowhere near encroaching on the number of men representing as artists. And at many EDM shows, it's easy to notice the discrepancy between the number of women and the number of men in the crowd. But, during Miami Music Week, the visible paradigm shifts. While many of the stars in front of the stage are men, women are an integral part of making that machine run. Ever the lingering population of groupies, in Miami is where you see the real women making things happen so that show you're there to watch can function at full force.
Backstage is a men's fashion show.
"Fashion changes, but style endures." -Coco Chanel
"Always dress like you're going to see your worst enemy." — Kimora Lee
They say women dress to impress other women, but during Miami Music Week, it's obvious that is just as true for guys.  At every industry event, it's impossible to miss the dudes competing for coolest outfit back stage: who has the roundest sunglasses, the waviest fade, the whitest kicks and the longest scoop neck t-shirt? Even in the 85-degree heat of South Beach, some outfits just require wearing pants to get them totally on point.
https://www.youtube.com/watch?v=0NQeyWsVLpk
DJ Khaled is still everywhere.
And even though the "major key" is getting stale, the people still love him (and more importantly, his music). When the rapper appeared on stage with Carnage during his Ultra set, the reaction was huge, proving that the hip hop producing mogul is still on top of his social media game. With Rick Ross and Rae Sremmurd by his side, Khaled was flocked back stage just as much as he would have been in public. When on stage, the crowd went nuts to the radio hit they never knew they loved as much as they do now, "All I Do Is Win." 
Aside from DJ Khaled, house music has fully immersed itself in things beyond just the DJ. Call its influences mainstream, pop, hip hop or otherwise, things are evolving at Ultra Music Festival each year, reflecting the will of the masses. With Pendulum closing the festival with the first live set its had on the main stage in years, there's certainly something to be said for EDM's ability to look forward while always having one eye on the past.