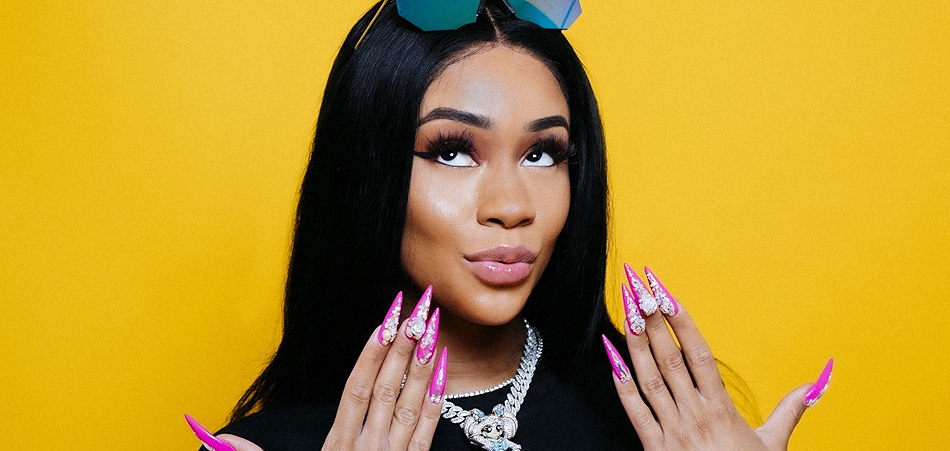 West coast rapper, Saweetie boasts a new single release, a Maxim Magazine cover, and a cult following on Instagram. She is undeniably beautiful with a voluptuous physique and infectious confidence. Her relationship with Migos' Quavo continues to make headlines. Even though her career seems to be on the fast track to rap royalty, the repeated use of samples to top the charts has hip-hop aficionados questioning her skills and formulaic success.
The artist's latest release, "Tap In" samples Too Short's 2006 hit, "Blow the Whistle." The accompanying music video is another performance accentuating Saweetie's sex appeal, equipped with twerking and hair flipping. The song rides on the coattails of its radio worthy predecessor, but Saweetie's verses leave much to be desired by the listener. While the hook is memorable, the repetitiveness makes up most of the song. This track's brevity mirrors her previous singles rapping about rich men, a slim waist, and a full derriere. She may capitalize on a niche that keeps her in the spotlight and on playlists, but has she become too predictable?
Listeners have heard the rapper's flow and style on her original, "Up Now." The track didn't garner as much popularity as some of her other work, but it did showcase Saweetie's talent alongside G-Eazy and Rich the Kid. She would then become a staple on radio stations and top 40 playlists after the release of "My Type," which samples Petey Pablo's "Freek-A-Leek." This track would win the artist her first song on the Hot 100 list and eventually achieved certified gold. Despite positive responses associated with this sample, fans did not have the same reactions to "Tap In."
See posts below.
Saweetie can you pls Tap in to a modeling career or acting , because rapping ain't it... pic.twitter.com/qnnbXgWwMT

— ur baby daddies leftovers???? (@camarillosbest) June 17, 2020
Tap In is kinda a bop but Saweetie still needs to try to be more original... pic.twitter.com/iHpc8WjtHJ

— Paradisin' ? (@incradibleXR) June 17, 2020
Idk who told Saweetie that Tap In was a hit but pic.twitter.com/4yoBUtRZuY

— ⚜T'Nikko⚜ (@T__Nikko) June 17, 2020
The buzz surrounding the latest release poses a question regarding Saweetie's credibility as a rapper. Does she rely on already established beats to resonate with listeners, or could this be a careful tactic to build her brand? After all, she initially acquired fame from "ICY GIRL," sampling Khia's "My Neck, My Back." Even with her standout hits, fans are yearning for more originality from the artist. In an industry where female rappers are continuously breaking records with original projects, Saweetie must adapt and step out of her comfort zone to maintain success.
Connect with Saweetie: Facebook | Twitter | Instagram | Spotify