Ultra commits to continuing sustainability initiatives after local environmental organizations report the sustainability plan implementations of 2019 was a major success.
Before Ultra Music Festival held its 2019 annual 3-day party, organizers had launched a sustainability campaign titled 'Mission: Home'; soon, it reached over 2.7 million fans across social media platforms before the event had even commenced. Now, the festival is reaffirming its commitment to its far-reaching environmental efforts by continuing with the 'Mission: Home' campaign.
"We are happy to announce that our 'Mission: Home' sustainability initiatives including our Leave No Trace policy, single-use plastic reduction efforts and recycling program will continue in 2020 and beyond," Ultra's Senior Manager of Sustainability Vivian Belzaguy said. 
The 'Mission: Home' campaign actioned unprecedented shifts in internal operations, while engaging vendors, crew, employees and attendees in working together to reduce environmental impact. Environmental protection and sustainability initiatives included prohibiting beach access, a ban on polystyrene (styrofoam), balloons, confetti, and streamers, a phase out of merchandise plastic bags and the distribution of free pocket ashtrays to mitigate cigarette litter, among others. In addition, Ultra increased free water refills stations to reduce plastic water bottle waste and also banned single-use plastic straws, cups, food packaging and cutlery. The festival also connected with a global environmental consulting firm to assist in creating its plan for protecting wildlife.
Local environmental organizations VolunteerCleanup.org, Surfrider Miami and Debris Free Oceans collaborated on an unbiased, third-party report card that details the achievements of the festival and its learnings. Ultra Music Festival has gained an overall first-year sustainability grade of an 'A'. "This event has set the bar very high for all events…We were astonished at how clean the park was from the start of each day to the end of each day," Virginia Key Beach Park Trust Special Events Liaison Michelle Swaby wrote in an email to the City of Miami Commissioners. "Even the attendees did their part in throwing trash in the proper receptacles."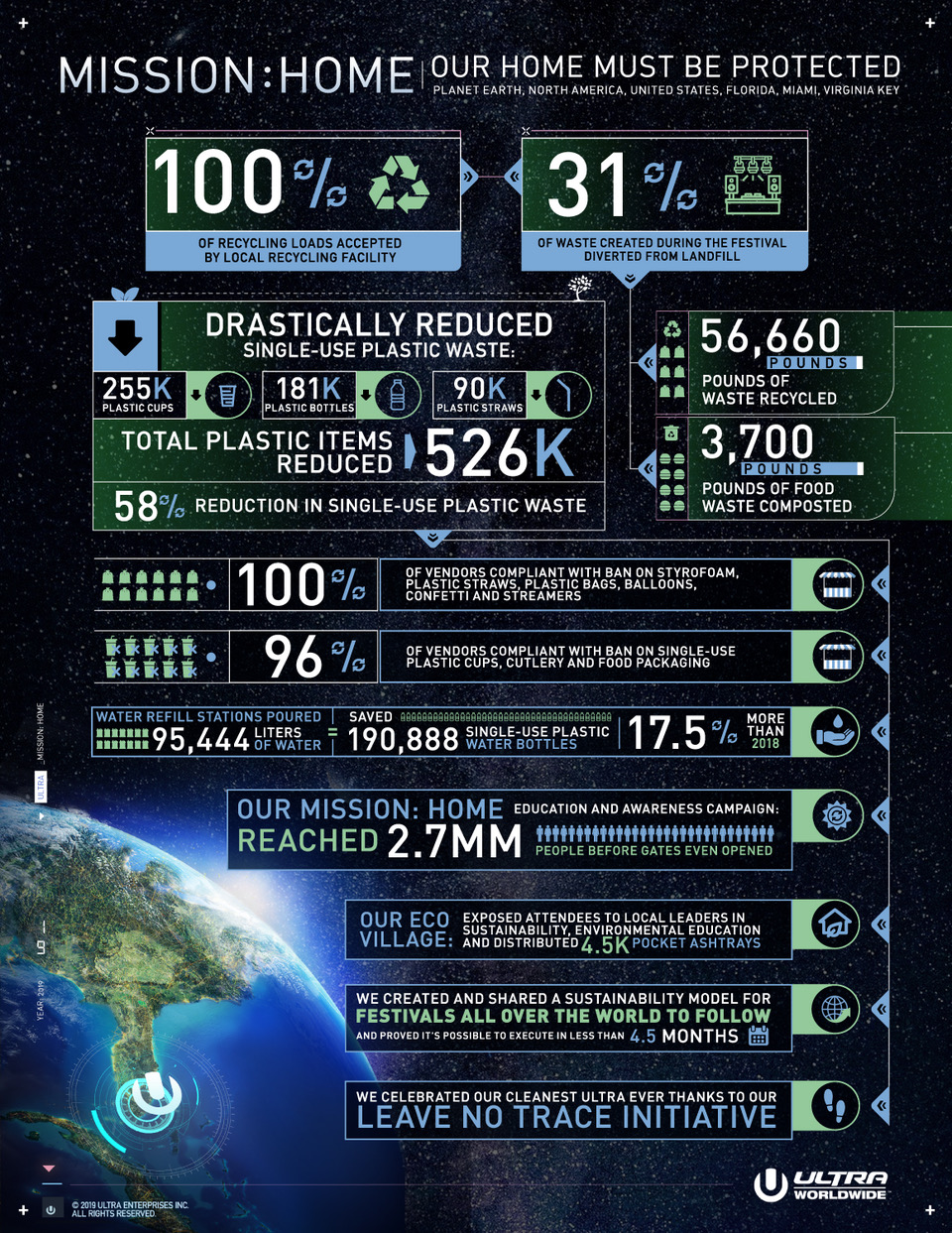 About Ultra Music Festival
Ultra Music Festival is a premier three-day electronic music festival that includes international and local DJs with stellar production in Miami, FL, USA. The 21st edition of Ultra Music Festival took place on March 29-31, 2019.
About VolunterCleanup.org
VolunteerCleanup.org engages volunteers to cleanup their neighbourhoods, shorelines, and waterways as a way to raise awareness about marine debris and encourage people to reduce their reliance on single-use plastics. Find or organize a cleanup on their official website and read Ultra's Report Card.
About Debris Free Oceans
Debris Free Oceans is a Miami-based organization that inspires local communities to responsibly manage the lifecycle of plastics and waste as part of a global initiative to eradicate marine debris from our beaches, reefs and oceans. Learn more on their official website.
About Surfrider Foundation Miami
The Surfrider Foundation is a nonprofit grassroots organization dedicated to the protection and enjoyment of our world's oceans, waves and beaches through a powerful network. Founded in 1984 by a handful of visionary surfers in Malibu, California, the Surfrider Foundation now maintains over one million supporters, activists and members, with more than 170 volunteer-led chapters and student clubs in the U.S., and more than 500 victories protecting our coasts. Learn more on their official website.
Connect with Ultra Music Festival: Facebook | Twitter | Instagram | YouTube