For those in the know, the Heinekin House has always been a special oassis for magical performances hidden right in the middle of the festival grounds where memorable experiences are always to be had. As a fan, I'll never forget the surprise Big Boi appearance at the Heinekin House at Outside Lands one year where he did a rapid fire run-through of Outkast's greatest hits for the craziest 30-minute set I've ever witnessed. And this year, fans can look to recreate their own special music memory as Heinekin House returns to Coachella 2023 with an unforgettable lineup featuring Method Man & Redman, DJ Pee .Wee (Anderson .Paak), SG Lewis, NGHTMRE, Walker & Royce, Francis Mercier, Austin Millz, and more.
Weekend One:
Friday, April 14: Walker & Royce, Felix Da Housecat, Hannah Wants, Lee Wells and Bones
Saturday, April 15: Method Man & Redman, Austin Millz, DJ Pee .Wee (Anderson .Paak), Andre Power and SWEET LIKE CHOCOLATE
Sunday, April 16: NGHTMRE, LondonBridge, WHIPPED CREAM, NIIKO x SWAE and Tony H
Weekend Two:
Friday, April 21: Chris Stussy, Emmit Fenn, Francis Mercier, HoneyLuv and Antoinette Van Dewark
Saturday, April 22: SG Lewis, Franc Moody, TEED, Coco & Breezy and Zen Freeman
Sunday, April 23: Snakehips, Fleetmac Wood, Bontan, Black V Neck and Max Styler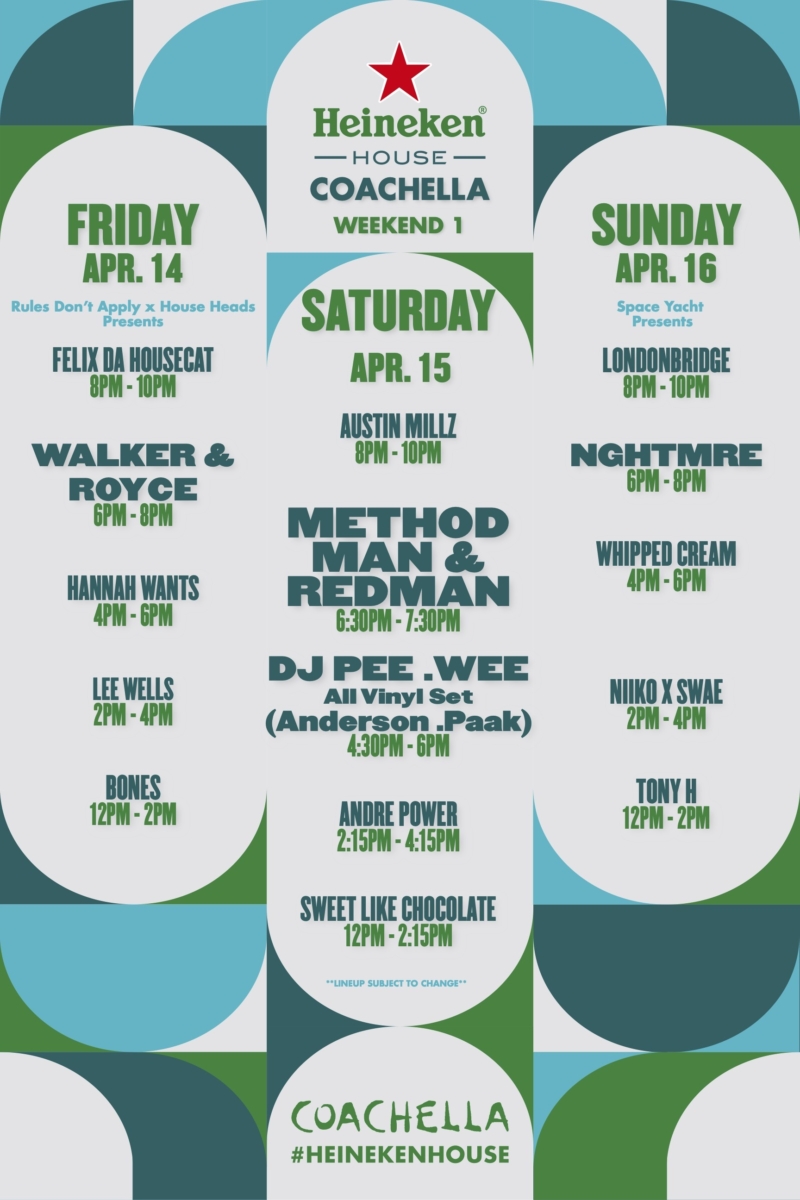 "Heineken House will have something for everyone with an exciting collection of artists who have shaped music and culture taking center stage," said Christine Karimi, Director, Partnerships and Consumer Experience at HEINEKEN USA. "It's the perfect backdrop for serving up a first sip of Heineken Silver to fans enjoying some of the best beats Coachella has to offer."
Festivalgoers will be among the first in the country to taste NEW Heineken Silver, a crisp and refreshing, lower-carb, lower-cal beer hitting shelves nationwide as part of Heineken's lineup.
Check out the video below of a previous Heinekin Hous performance showing why they are a can't miss stop for Coachella fans this year: