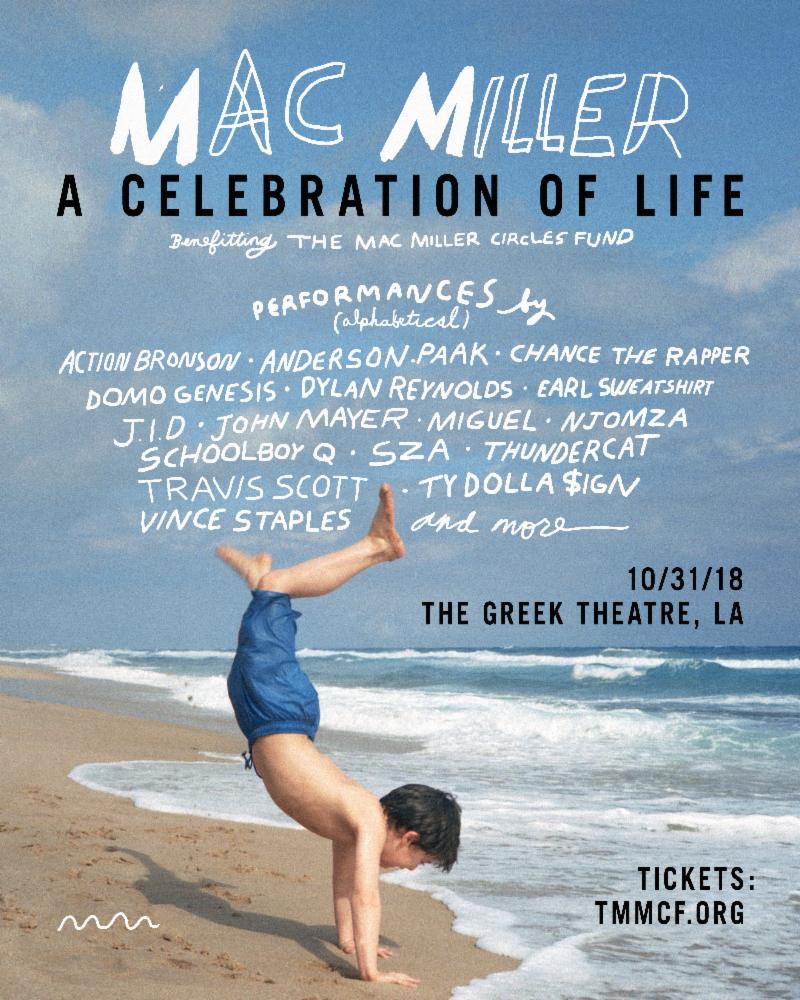 The hip-hop community is still greatly morning the loss of Mac Miller. Today, a concert honoring the late Pittsburgh rapper's life has been announced, where artists, fans and family alike will channel their energy in grief into a celebratory fundraiser.
Miller's mother, Karen Meyers, his father, Mark McCormick and brother, Miller McCormick, along with Christian and Kelly Clancy of 4 Strikes management have announced that a concert "Mac Miller: A Celebration of Life" will benefit and mark the launch of the Mac Miller Circles Fund (MMCF). In partnership with Live Nation, the concert will take place on October 31 at Los Angeles's Greek Theater and will bring in a slew of artists who were fans, friends and contemporaries in an inaugural benefit concert. Artist performances will vary, welcoming Action Bronson, Anderson .Paak, Chance the Rapper, Dylan Reynolds, Domo Genesis, Earl Sweatshirt, J.I.D, John Mayer, Miguel, Njomza, ScHoolboy Q, SZA, Thundercat, Travis Scott, Ty Dolla $ign and Vince Staples as those artists confirmed so far and with more to be announced. Tickets will go on sale beginning Friday, October 5th at 10:00am PST.
With this launch, MMCF will dedicate itself to honoring Mac Miller's life by provide programming, resources, and opportunities to youth in underserved communities. To be managed by his family, a board of advisors, and 4 Strikes management, MMCF will help those youth recognize their full potential through exploration in the arts and community building.
Karen Meyers had moving words on the announcement saying of her son, "He was pure artistry — constantly creating, seeking, and discovering new ways to be both a source of inspiration and catalyst for new artists. We were fortunate, not only to work with Malcolm and watch his music evolve, but to witness his own personal evolution that included a strong focus on building bridges and opening doors for anyone and everyone he encountered. We hope his ambitions to bring people together and to create new opportunities will continue to live through the MMCF. We know Malcolm would be appreciative and proud of the thought and care that is going into making the MMCF a reality, so thank you to all who are selflessly helping this come to life."