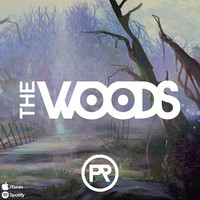 PatrickReza's new EP The Woods has left our ears tingling in all the right ways. Just a week ago he was teasing us about the release causing our anticipation to skyrocket as we waited on the edge of our seats for the official release. Well the time has come, as he dropped the album just yesterday. The Woods takes you on a journey through four dubstep tracks that move you progressively through different stages of bass and mysterious wobbles, in a story-like fashion. The Woods contains dark eminent bass patterns, offset by energetic sounding drumbeats that keep you on your toes. If you give a listen to "Vitals" or "Bang" from this Los Angeles based producer you'll hear a familiarity in his style of production.
The warm-up track gets us excited for what is about to unfold in the rest of the EP, and very well acts as the preface to the story he is telling. Each track progressively gets more intense, but "Ritual" starts off with a lighter electronic sound that gets your blood flowing right before jumping into that grime we all love so much.
Transitioning into the second track "Prey," PR  throws some pretty heavy wobbles, with even harder drum patterns in only a few segments. Taking the name of this track into consideration, I wouldn't want to be the person being preyed upon by PatrickReza. Instead of that hard hitting drop, there are a couple instances where the buildup tricks you into expecting a massive drop, but then gently eases back into the softer energy of the synth lines.
Next up, title track "The Woods," which dives right into the thickest of bass line out of all the tracks on the EP. The somber and overcast dubstep vibe on "The Woods" might actually have you believing you are lost deep in the wilderness at night. Fear not, the last track on this release will bring you back safely with some light and clarity. 
The final track on the EP takes all the best components from the previous tracks and gives us a perfect ending to the story he is telling. "Tribes" may resonate the most with you, as it takes all the typical parts of a dubstep song and gives them vigor and new energy. PatrickReza gives life back to traditional dubstep in this EP while taking listeners on an ambient journey through The Woods.