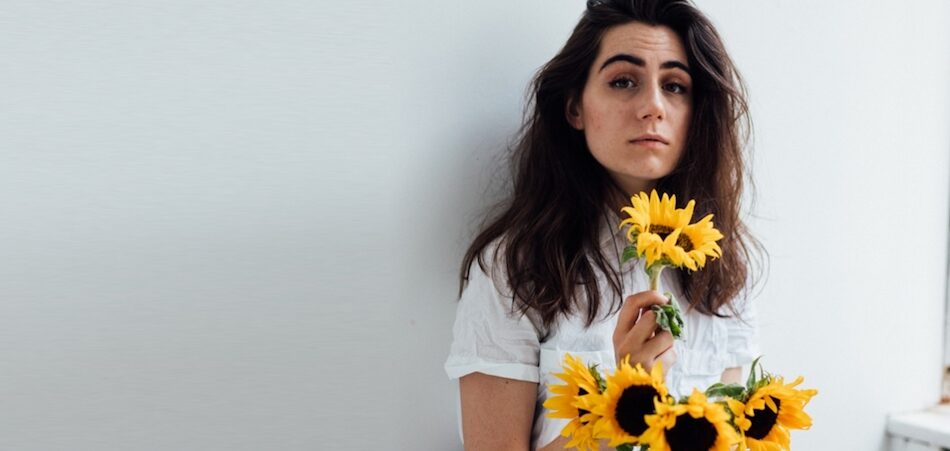 A cursory YouTube search of the name dodie will yield a few different things: there are covers of popular songs, on which dodie is usually accompanied by other prominent YouTubers; a few interviews and live sessions; and then the slew of original songs, performed in a bedroom setting with a single instrument. Some of these songs make up the singer/songwriter's latest EP Human, out today via The Orchard. 
One of the strangest and most wonderful things about the YouTube community and the vloggers who made their start there is that there is a specific brand of intimacy created in watching someone chat to a camera from their bedroom or their kitchen. You feel like you know them, and they, (one can imagine) feel more connected to the rest of the world. Her videos are peppered with comments detailing personal stories from commenters and subscribers—the people who identified with her and needed a space to share. dodie sacrifices none of this intimacy for Human. 
At times, Human gives off an air of being the soundtrack to a musical—perhaps the musical of dodie's life. It seems intensely personal. On "Not What I Meant," dodie says "maybe I would sound better if my features were more sweet," and it's as though we could be watching her profile while she sings this tune in her bedroom, abstractly directed at someone she might be trying to impress. "She" is a vivid, intimate ballad about a girl who "smells like lemongrass and sleep,"—a metaphor that hits very close to home despite the singer worrying it might be camp—which made its debut on her Youtube channel four years ago. The end of the five-minute clip features a four-years-ago dodie making bubbly thank you's and offering up clarification on her sexuality. For the song's incarnation on Human, dodie has swapped out stop-motion graphics for sweet, heartache strings which add stunning weight to the flighty melody and stream-of-consciousness lyric.
Perhaps the most "electronic" track on Human is "Monster," an almost anthemic track driven primarily by percussion. It offsets the rest of the album along with title track "Human," a collaboration with British indie/alternative musician Tom Walker. These tunes make Human sound full and polished without punting the album into grandiosity. In "If I'm Being Honest," the gentle British singer/songwriter voices fears of "having a crush and becoming a mess." I find myself laughing out loud for its relatability to young people probably everywhere, including myself. The irony of its title is that dodie is visceral and honest; almost unbelievably so. Human is heartfelt but not saccharine. The minimalist indie-pop is stunning in its construction and execution, and it sets the young musician up for a wonderful career. 
dodie has sold-out tour dates across Europe and North America and is set to embark on yet another worldwide tour following the release of Human. 
Purchase Human here.