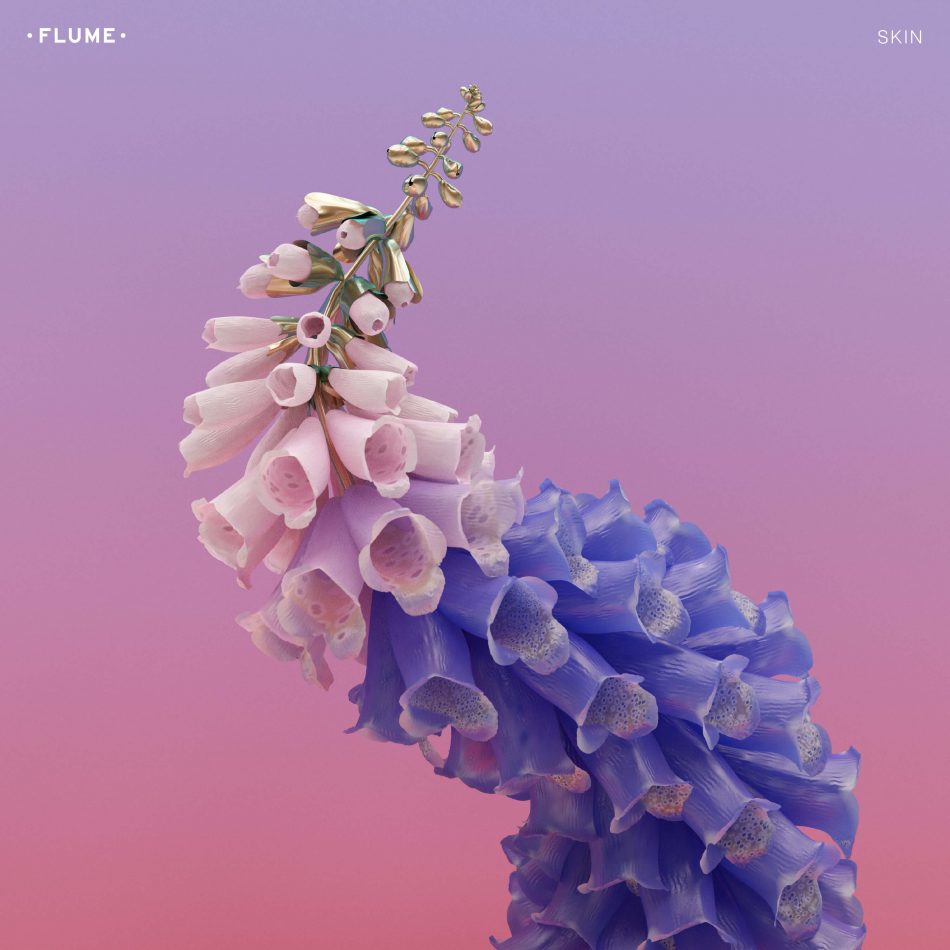 Album Review: Flume - Skin
Artist Name:

Flume

Album Name:

Skin

Release Type:

Album

Release Date:

Record Label:
Label Location:
Review Author:
Review Date:

EM Review Rating:
It's been about three and a half years since 24 year old Australian electronic music phenomenon Harley Streten, better known as Flume, released his self-titled debut LP. The Flume LP was something of a turning point, bringing the genre we now know as future bass out of it's obscure corner of Soundcloud and into the mainstream electronic music market. Since then Streten has become one of the biggest names in electronic music, and future bass one of it's most prominent (and heavily saturated) genres. 
Its of course unfair to expect Flume to pull another revolutionary album out of the hat with his sophomore LP Skin, especially now that virtually every mainstream electronic artist has released something at least a bit influenced by "the Flume sound". Still, in the build up to Skin, which officially started when "Some Minds (feat. Andy Wyatt)" was released about a year ago, the expectations has reached a ridiculous level, and it's probably a good idea to tone them down a bit before hitting play. Skin is a really good hour of music, with some of Flume's best productions to date, but it's probably not going to change your life, and if you were expecting that, don't blame Flume if you're disappointed. 
Stylistically, Skin is quite a big change from Streten's debut album. It certainly covers a broader range of styles, being at times weird and experimental, and at others a lot more radio friendly. Flume's attempt to cover a lot of stylistic ground does get a bit much at times, like when we're taken from track 5, the somewhat mediocre pop song "Say It (feat. Tove Lo)", to track 6, the mind-bending beats and experimental sound design of "Wall F**k".
Streten's production throughout his sophomore album is flawless. The album is really tied together by consistent sound and sample choices. Every drum hit, synth patch and vocal sample fit perfectly into the overall sound of the album, and Flume's passion for experimental sample choices and sound design is what makes the less interesting tracks on the album worthwhile. 
The album opener, "Helix", definitely falls into the experimental category. Drawing us in with a strange, enigmatic flute melody, followed up by a powerful vocal sample, all part of a wonderfully slow paced build up, it develops into an intense experimental drop. The strange harmonies and sound design of the intro builds expectations, and the hard-hitting, experimental drop is a perfect preview of what's to come.
[soundcloud url="https://api.soundcloud.com/tracks/242136202" params="color=ff5500&auto_play=false&hide_related=false&show_comments=true&show_user=true&show_reposts=false" width="100%" height="166" iframe="true" /]
After "Helix", Flume takes us on the first of many sharp stylistic turns, into the albums lead single: "Never be like you (feat. Kai)". It's a great pop track, and in contrast to other pop cuts on this record, it doesn't stray to far away from Flume's stylistic identity. Track three, "Lose It (feat. Vic Mensa)", is a blend of a beautifully detailed future bass beat, and a hip-hop vocal that draws in an uncomfortable amount of pop-hip-hop clichés. "Numb and getting colder (feat. Kučka)" boasts wonderful chord progressions and spaced out, mellow production, and Kučka's vocal performance is perfect to fill out the laid back instrumental. After this, the album moves to "Say It (feat. Tove Lo), which is a perfectly passable pop song, where Flume's signature production style is perhaps dialled back a bit too much to give space for Tove Lo, before taking a wholly unexpected turn into "Wall F**k".
"Wall F**k" switches between a lush chord progression and repeating vocal sample and the darkest, weirdest and glitchiest drum groove on the entire album. It's a study in sonic manipulation, with every distorted synth sound blending together to create an incredibly strange overall image. Maintaining a wonky heaviness throughout, it's a very ambitious track, but Flume manages to turn what must have been a very uninviting collection of samples into one of the best tracks on the album, even if it's not the most accessible. It's followed up by "Pika", an interesting two minute interlude cut combining arpeggiated synth melodies and a wonderful vocal sample.
[soundcloud url="https://api.soundcloud.com/tracks/244255359" params="color=ff5500&auto_play=false&hide_related=false&show_comments=true&show_user=true&show_reposts=false" width="100%" height="166" iframe="true" /]
"Smoke & Retribution (feat. Vince Staples & Kučka)" is another sharp stylistic turn. It's aggressive and hard-hitting, seemingly designed for dark warehouse raves, with California rapper Vince Staples complementing Flume's production admirably. Kučka's vocals are spot on here as well, with her soft, calm chorus a perfect contrast to Flume and Staples' heavy hitting verses. Track 9, conveniently named "3", is another chilled out instrumental track. It's one of very few tracks on the album that sound like they could fit into Flumes debut LP, and it's a nice throwback. Not only that, but "3" is really well produced as well, with beautiful vocal sampling, a glitchy drum groove and an interesting watery (yes, as in "sounds like water") synth melody towards the end. After "3" were treated to the atmospheric interlude "When Everything was New", which incorporates some interesting vocal and chatter samples.
"You Know (feat. Allan Kingdom & Raekwon)" is another hip-hop cut, where Flume's backing track is closer to a traditional hip-hop beat, which works quite well with his style. Wu-Tang Clan's Raekwon delivers what is in my opinion the best rap performance on the record, even though the lyrics feel a bit out of sync (too... intense) with the rest of the album. From there, Flume takes us back into territory closer to what we expect from him, with high-quality vocal performances from Little Dragon and AlunaGeorge. Little Dragon's characteristic vocals are of course instantly recognisable, and turn out just as well with Flume's backing track as they have with other producers in the past. The hard hitting drop on "Take a Chance", contrasted beautifully by Little Dragon's soft vocals, makes it into one of the best tracks on the record. AlunaGeorges vocal performance on "Innocence" is spot on as well, with the heavily manipulated vocals a great textural element in the atmospheric instrumental. "Like Water (feat. MNDR)" boasts another great vocal performance over a wonky instrumental.
From there Flume takes us through another instrumental track, "Free": an incredible blend of fast-paced arpeggiators, wailing synth lines and a wonderfully heavy drop. The album closer, "Tiny Cities", is Flume's somewhat surprising collaboration with singer/songwriter Beck. It's another interesting track, with the subtle, manipulated guitar giving the impression of Flume blending his style with traditional singer-songwriter music. The slow-paced, spacious drop is fantastic, and with Beck's characteristic vocal style it does the album justice as a closer.
On a track-by-track level, Skin is a pretty great record. Flume shows off his production skills, flirts with a broad range of non-electronic genres and brings in vocal guests who, with a few exceptions, deliver great performances. However, I'm still left not entirely satisfied by Flume's new record, simply because I think it's too broad. With 11 vocal guests from a range of different genres, it's not surprising that Skin comes across a bit messy. While trying to fit something of everything into his new record, Flume leaves it without any real depth, and although the individual tracks are great, they don't necessarily tie together as an album. However, Flume's production sounds as great as always, and I would strongly recommend giving Skin a listen.
Connect with Flume: Soundcloud | Facebook | Twitter