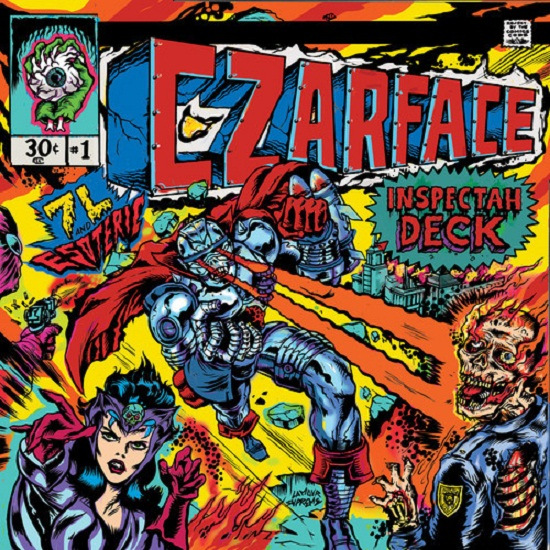 Album Review: 7L & Esoteric and Inspectah Deck - CZARFACE
Artist Name:

7L & Esoteric and Inspectah Deck

Album Name:

CZARFACE

Release Type:

Release Date:

Record Label:
Label Location:
Review Author:
Review Date:

EM Review Rating:
Before The RZA scored a Quentin Tarantino classic, before Method Man starred in a couple stoner comedies, before Ghostface Killa played himself on 30 Rock—twice, when the solo endeavors of the Wu-Tang saga were still out of focus, Inspectah Deck, who may not have found solo success comparable to some of the other clansmen, was known as one of the most complex lyricists in the clan. It was Deck who blew every Wu-Tang fan's mind in "Triumph" when he rhymed, "I bomb atomically, Socrates' philosophies/And hypothesis can't define how I be droppin' these/mockeries, lyrically perform armed robbery/Flee with the lottery, possibly they spotted me."
Around the same time, Boston producer/rapper duo 7L & Esoteric were kicking similar brawling rhymes over the type of sparing beats that characterized the last sliver of Hip-Hop's Golden Age. In 1999, the duo released their final album, Speaking Real Worlds, and featured Deck on the title track, opening the door that would lead to CZARFACE over a decade later.
Esoteric recently explained, "CZARFACE is a vigilante, anti-hero character who serves as the face of the project, and his focus is on annihilating the media darlings that the mainstream caters to."
An Inspectah Deck x 7L & Esoteric collaboration, CZARFACE certainly does not cater to the mainstream nor its "media darlings." It's a project for the 90's Hip-Hop fans and underground supporters, the rising nostalgic generation that finds solace in acts like Joey Bada$$ for the revival of old school lyricism and sound.
Plentiful uses of samples and record scratching on gritty skeletal beats coupled with punch line slinging, boastful, battle inclined wordplay makes CZARFACE a healthy dose of nostalgia as well as a showcase of the MCs' unscathed techniques after all this time. Stand out tracks like "Cement 3s" sound as if they actually were made fifteen years ago and locked away in someone's basement—until Esoteric drops lines like, "Make you wanna slap Snooki... True blood pumpin' through these veins no Sookie."
It's those subtle contemporary tweaks that enliven the thematic element of the album, forging satisfaction in the fresh qualities that enhance the tracks while never daring to overpower the retro feel. 7L's production of "Hazmat Rap" captures the unpolished, multitudinous sprawl of the era, but with an extra layer of synth he manages to breathe new life into the sound without compromising its convention.
Deck and Esoteric's intimidation rhyme tactics are ruthlessly efficient with lyrics as potent as 7L's head nod inducing grooves. They remind us of the beginnings of the art form, the novelty of using words to bang out percussive rhythm and to repurpose language into something different every time. "Fuck Patron, you need shots of Cortizone/You ain't Corleone or Noreaga-Pone/More like Norah Jones with your boring poems."
The comical, sharp, and insanely inventive delivery isn't reserved just for Deck and Esoteric, there are some killer features on the album—though some more dull than others. Action Bronson crushes his verse on, "It's Raw,"  and appearances from old friends like Ghostface and Cappadonna prompt surges of nostalgia highs throughout the album. 
Perhaps lacking in variation and narrative, the album excels more in its solid East Coast 90's production style and effortless quotables, which you may need to rewind a couple times to really value. In your moments of impatience as you await Wu-Tang Clan's 20th anniversary album, when you need a break from rappers listing off "shit they don't like" and describing the gold all in their chain, ring, watch, etc., this is the album to grab.