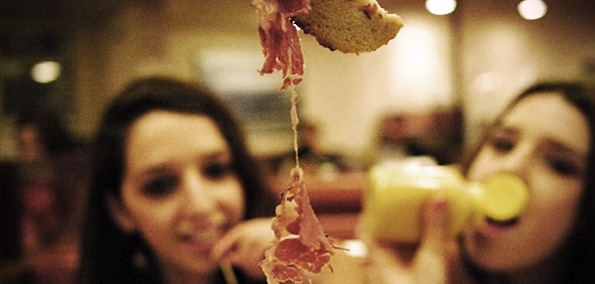 Scribble the word "raw" on your calendar in capital letters and red sharpie for Feb 19.
That's when CZARFACE's self-titled debut drops on the hip-hop hungry minds of the world.  CZARFACE, which consists of Wu-Tang's most quietly celebrated emcee Inspectah Deck and the comic book-inclined Boston supergroup 7L & Esoteric (7LES), could be said to have formed sometime in 1999 on the track "Speaking Real Words"—a cut from an EP of the same name. Some fourteen years later, it's clear the trio yearns for that fabled time when Soundbombing II, Operation:Doomsday, and even Deck's Uncontrolled Substance were dominating our ears, but one quick listen to their sampler indicates that they've factored some contemporary flavor into the mix.
Action Bronson, Gangrene, Roc Marciano and Mr. MFN eXquire provide enough new school feel to balance out the old school talents of CZARFACE and featured artists Ghostface Killah, Cappadonna, Vinnie Paz, and DJ Premier. 
There's enough Wu-esque goodness here, in 9 minutes 7 seconds, to make a strong case for a late 90s revival, and to give hip-hop heads stuck in the Bill Clinton era a much-needed musical woody.
[soundcloud url="http://api.soundcloud.com/tracks/78268297" width="100%" height="166" iframe="true" /]