Liquid I.V., the leading LA-based hydration and nutritional wellness brand, will have a major presence at the upcoming Outside Lands Music Festival in San Francisco this weekend. The brand will be offering samples and giveaways of its products at its festival footprint, as well as partnering with Twitch to create a digital experience for fans who can't attend in person.
Music festivals are the perfect intersection to find people who have been traveling all day, standing in record-breaking heat, and dancing from noon to midnight. While so many brands out there seeking to engage with this highly-dense audience of consumers or desperately try to make their names synonymous with a "good time", Liquid I.V.'s presence acts as actual added value to this year's overall festival experience. With high chances for dehydration through all-day partying, and high-priced drinks out of reach, it's a no-brainer to have a brand like Liquid I.V. in attendance, essentially engaging with their ideal consumer and promoting positive wellness in the best possible scenario.
"Music festivals are a perfect fit for Liquid I.V.," said Stacey Andrade-Wells, Vice-President of Marketing for Liquid I.V. "Our products are designed to deliver extraordinary hydration for everyday life, and music festivals are a great example of a relevant dehydration occasion."
She goes on to share, "We focus on four hero usage occasions, and those are exercise, nightlife, heat, and travel. So music festivals really touch on all four of those uses. So it's absolutely the exact moment where we want to be present and to offer a hydration solution while celebrating experiential moments in life that led fans there."
At the Liquid I.V. booth, fans will, of course, be able to sample a variety of Liquid I.V. products, including the brand's new sugar-free flavors. But Liquid I.V. has taken its brand activation at the festival this year two steps further with a deeper intention:
First Step: "At Outside Lands this year, we'll be bringing to life our campaign "In The Mix", where fans can have their very own music moment as step into this amazing interactive remix station in partnership with the electronic duo SOFI TUKKER," shares Andrade-Wells. "Guests will be prompted to answer some fun questions to gauge their personality and their unique festival-going style and based on those answers, Liquid I.V. will select the perfect SOFI TUKKER track that fits their unique taste and set in the style of an actual recording booth. That track will be the backdrop for their very own 10-second remix video, which they can then share across socials and relive the fun moment afterward."
Second Step: In addition to the remix booth at the festival grounds, Liquid I.V. will also be partnering with Twitch to create a virtual experience for fans who can't make it to Outside Lands in person. On the Twitch livestream, fans will be able to vote on which Liquid I.V. flavor they want to see light up the trees at the festival. "We want to make sure that everyone who wants to be a part of Outside Lands can experience the festival, even if they can't be there in person," Andrade-Wells shares further. "Our partnership with Twitch will allow us to help fans interact with an iconic moment of Outside Lands with the tree-lined lights at sunset."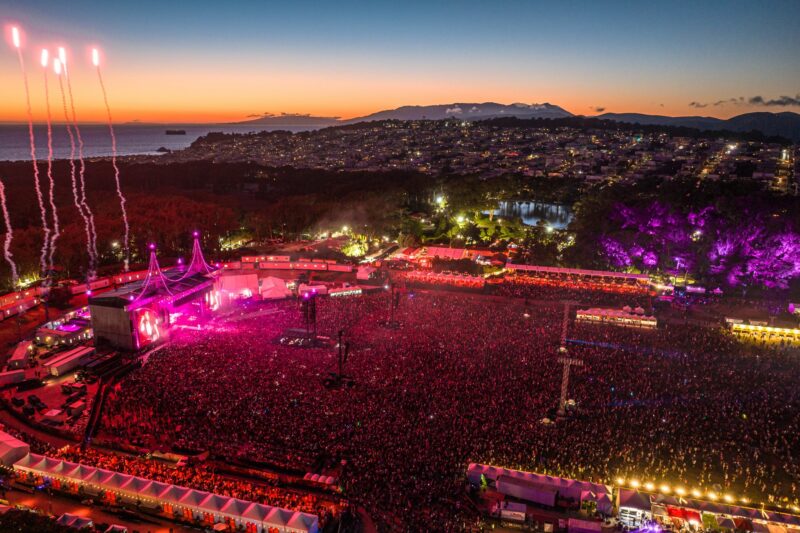 Liquid I.V. will be at Outside Lands from August 11-13. Their presence along with many other brands allows for a more seamless festival experience that the event organizers continue to push for and improve upon each year. It's one of the major driving factors that sets this iconic Bay Area live music event apart from the rest.
For more information, visit: liquid-iv.com or sfoutsidelands.com