London-based, Irish-Pakistani artist Niomi channels pain into music and finds relief on potent sophomore EP Pain Relief. Comprising of three ethereal tracks that trace difficulties in her life, led by her soft, emotion-drenched vocals backdropped against gently lulling soundscapes. Drawn from her struggles withendometriosis, the production weaves catharsis from a crux of personal pain.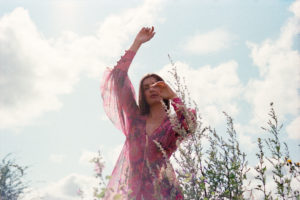 Opening with the haunting, vulnerable style of "Love Is," the EP swirls with messages of loving yourself and others through the haze of painful experiences. Piano-led stand-out "Never That Easy," highlights her husky delivery as she croons about a relationship that's crumbling despite your best efforts while final track "With You," moves into a heart-wrench exploration of abusive relationships framed by soaring backing vocals and minimal sonics of piano.
Taking us through a fulfilling journey in only three tracks, Pain Relief gives a glimpse into the most intimate instances of pain, with an encouragement to take a moment, feel and embrace the hardships, before moving on as a stronger person. After having made a strong impression with her debut EP earlier in 2021, this latest foray sees Niomi find comfort and confidence in her music and herself, centred around her raw but wispy voice and hyper contemplative narratives.
Connect with Niomi : Twitter| Instagram