UK-based, Moroccan-raised producer and DJ Jalal Ramdani teams up with Mr Silk, Team Distant, and Mel D for fiercely anthemic offering "Sesa," a song about a young African boy who refuses to take the ways of the god. Built on a foundation of pulsing bass drums and low thrums of horns, the track employs Mel D's punchy vocals, punctuated by clicking beats and wailing chants that cut through swirling synths in a haunting yet catchy showcase.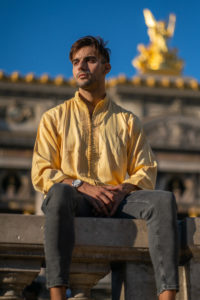 Channeling his trademark sound which blends the groove of modern house music with the traditional touches of his African heritage, the powerful finish of the original track also gives way to two remixes, one from newcomer Adjuma who brings a somber tinge to the catchy feel of "Sesa," using stripped back melodies juxtaposed against snapping snares while another version of the track reveals a softer vocal tone led by crisp percussion and hazy synths, showcasing the versatility of the production.
With pensive sounds that thrum with soulful storytelling techniques, Ramdani showcases another glimpse of his creative mind on "Sesa," as he builds on the artistry that started developing in 2019. Refining his music with summery instrumentals that get us moving, the explosive talent is preparing to head on tour as he positions himself at the front of the afro-house movement.