Lav is getting her fingers chewed by the most adorable puppy I've ever seen. "This is a professional meeting!" she shouts, grinning down at a chubby French bulldog, who ignores his mum and continues chomping gleefully on her sweater-clad hand.
"He's just getting comfortable," she says, rolling her eyes. "He was a perfect angel for about a week and a half and now he's ripping up everything on the ground. And he follows me everywhere."
Sitting cross-legged on the floor of her Los Angeles home, black hood pulled up over her (currently) ginger bob, Lav is makeup-free and relaxed. Despite being a 21-year-old singer-songwriter stuck in the middle of a raging global pandemic – one that has squashed any prospect of playing live music for the foreseeable future, she appears to be handling the stress better than she thinks.
"At first, I was like, 'this is nothing,'" she says. "I have agoraphobia, I barely leave my house anyway. And then I realised that, as much as I hate leaving my house, I really like going to one or two places.
"Like Disneyland! Even though I'm severely agoraphobic, I somehow have no anxiety when I go to Disneyland. Couldn't tell you why, because for most people I feel like it's the opposite."
Lav – and most of L.A. – have been taking the Coronavirus lockdown extremely seriously, regardless of Trump's antics in Washington. "I also have Crohn's disease," Lav says, "and people don't know how COVID affects Crohn's because it's an immune deficiency disorder. I've been in the same 500 square feet for five months.
"I didn't think it would affect me this much, but the last month has been hell. Every mental illness I thought I worked on through my adolescence is now back," she laughs, waving the comment away with her free hand as though it's a minor inconvenience. But it's not – Lav has suffered from eating disorders, borderline personality disorder, anxiety and depression for much of her life, barely out of adolescence as it is. "Writing poetry and reading books were the only healthy ways I could cope when I was younger," she admits.
So, turning poetry into a career – and by extension sharing life lessons, learned so much earlier than most – seemed like a no-brainer. Her first release of 2020, 'From Me, The Moon', was a meandering, heart-wrenching whisper of a track. Built on a disarming minimalism, it was picked up by Billie Eilish – who went on television and said she wished she'd written it. Suddenly, Lav's Instagram following shot to a dizzying 72 thousand people.
One of the benefits of the streaming era is that arists like Lav aren't required to finance a full-length album in order to establish themselves. The flip side, of course, is that by the time 'Wavvy' (Lav's fourth single ever) hit platforms, she was riding a wave of viral expectation.
And boy, did she deliver. Amping up her signature lo-fi, bedroom-pop production, 'Wavvy' is sweet and sad, but careful – it's got jagged teeth. Not unlike the tiny dog in Lav's lap. 
"The song is about me being scared that I had sex with someone too soon," she explains to me. "Because I felt that somehow that would change my worth as a girlfriend. Then I met my now-boyfriend, and we got in the sheets pretty early too. But having an adult relationship with him has made me understand that I was making excuses for men, and blaming myself for the reasons they didn't like me. And thinking about that, while being in the relationship that I'm in, has made me realize how silly that is."
That epiphany changed the song's meaning for Lav. The missing ingredient became "Wavvy's" sardonic video, which depicts Lav as a vampire with an insatiable, devious bloodlust. 'The Girls Before Me,' Lav's most recent track, unfolds with the same gentle ease: calm, confident, a double meaning lurking just beneath the surface of her bell-toned voice. 
EM: So what about books, were you a big reader?
Lav: There was something kind of elusive about reading a book. I did want to be the girl in the corner reading. For ages – from like 9 to 16 – I barely have any memories of experiences, because I was always reading. The Harry Potter series was huge for me, and very integral to my being. Same thing with all those teen supernatural romances. I don't know what my deal was, but I was always reading some weird vampire book. And then it turned into memoirs.
EM: Interesting. Did you have a particular favourite?
Lav: Wasted, by Marya Hornbacher. It's a memoir of anorexia and PBD. I remember reading it and being like, 'holy shit, this person understands'. I think a part of me – because I was so sick – glamourized it too. It was almost a blueprint for me, which wasn't great. For two years I lived in a residential treatment centre, and we weren't allowed to read memoirs, for obvious reasons. So it was like crack. Memoirs were like a drug that people would pass around. Instead of actual drugs, we'd just read illegal books.
EM: You mentioned Harry Potter. What's your take on the whole J.K. Rowling transphobic Twitter tirade? Can you still engage with the books the same way you did during childhood?
Lav: God, I wish she hadn't. I valued her so much as an author and a feminist, and then I realized that she was that feminist. I feel like I'm grieving a Mom, in some way. But I also come from a place of empathy because I have some family members who are pretty conservative, and definitely have similar views to that. I also think everything is situational, and I don't want to cast her out because clearly she's dealt with some weird things. Trauma definitely creeps inside of you and changes your brain chemistry. Which isn't an excuse by any means, but I just hope that she seeks to understand more trans issues, by speaking to more trans people. Because I mostly think it's ignorance. I refuse to believe that people are just hateful naturally. I'd hope – especially with all the outcry – that she's like 'fuck, maybe I need to do some more research'. The whole thing sucks. But Harry Potter is more than just J.K. Rowling at this point. She created a universe.
EM: I hate separating the artists from their art, especially with all the men who do reprehensible things and get away with releasing art. But at the same time, this is one of those cases where you really want to be able to separate the art from the artist.
Lav: For sure, and in a similar light – Walt Disney was famously anti-semitic. And I'm Jewish, and love Disneyland to an unhealthy degree. I'm like a weird Disney adult. People are just like, 'Walt was an anti-semite' and I don't know, do we cancel Disney?
EM: Well the other thing is that you can do fuck all about dead people.
Lav: Yeah. He's not benefitting from it anymore. But it always does make me feel very weird, when I'm at Disneyland. Walt would not like me eating pizza and then having an IBS episode in the bathroom five minutes later. But that's my revenge I guess – having Crohn's disease at Disneyland, as a Jew. As we grow and progress as a society, I hope less things will happen where you have to separate the artist from the work. I'm essentially hoping that all the racists and transphobes go to Azkaban.
EM: Could not have said it better myself. What was on heavy rotation musically for you, as a child?
Lav: Well my Grandpa is a blues musician, so we listened to a lot of blues and a lot of music from the 60s and 70s. My grandparents were hippies and musicians. I listened to a lot of black music growing up – funk, blues, things that were created by people of color. The most inspiring musicians are usually people of color. My mom listened to a lot of R&B, because she had me pretty young, and she was a teenager in the 90s when hip-hop and R&B was at its peak. And then my step dad was in a heavy metal band called Psychosis.
EM: Interesting.
Lav: He got into a weird stint where he listened to a lot of country, too. Merle Haggard, Travis Tritt, Hank Williams. I grew up listening to such a strange array of all music, but taste-wise, I really took from my grandparents. I do still love funk and blues and jazz. I feel like I take a lot of inspiration from emotional lyrics. Not that there aren't emotional lyrics in something like rap, but they aren't emotional in the way that I do emotion. 
EM: 90% of all music that is popular right now came from black music. So the progression, even of folk and alt-pop stuff, is important to recognize.
Lav: I did some research and it turns out that even American folk originated out of bayou blues.
EM: How do you feel being an artist in an age where social media is the most prevalent thing in your marketing toolbox?
Lav: It feels weird. I feel privileged in that I seem to be able to make up a following pretty easily. I have bad imposter syndrome anyway, but I think that having a presence on social media and then getting recognized for my music was very strange. I'll listen to other people who clearly deserve it more than I do, but it seems I've just found a way to market myself that is palatable for people. For people who can use social media and have a knack for it, it gives them a definite leg-up. In some other ways, it gives certain people too much power.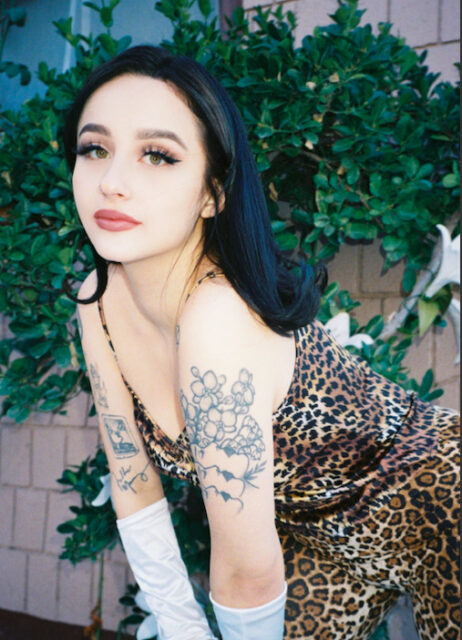 EM: I've been having this conversation a lot lately, because of TikTok and what that's been doing to change the industry – the idea that you have all these people who have a significant following already, who can now get a viral hit instantly. The politics of streaming is an interesting topic.
Lav: Yeah, TikTok is especially crazy. In an existential sort of way, it's crazy that we even have social media. I don't know if it will do more harm than good, or vice versa. I'm just lucky to be where I'm at.
EM: Do you think that your relationship to womanhood has changed since you started working in the industry?
Lav: You know what? I don't think so. I partly think that's because I'm a white woman in music. There's a lot of room for white women in the indie sector of music. I'm very marketable. And I'm comfortable with my sexuality, which is part of being a woman for sure – but I mean, we saw Lady GaGa do it, we've seen people pave the way for white women forever. I can't imagine being a black woman in the industry, already being such a marginalized group and then being told how to market yourself. If you do something the wrong way, you're not classy. And if you do something too classy, you're whitewashed. As a white woman, I feel I have the same opportunities and the same bearings as a dude, just speaking from my own experience. There are obviously producers who are scummy and weird that you have to deal with as a white woman, but there's a lot of space for White Girl Indie Music. So I don't feel like I'm doing something monumental.
Exclusive feature image by Joshua Min.