A universal breath of fresh air, Natalie Lauren's new solo project Handle With Care is a record that powerfully juxtaposes the grief associated with losing hope and the steps taken to reclaim it. Carefully crafted with intention and sincerity, Handle With Care encapsulates a special type of strength found in vulnerability–one that especially speaks to the Black community during a season of tribulation. EARMILK caught up with Lauren to discuss the new project, her experience writing for some of the decade's biggest stars, and navigating America as a Black woman.
A seasoned vet in the music industry, you may have already seen Lauren's name in the writing credits of projects like Royalty by Chris Brown, All Things Work Together by Lecrae, or The New Classic by Iggy Azalea. But her musical history goes back much farther than what her credits reveal. An accomplished songwriter, singer, rapper, graphic designer, and all-around creative powerhouse, Lauren is wholly familiar with, and committed to, the daily grind.
A small-town girl from Tulsa, Oklahoma, Lauren (FKA Suzy Rock) comes from humble beginnings. Long before it was "trending", she was making timely music that spoke to the struggles of navigating life as a Black woman in the world. Leading up to the inception of the album, she found herself "in a very unique season in my life as a woman and hadn't come to grips with a lot of things I was discovering about myself." During the foundational stages of Handle With Care, she was grappling with loss and confusion. A means of catharsis, the process behind the album's creation was a natural one: "Handle With Care didn't involve my business mind at all in its formative stages. It was therapy for me." Working with fellow labelmate and producer, Swoope, Lauren crafted a soundscape laced with inspiration and healing.
On standout tracks like "Super Human", it is evident that Handle With Care brings with it an undying sense of therapy imbued in the act of selflessly being there for ourselves and one another. As a believer in Christ navigating the music industry, there is no easy route for Lauren to take when it comes to creating music that is true to herself. Protecting her integrity has meant turning down deals that haven't felt right, and speaking up to defend the truth, regardless if people take offence. But honesty has always been a top priority for the multifaceted singer, and on Handle With Care, she has managed to take her struggles and turn them into a remarkably transparent, powerful and relevant record.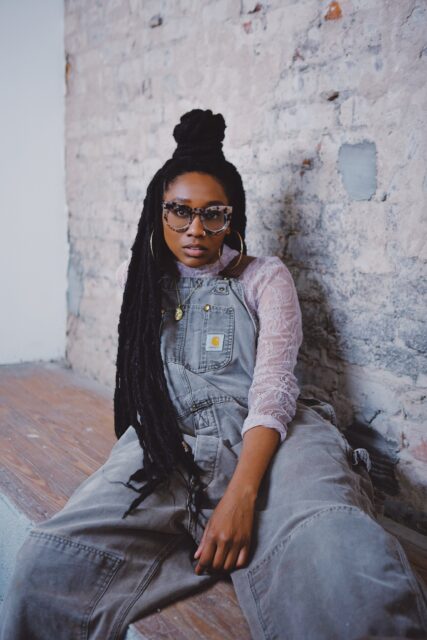 As a fan who came across Lauren's work several years ago from her collabs with Lecrae, I was curious to know how she felt about people choosing to listen to her music for her instead of simply because of a feature. She recalls: "It feels scary and rewarding. It feels like an honor to be able to share my story and have people listen and connect to it. It's scary because I can't hide behind anyone else's work, this is my work so I have to own it." Understandably, shedding the veil to let listeners in to hear your deepest vulnerabilities is a nerve-wracking commitment. Perhaps the most vulnerable track on the record is "White Noise". It also happens to be the hardest song that Lauren penned. "I went through a lot of hard shit these past two years and during it I just felt like God wasn't looking out even though I know that wasn't true. But feelings are often more real right?" She explains. "So the song's about God's silence towards me and how it felt like rejection and punishment for so long. There's a bit of resentment present towards God but then there's this surrender to the silence out of desperation that is there. The silence is unresolved and hard to live with."
It is that same transparency that makes the project all the more relatable. And for the Black community right now, the album offers much needed, honest encouragement in the midst of warfare. "I'm making art for Black people right now. I'm making balm for Black people right now," Lauren shares. "As a Black artist I am burdened to share the times but also speak hope into a very dark season of life. I think I'm compelled and committed to protecting and advocating for my community in ways that are sacrificial and consistent." Dedicated to using her platform for positivity, she doesn't shy away from addressing the good, the bad, and the ugly in order to show up and show out for those who find solace in her story. "There are so many communities I am a part of and love. The Black community, followers of Jesus, LGBTQ community all play a significant role in my life and I want my music to be in support and love of them all through the arts."
Songs like "Back To Love" encourage the Black community to never lose sight of their worth and dignity. Uplifting in nature, the track assures us that in time, we will find peace and comfort in God's love. Like "Back To Love", many songs on the album bring a sense of resiliency. Anthemic in nature, Handle With Care uplifts with its message of challenging the perceptions tied to Blackness. "There's a level of shame we've been passed down to us as Black people as a result of oppression, shame connected to our own failures and brokenness. This shame attacks our values as humans and it forces us to perform our way into worthiness and creates these spaces where truth isn't allowed. You fake it til you make it because being black is one thing but being black and weak is another, or at least that's what's indirectly taught to us." Lauren takes a bold, counter-cultural approach throughout the album in encouraging and inviting the Black community to embrace themselves fully, weaknesses and all, without holding onto the shame and regret we have been taught to carry. One of the lead songs off of the album, "Bra Off", extends that invitation to women of colour who have been taught to be ashamed of their natural selves.
Lauren eloquently closes things off explaining why she created the project: "Handle With Care is me giving myself permission to first acknowledge the parts of my life I felt ashamed of, to question all I know without fear but with care, to give myself the freedom to say I don't know what the hell is going on but I'm here. Handle With Care is holding space for what is present without judgment or critique. It's giving yourself permission to be As Is." Without any sugar-coating, she has created a project that is 100% her. From writing the music to performing it, to designing the cover artwork, Handle With Care is a pure and authentic reflection of Natalie Lauren's heart.