Inglewood turned Mississippi rapper, singer, and composer, Swae Lee has released his third single of the year, "Reality Check" through Interscope's EarDrummers Records. After his explosive success with his partnership with his brother, Slim Jxmmi in Rae Shremmurd and his own solo work, Lee has become one of the biggest artists and certified hit machines in the world. Ubiquitous tracks like "Sunflower" with Post Malone and "Unforgettable" with French Montana made 2019 another monster year. 
Lee takes the same radio viability and turns it to a new thematic direction. Amidst producer Jaxx's active trap drums, rumbling 808's, and disembodied, synth-like vocals, he ruminates over whether his ex is doing better than him while sitting in his $2.15 million mansion. Brief moments of posturing are short-lived as lines like, "I except less from these people when I'm in position/ don't depend on me" bring a gravity to his everyday problems. 
The momentum and frequent single releases leave no end in sight for Lee's success. There is no news regarding tour dates or a follow-up to 2018's Swaecation or SR3MM, but Swae did announce his new OnlyFans account this week. Is that a 2020 type of album rollout? We'll see.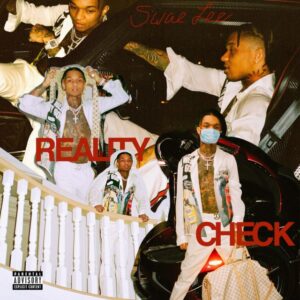 Connect with Swae Lee: Instagram | Spotify | Twitter