It was a gloomy day in Los Angeles and the future was nearing another installment of rain. Friends & Family, a lively café on Hollywood Blvd., displayed hand sanitizer at the end of its register — a reward for your coffee and pastry purchases. It was here that I had the pleasure to speak with Jen de la Osa and Henry Beguiristain of Aloud in the early stages of the novel coronavirus and right before the stay-at-home orders were enforced.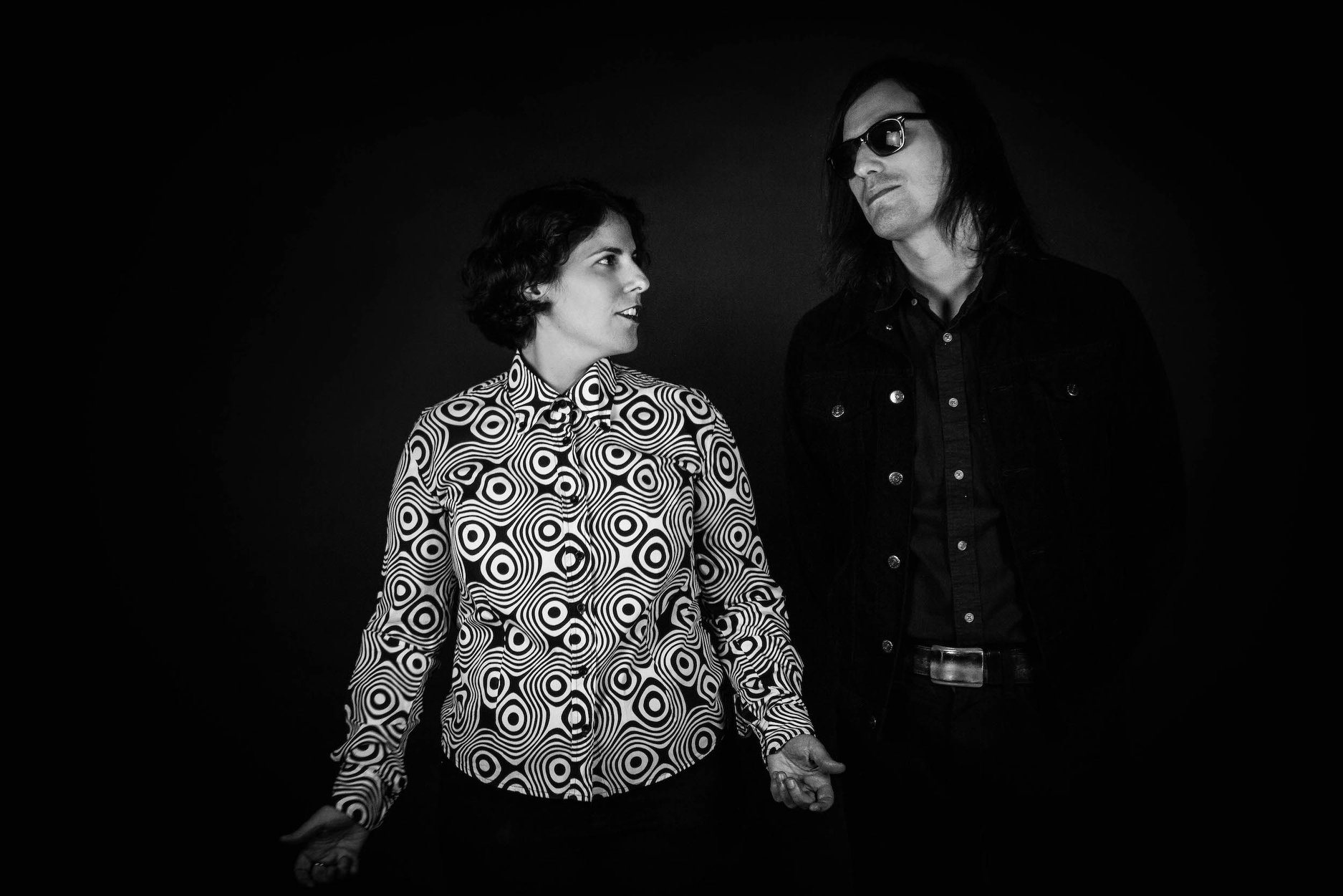 Despite early talks of each party being late, we arrived within minutes from each other. A casual wave from one another in line prompted us to settle towards a clean table in front. Dealers choice, of course, to only notice after it was in prime view of their car, cleverly positioning themselves for a clear path to feed the meter. My Toyota and I took our chances.
Beguiristain handed me a copy of their forthcoming LP, Sprezzatura, which is officially released May 8, and saved both of us the wait time of delivery that accompanies the pre-ordered album. The golden-toned 11-track LP seemed like a lifetime of work and acted as their first album in six years. It bounced around the stories of its creators. It held the road from Boston, the familiarity of one another from Miami, and even though written before their move to LA, somehow took a piece of new-found adjustment during the relocation to the West Coast.
Since the single "Loving U's a Beautiful Thing," it was very clear that Aloud's direction would exemplify a very freeing, and of course, loud sound. The four-piece, with bassist Charles Murphy and drummer Chris Jago who were absent during our talk, took inspiration from Muscle Shoals, Motown, and Phil Spector. It also saw the band diving into rich horns, with Alanah Ntzouras on saxophone and Vanessa Acosta on trumpet. It was something that they always wanted to do, but never left enough sonic room to be added. Obviously, they learned from their mistakes.
"…what the fuck do you mean, man, of course there's room for horns, like just stuff them in there," Beguiristain recollected during production of a past song. "And he's like 'I'll send you the mixes we have and you'll see what I mean' and I listened because I was benevolent. So, we all listened that night and we were so upset because we were like 'goddammit he's right.'"
"So when we went into this album we were like 'calm down,'' added de la Osa. "We had a rule where like if you're singing, don't play guitar while we track it so we could figure it out. Think about it after the fact, if it makes sense or if its just one lick or something, but don't worry about coming up with a guitar part, and singing the fuckin' song. Just worry about getting a great vocal. There's one guitar, and then drums and bass are happening, and we can form a skeleton and then still leave space for a trumpet. So we managed to do that, even though there's a hell of a lot of shit on there. We wanted like a Wall of Sound thing, but we knew, we knew the brass was gonna take up tons of room."
Interestingly enough, Sprezzatura took the band to the producer's chair. At the request of their producer, they gathered ideas of tones to embody and stated that a fair amount of pre-production went "even beyond" what they would do before. Essentially becoming a group effort, the additional titles became empowering and gave each of them a "longview" of what they wanted. An overall theme of control came across for the band. Not in a possessive nature, but a caring sentiment that burned from years of labor.
"It was kinda like the best of all the worlds came together, you know, in that moment," said de la Osa. "We had this amazing studio that we could use, because our best friend and producer is like the main engineer there. And then we recorded the vocals at our place with his stuff, and saved some money there, then went back for the strings and brass there. We figured out how to make it happen despite not really having the resources for it — which is the story of this band."
"We have no plan for this," assured Beguiristain. Such as for the video "Loving U's a Beautiful Thing," which was originally shot in July of 2019 and eventually got lost in the shuffle of the logistics that come with planning for an album release. A truth that would be overlooked by a viewer and listener. "We had all this stuff, and it was like yeah, yeah, yeah, we'll figure it out, we'll figure it out," said Beguiristain. "And then it's like 3 weeks before we're gonna release it [the video], so like my memory of it was you [de la Osa] were at a bachelorette thing, and I'm just like holed up at an Airbnb with a 40, and it's like 3 in the morning, and I'm like I need to finish this."
Aloud's DIY mentality isn't necessarily heard on the album, due to the polished execution, but it's certainly felt. An admirable characteristic from the band who achieved a different sense of fulfillment. "With this record, we went in with a very particular thing in mind to all aspects and we walked out with it," said de la Osa. "Like that's the first time that has ever happened. A fully realized record. So now for the next one, we're gonna blow everything up and do it completely different."
Before blowing it all up, it should be noted that for Aloud, Sprezzatura is a new chapter. One that was birthed from a disarray of movement and carried many moments that could've very well brought the band to an end. It reads as their bittersweet "swan-song" to Boston but sees their natural progression as artists. Talks of money being lost, terrible blizzards, and unfortunate events were as fresh as the frustration that came with it, or as de la Osa eloquently stated, "it was the last kiss of 'fuck off'" before moving.
Several songs held Boston at the forefront such as "Been So Long Since We've Seen the Sun" and "Renters for Life." Two states of minds that hung to flighty roots of dreamers. And "Twenty-Third Fresh Start," which came from an observation of people uprooting to avoid their problems, that very well evoked the album's own transitional stages.
Between sips of coffee that recollected poorly planned gigs, and lots of bad advice given, the two songwriters looked back at their pressured moments from Boston that were all too familiar to the likes of leaving Miami. The story of selling the majority of belongings to go on tour and couch surfing was already told and didn't look for a repeat.
"When we left we were like 35, 36, so we were already getting to that point where I'm like some of this shit, I just can't do because I don't have– I just don't give a shit to go through that anymore because it's not worth it," said de la Osa. "And I think that all tapped into our approach to leaving, and trying to do it in the smartest way possible [and] figuring out how it wasn't gonna hurt us [and] we're still learning."
"And you know we kinda asked ourselves 'why the fuck are we doing this?'" said Beguiristain. "And it was like why haven't we asked ourselves that in the last couple years, you know?…and what the whole point of it is realizing you don't really wanna do anything else."
The weight that may have pushed the album doesn't carry in sound. Their passionate performances are met with optimism, a charming trait which the album boasts from an ample supply. While they could very well have penned their "finger-pointing songs," the newest album was a departure from those past ideals. De la Osa looked for songs that would allow her to feel better to get past whatever was bothering her. And if she could get past troubles, listeners could too. "That stuff is temporary, that's why we turn to it right? Because we need a 'pick you up' at some point and that's the kind of record we wanted to make."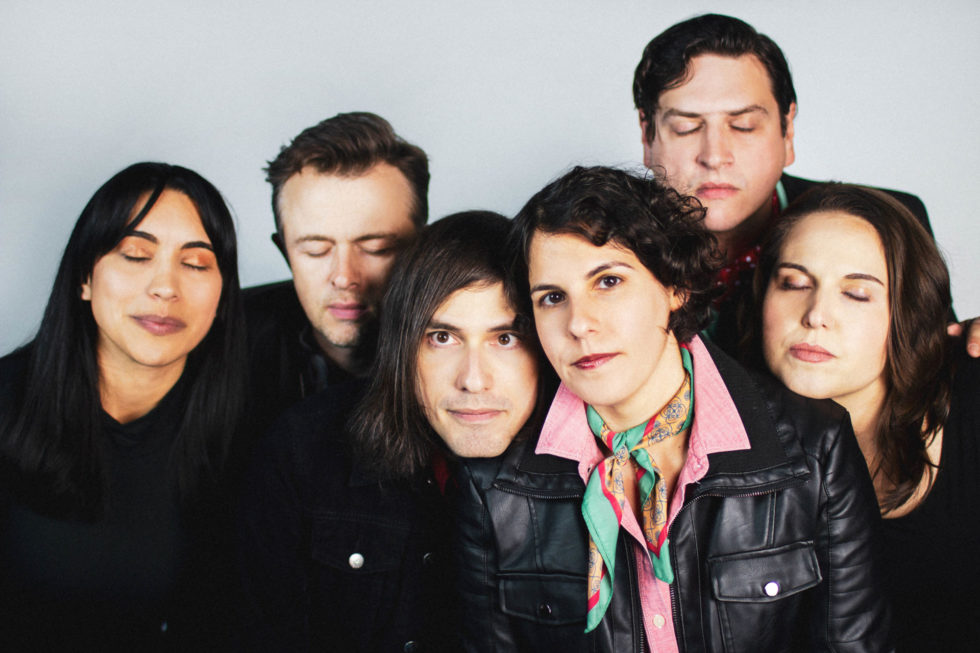 Their humor always managed to take over the conversation and landed between politics and far-fetched stories that peaked with their quick wits. The perfect sound can be found by throwing frogs at cymbals, but only the freshest from the farmers market. 11 o'clock is actually banging time, and there are too many cats fuckin' up the system. All lines from ad-libs songs construed by de la Osa's gift to instantaneously craft insatiable ear candy. They each sang these lines with the confidence of a child eating their first ice-cream.
They carried the conversation like their songs too; naturally and trustworthy. Playing off each other's lines and stories, and at times finishing each other's thoughts, de la Osa and Beguiristain harmonious connection allowed for a shared space of songwriting and singing. Being credited to the "whole married thing," by de la Osa, she expressed that they merely "borrow each other's tricks." Their dynamic relationship that led to some of the sweeter harmonies on the album told a different story.
Politics started and ended our interview, which was a common bond among both artists. And it even pulled out a well-rehearsed Trump accent by Beguiristain. As we each tried to make sense of the future events, backtracking to the terrible presidential address, we all seemed to be optimistic for May.
The pandemic did cause setbacks in production for the band, like many, such as a delay in their accompanying video for their single "Waiting (Scenes From a Lonely Planet)" and a wishful thought of a release show. Regardless, Sprezzatura would still be sent into the world. Quarantine life couldn't escape the conversation though. Beguiristain's own path of seclusion left him comically prepared and it paired well with de la Osa's new cooking hobby
"Yeah, I've never had a hobby before this," admitted de la Osa. "I mean, I read a lot so that you could kind of label that [as] my hobby, but also while I'm reading, [I'm] looking for things to pinch for songwriting. I always double up like, 'I could use this,' you know? So this is purely useless, except for like, eating."
"Yeah, except for the most useful thing," quipped Beguiristain.
Sprezzatura is set for release May 8 and was recorded at Mad Oak Studios. The album can be reserved here.
Connect with Aloud: Facebook | Twitter | Instagram | Spotify