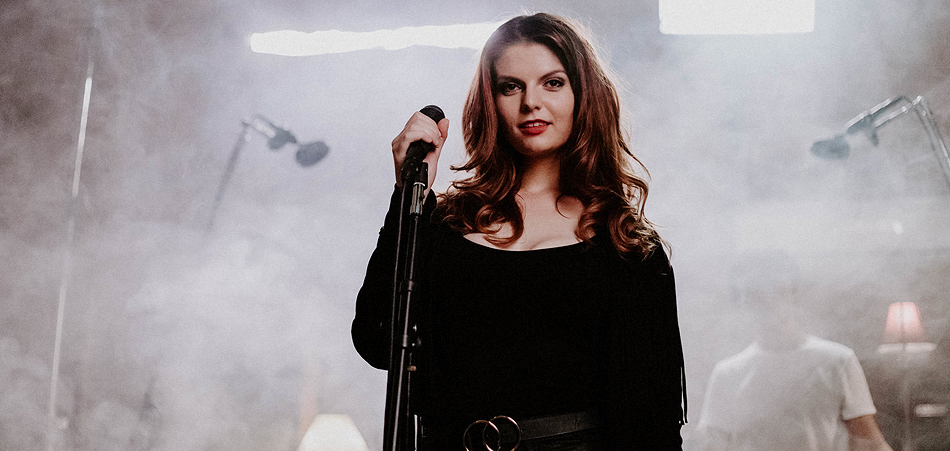 Have you ever gotten into a fight with your s/o, one that drags on forever, and you know you're the guilty party, but all you can do is keep repeating, "I'm sorry" over and over again, and it just doesn't work anymore? That's the sentiment behind Anna Dellaria's latest song "Sorry Doesn't Work," an emotional pop piece that emphasizes her larger-than-life vocals. I caught up with Anna on the phone to talk about what she has in store for this year and getting real with her emotions.
The song's gentle guitar strumming and building melody emphasize the feeling of an escalating argument before it breaks down into the main message. Dellaria's voice really delivers that vulnerability and how she's just aching to make it all better. She says, "I was pretty vulnerable; it's a different perspective of me. We wanted to make a song a little more up-tempo, and I came from the studio from a fight, and I was just constantly saying sorry was no longer working. It was a feeling of helplessness."
"Sorry Doesn't Work" is a far cry from her other songs where she seems to not have a care in the world. This track digs deeper; that's how she keeps her songs fresh. She doesn't want to box herself into one theme. The girl definitely has range. If you've seen her show before she can belt out Beyonce's "Love on Top" without missing a beat and she can do a power ballad like no one else, but when she pulls that dynamic voice away to reveal the touchier subjects, that's when you can see the real artistry.
When it comes to writing, Dellaria delves into her personal life a lot, but she knows that's what her songwriting is for, it's that trust she builds with the audience. Even when something is hard to admit she has to, that's what makes her relatable.
Her upcoming songs deal with a lot of darker subjects. She says family and mental health are at the top of her mind, but she's not nervous about having them released into the world. She explains. "I make the songs for myself, and when I share them, it's always scary. It's a matter of letting go and making each song a moment. When I get nervous, I think about if I can move somebody or connect to another person, then it's worth it."
When we talk about her vulnerability, we touch on self-care, a hot-button issue, especially for musicians. Dellaria knows her mental health is essential. The Los Angeles music scene is fiercely competitive, and it can feel like everyone is better than you.
When she finds herself feeling like giving up, she turns back to her roots. Dellaria shares, "I'll listen to Stevie Wonder's talking book and go back to my roots and listen to songs that make me feel like magic. Singing to me is so magical and emotional. It's the only thing I love with all my soul and more."