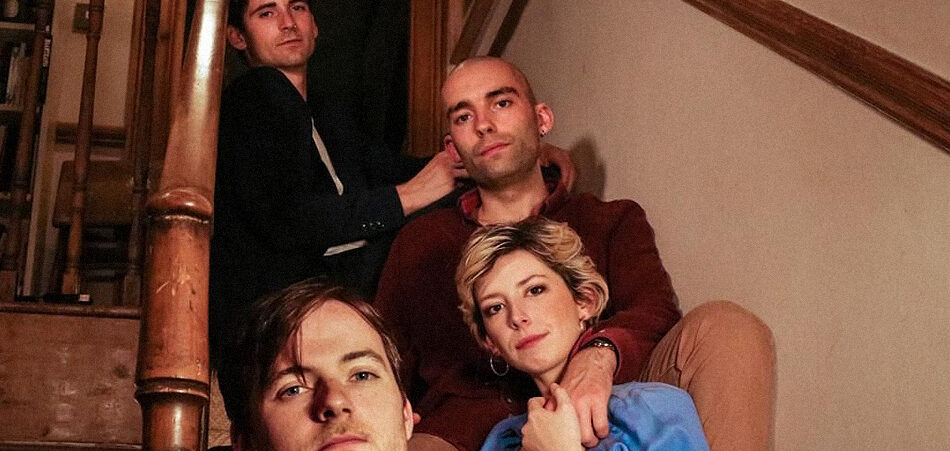 It has been nearly a week since the release of Soda Blonde's debut EP Terrible Hands, a work that highlights the Dublin quartet's sublime artistic chemistry. The brand new, jewel-toned video for its title track is a glittering musing on big ideas: control, power, compliance, female beauty, courtesy of the band's multi-talented guitarist and director Adam O'Regan.  
It's the first video from the quartet to follow a specific narrative, although they do so in the left-of-centre manner that has, down the line, become their signature. Lead singer Faye O'Rourke, who has a voice like velvet, is surrounded by men. Along with the three other members of the band, most of the minor characters in "Terrible Hands" are male.
O'Rourke takes on the role of the archetypal female: she begins as the ingenue and ends as the bombshell. The men surrounding her pursue her with aggression, and she fulfills their expectations in different ways, singing on cue, signing contracts, listening to their jeering. Superimposed near the end of the video is a cringeworthy clip of John Wayne brazenly mocking Maureen O'Hara as she stands beside him, smiling for the camera. 
Somewhere along the way, the power dynamic shifts. Suddenly it's clear that this woman has made her own choices, and "Terrible Hands" is primarily about the freedom of choice regardless of external opinions. She stares at the wall in the face of an aggressor, defiantly non-reactionary. In the next shot, he is literally beneath her, lapping up milk from a bowl on the floor at her feet, her sleek, sexy recording contract gone with yesterday's trash. 
U.K. & Ireland tour dates and tickets here.