Oakland rap's little sister Tia Nomore has collaborated with big Bay Area acts like Kehlani, E-40 and has opened up for acts like Princess Nokia, CupcakKe and YBNC Cordae. Her latest single "Nu Chain" offers fans a glimpse into the limitless dexterity of the fast-rising rapper's abilities. The jazzy and neo-soul production of "Nu Chain" clears the lanes for Nomore to drop an unapologetic onslaught of rhymes through a methodical commandment of the flow and switching it effortlessly to meet her demands.
Tia Nomore's charismatic rhyming abilities are a refreshing talent in today's industry. She brings with her the attitude and high-energy of Bay Area hyphy but with the smooth poetic prowess of classic G-funk. Though the chorus' are catchy, her narrative stays earnest and true to character. Of "Nu Chain", Nomore described how she was in the studio and "just daydreaming about icing myself out at a time where I had to spend stacks on bills instead. Ultimately I was feeling great." When people listen to Nu Chain she wants them "to feel like they just got their dream chain with tha matchin set of rings too."
"Nu Chain" is the first single off a new upcoming album titled Level set to release later this fall via Text Me Records. Fans can also check out supporting live shows for that album on the dates provided below: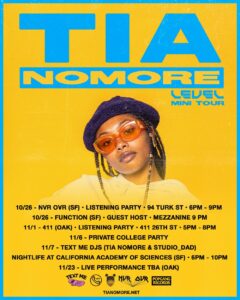 There's no stopping Tia Nomore. She's been on the hard come up and you need to have already been in the know by now. Check out this older video of a collaboration between Tia Nomore and Kehlani back in 2015 — an early indicator for fans to have already prepared themselves for the next leader in hip-hop.