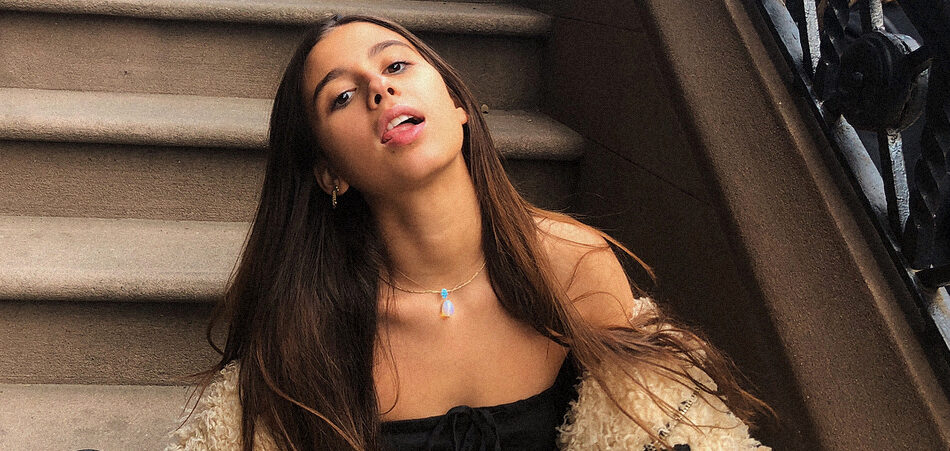 This is only Sophia Messa's third release and she continues to surprise and impress with her maturity and musical mastery. From New York City, the 19-year-old songstress is bound to shake things up. From first listen to Messa's music, her tone and lyrical content is not your typical approach to pop. There's a darkness and a powerful spirit to her voice, an edge to the production and a coming-of-age feel to her penmanship. 
With "What Am I Gonna Do With You" - the track opens up with a reflective approach, the production has a smooth bounce intertwined with intimate lyricism. With a passionate vocal delivery, Messa sings: "I guess I grew up a bit fast/ New York can do you like that/ I lie to myself when I'm bad/ You get me like nobody has/ I don't even know what I want/ And none of my friends fall in love/ But you made me feel like the one/ When I didn't feel like someone" - there's sadness but also a realness to the lyrics. One can relate and have the words pull on heartstrings, but at the same time you want to sing along to every word. There's that pop-catch to the song but a deep sincerity as well. 
Messa's first release "moneydontfixlonely" was released March of this year, and with every new release, she seems to have made it a point to show her fans a different side to her musicality. 
There's power and strength in Messa's voice and a range to her vocal ability as well. She's able to fit her voice in different pockets, and approach pop music uniquely and distinctly instead of generically. That special spark in Messa is what'll give her longevity. The more she matures and grows and finds her sound, the pockets of music in which she fits into, will immensely add to her palpable-star-potential. 
Additionally, the genius of an artist is sometimes in the subtlety of choices. Messa's artwork is a photo of her younger self smiling sweetly (and mischievously) with a gray text bubble asking "what am I gonna do with you" and Messa (in a blue bubble) replying with an emoticon that implies the same sweetness and mischievous feel that the photo brings through.
Messa will be performing in New York City at PIANOS on September 16th. Make sure to get your tickets and stay in tune with the rising star. TICKETS!
Connect with Sophia Messa: Instagram | Twitter | Soundcloud